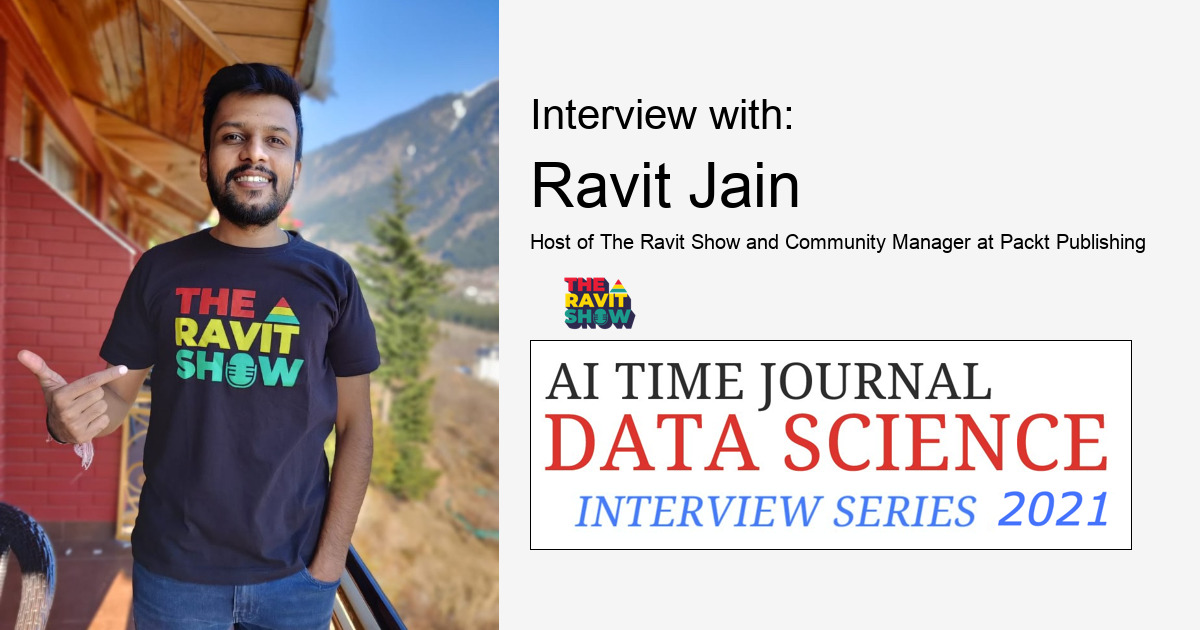 Ravit Jain, host of The Ravit Show and community manager from Packt Publishing, is an amazing personality with a love for data and interacting with people! We thank him for taking part in the Data Science Interview Series and sharing several amazing insights, including:
Personal growth and love for the data community
Books, resources for growth in the data science area
The process and best practices of publishing books in the data space
The inspiration behind "The Ravit Show" and primary learnings from his interactions
#Building a data community
How did you first get into the data industry?
I started my career in the market research field. I use to work forecast different market products and create market research reports where collecting primary and secondary data is very important. I got an opportunity in Packt Publishing and started closely working with tech authors to amplify their books at a global level and that got me much closer to our fantastic Data community.
What inspires you about working in the data industry?
Our Data community is a FAMILY. The love and support always inspire me to do better for the family. There's always so much learning and unlimited great content creators to be inspired always. I also love sharing FREE resources with my Data Family via my Slack channel.
---
#Books and Publications
"DATA SCIENCE is EVERYWHERE and will remain EVERYWHERE."

– Ravit Jain
Books: which books have helped you the most in your journey and why?
There is a list of books I can mention that have helped me in my journey but the book that I read years back is "Building a StoryBrand by Donald Miller". I always highly recommend this book. This book helps you to build a picture with a story. You can create a roadmap for your brand that helps you service your clients by making them heroes and serve the purpose of growing together. Also, the book gives you a chance to position your product so well that your audience will see it very clearly and never forget you. Love this book! 
What are the common trends you observe today in the books being published in Data Science?
DATA SCIENCE is EVERYWHERE and will remain EVERYWHERE. In terms of the common trends, we might feel that there's too much content to consume. But trust me, coming from a publication background, Packt, I would definitely validate books are the most effective tool to learn and practice Data Science to get better in your career and have a reference in your pocket. Data Science books cater to all types of audience, beginners, the intermediate and advanced level can benefit out of books 🙂
AI Time Journal Resources

Are you learning data science?
Check out what books helped 20+ successful data scientists grow in their career.
What is the process of publishing a book on Data Science? What are some of the best practices that you would suggest?
If you have an IDEA that is important for the Data Science community, trust me the process is easy. It is best to start by putting a proposal together for your book idea, which will have a book approach, audience, community needs, Table of Content, etc. I would suggest if anyone wishes to write a book not only in Data Science/AI but also in Microsoft, Cybersecurity or any other tech, reach out to these producers who are highly skilled to shape your book ideas and will help you create a gift for the community — Ben Renow-Clarke, Tushar Gupta, Caitlin Meadows, Dr. Shailesh Jain, Ph.D, and Suman Sen
---
#TheRavitShow
"GROWING TOGETHER IS THE MOTTO."

– Ravit Jain
What was the motivation behind starting 'The Ravit Show'?
I love our DATA community. You can say it's my way to give it back to the community. I have seen Data folks struggling with different types of problems at times and I just thought of creating a platform "The Ravit Show" where it gets easier for them to get their questions answered by these experts. The Ravit Show also helps and aims to interview interesting guests, panels, companies and help the community to gain valuable insights!
Can you share some learnings from your interactions with the guests on 'The Ravit Show'?
I learned a lot from my guests, not only related to Data field but also about personal branding, networking, soft skills, why is mental health important and definitely, I have progressed as a person interviewing these experts and got better at building my own brand "The Ravit Show" 🙂
---
#Words of Advice
What advice would you give to someone who wants to get into the data industry today?
Start networking first, understand your niche and talk to people. It will help you get a better understanding of where you should start from. Also, the community is big and you will learn a lot. Just DON'T GIVE UP!!!!!!
Tag one or two people in your industry who you would like to see answer these questions.
I think my friend/mentor/teacher Kate Strachnyi would definitely check out these answers. We are DATAcated.
Also, I think I have my Father, Thom Ives who I think would be happy to read these answers. You can definitely ask him the story behind him being the Father 🙂
Associate Editor
I am the Co-Founder & CTO of Xaltius, a Singapore based Data Science and AI startup, and a machine learning enthusiast who loves to interact with people and learn more about how artificial intelligence is shaping the lives of organizations and people and how it is being used to optimize business operations today.
Joining AI Time Journal

Join as an Associate Editor
Are you interested in sharing information and knowledge about AI and connecting with some of the brightest minds in the field?

Learn about joining as an Associate Editor.