In April 2020, Eve released its Eve Cam, an indoor camera designed to be working with Homekit Secure Video. At a price point of $150, the Eve Cam can be considered as a budget camera, but being compatible with HSV, brings a lot of interesting features that you normally don't get for a camera that is this cheap.

In fact, after iOS 14 was released last summer, any camera compatible Homekit Secure Video can now recognize familiar faces. And even if there are many reasons to buy a surveillance camera, receiving alerts when a stranger enters your home is one of the most important. That's why having a technology that can reduce false alarms, like face recognition, is crucial.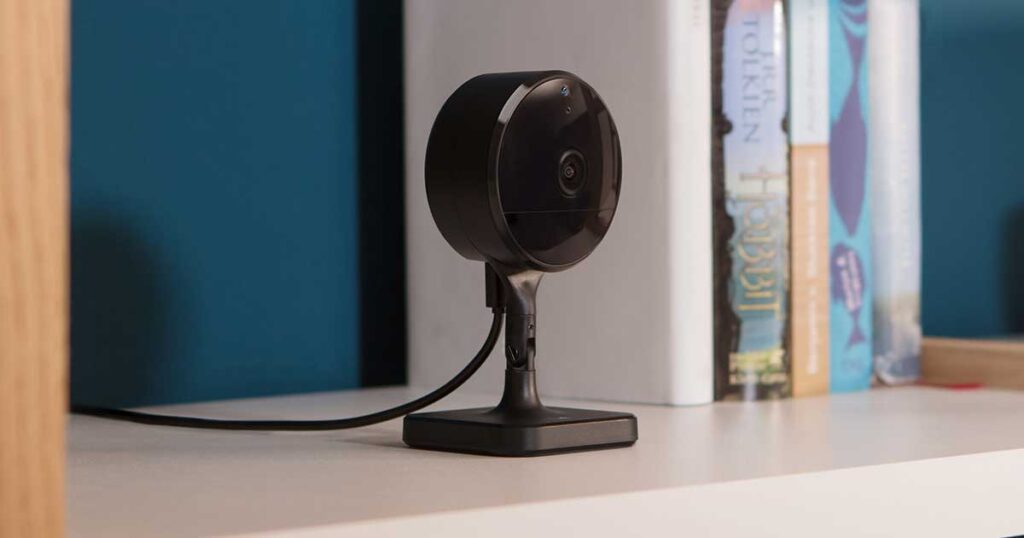 If you're looking for a home security camera with great image quality, you should know that with Homekit, you'll only get 1080p resolution, but even in this range, some cameras outperform the Eve Cam.

So, let's see what makes the Eve Cam a good purchase, or something to avoid depending on what you're looking for.
Eve Cam specs
| | |
| --- | --- |
| Video quality | 1080p/24fps H.264 Video |
| Field of view | 150° |
| Night vision | Infrared black and white |
| Dimensions | 122 x 65 x 60 mm (H x W x D) |
| Audio | 2 way |
| Connectivity | 2,4GHz / 5GHz |
| Storage | iCloud |
| Power source | Cable |
| Compatible with | Homekit |
What's in the box
1 Eve Cam
USB power cable 7.2 feets (2.2 meters)
USB power supply
Plug adapters (EU, UK, US, AU)
Metal plate for wall mount
Screws
Quick start guide
Design, setup, basic functionalities
The Eve Cam is a round shaped camera that can tilt and rotate on its pedestal, that's pretty much it. In the front you have the camera and the status LED to know whether the camera is active (a great feature in terms of privacy).

Below the camera, behind the pedestal, you'll find the micro USB port. Since this is not a battery powered camera, this cable has to be always attached, which is a little bit impractical if you mount the camera on the wall and tilt it backward. Definitely not a major flaw if you consider that, once mounted and plugged to a power source, you're pretty much done interacting with the camera.

As for setup, it's as easy as it gets. After you turn it on, you'll have to scan a QR code and follow the instructions. You will then be asked to choose between different recording settings:
Off: which is basically a remote privacy shutter
Detect activity: which only alerts you when motion is detected
Stream: which gives you access to the live stream of the camera
Stream & Allow Recording: which allows you to access the live stream and records motion events which are stored in your iCloud account
Activity zones with HSV on iOS 14
Another interesting feature that was rolled out with the latest updates on iOS 14 are activity zones, where basically you draw boxes on the camera's field of view to exclude areas where you don't want the motion to be detected or trigger an alert.

A feature that is much more relevant for doorbells or if you put the camera outside and don't want to get alerts for motion that happens on the street.

Even if this is an indoor camera, it's still a great feature worth mentioning.
Video quality
Video quality is not where the Eve Cam shines. In normal light situations you will find that it gets the job done, but as soon as the lights condition becomes more difficult (high contrast or low light) you will see how the colors become more neutral, patterns are a little mixed up, and in general the image is less crisp.

If image quality is your number one priority, maybe because you want to be able to watch the footage, save it and share it with your family, you shouldn't go for the Eve Cam. Simply because there are better options on the market at prices that are in the same range of the Eve Cam.

Read also: Best WiFi Security Cameras with Face Recognition
But if you don't care that much about video quality, and you just want to add an intelligent device in your smart home, the Eve Cam might be the right choice.

I should mention that 1080p resolution is the maximum that Homekit can handle, so the Eve Cam has a Full HD 1080p resolution. But this doesn't mean that every Homekit camera performs the same in terms of image quality. In fact the Logitech Circle View (which I talk about in this article or check this article where I compared the two cameras) has a better image quality, even within the 1080p resolution limit.

Let's see why even without the best image quality, this camera might be a great addition to your smart home.
Image recognition and face recognition on the Eve Cam
Face recognition is the reason why this camera, even with its flaws in terms of video quality, is still a great option. In fact, since iOS 14 was released every security camera compatible with HomeKit Secure Video can now recognize familiar faces.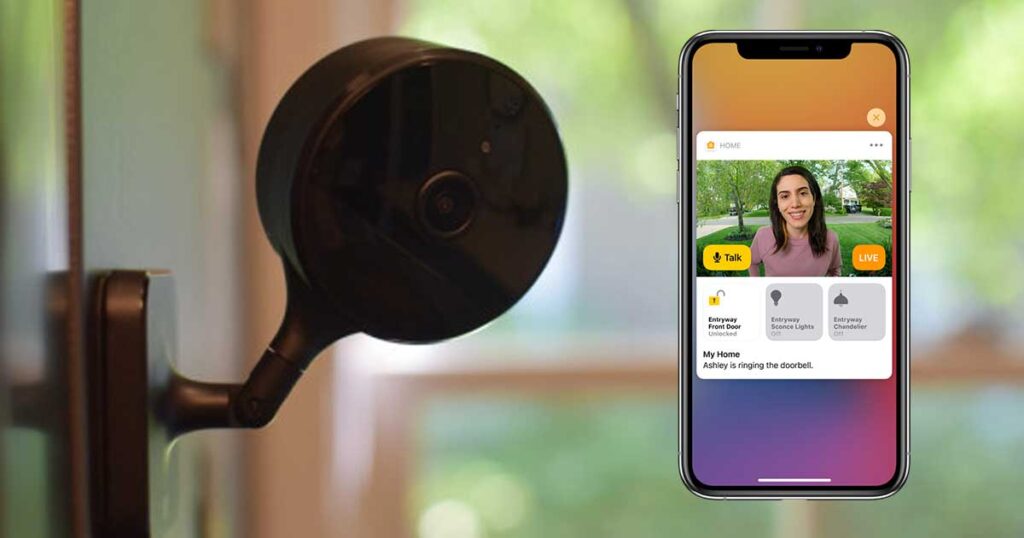 This means that if your family members pass multiple times a day in front of the camera, you won't receive an alert just because the camera detected some motion in its field of view. It will take some time for the camera to be trained, meaning you will have to tag each person from multiple angles, but over time the camera will get better at recognizing familiar faces and it won't require further actions on your side.

One cannot stress enough how useful this is, and I've already talked about the importance of this feature in this article about face recognition security cameras.

If you're concerned about not being able to see an intruder's face due to the poor image quality, consider that the intruder is likely to cover its face, so the important thing is not recognizing an intruder, but avoiding multiple false alarms during the days and months the camera will be active.

In terms of image recognition, every Homekit Secure Video enabled camera can understand when an animal or a car enters its field of view and act accordingly.
Storage
With a subscription to iCloud for the 200GB plan, you can store up to ten 10 days of recordings for later review. After the 10th day, the oldest footage is removed to make room for the newest.

With a 200GB plan you can control up to one camera, which can be extended to 5 cameras if you subscribe to the 2TB plan on iCloud. The good thing about it is that during these 10 days window, the footage will not eat up your storage space. If you save one of the videos, then it will be permanently put into your iCloud as any other file.

In terms of privacy, you get everything that comes with an Apple device, in other words, end to end encryption to make sure you're the only one that can access the live stream and footage, unless of course you decide to share it.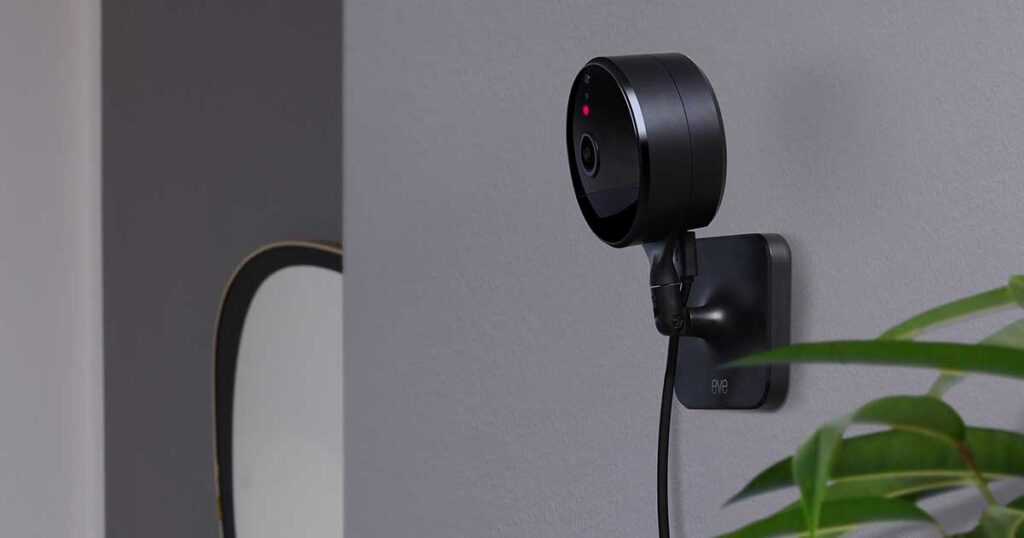 Compatible interfaces
The Eve Cam is specifically designed to be working with Homekit. This means that if you have a smart home based on Amazon Alexa or Google Assistant you won't be able to integrate it in your system.

That being said, it's important to mention that with the Eve Cam you get also the native Eve app. Through this app you can access the live stream but not the stored footage. In any case it is important that there is a native app, because with HomeKit compatible cameras, you sometimes lose some features (such as video quality settings, two way audio etc.) if you only use them in the Home app. Apple is always releasing updates to address these problems, but for the time being there are still some uses for native apps.
Eve Cam Pros and Cons
So, should you buy the Eve Cam? If you're looking for a home security camera, considering its price the Eve Cam might be a good choice. You should keep in mind that its performances in terms of video quality in difficult light situations are not the best, and if this is a factor that matters to you, there's probably a better option for you on the market.
Pros:
Compatible with Homekit Secure Video
Has face recognition abilities
Easy to use and install
Reduces false alarms
Cons:
Poor image quality in low or mixed light situations
24 FPS (frames per second) is a little below average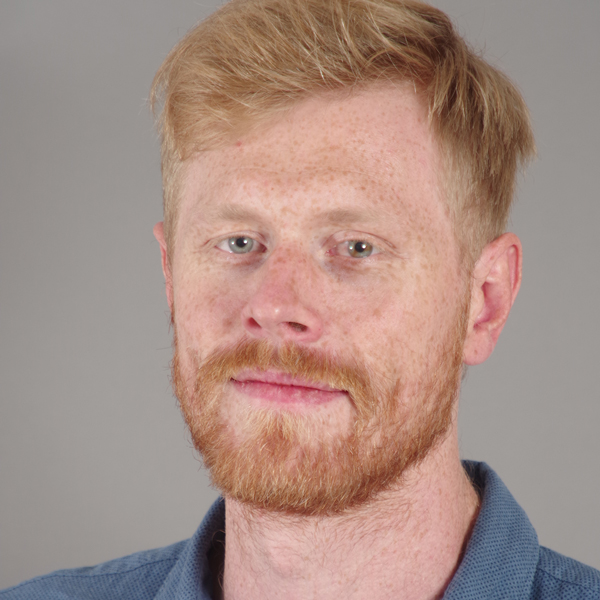 Associate Editor
Alessandro Eric Russo is a technology content writer with a passion for home automation devices that bring Artificial Intelligence into our lives in a meaningful way.