If you're looking for a home security camera under $200 to be integrated in your HomeKit smart home, you might have heard about the Logitech Circle View and the Eve Cam. In fact, these cameras both offer great quality and have pretty similar features.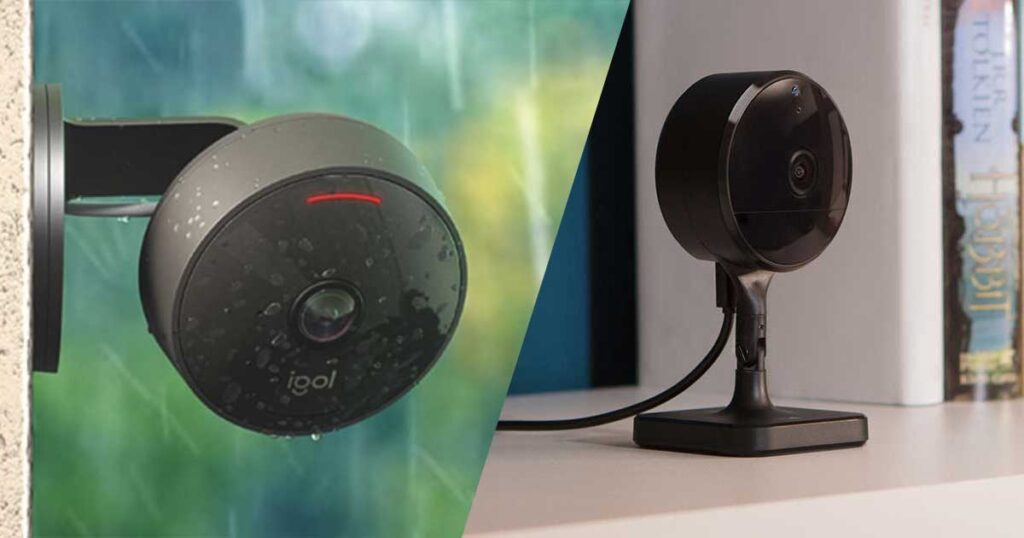 They're pretty similar due to the fact that they're both designed to be working with HomeKit Secure Video, the Apple platform for home surveillance, which means that most of the features for daily use are handled directly in the Apple Home app. 

However, there are some differences, starting from the price, that are worth pointing out to make sure you're going to get the camera that better suits your needs. 

In this article I'll talk about these differences and see in which case these differences are to be considered as deal breakers.

I will not talk about storage and privacy since they're perfectly equal and if you want to know more about this aspect, you can find all the information in the dedicated review: 

Logitech Circle View complete review
Comparative table
| | | |
| --- | --- | --- |
| Product | Eve Cam | Logitech Circle View |
| Check on Amazon | | |
| Video quality | 1080p/24fps H.264 Video | HD 1080p |
| Field of view | 150°  | 180° |
| Night vision | Infrared black and white | Infrared Black and White |
| Dimensions | 122 x 65 x 60 mm (H x W x D) | 5.68 cm x 6.72 cm x 7.05 cm |
| Audio | 2 way | 2 way |
| Water Resistance | Indoor only | IP 64 – Waterproof (not the power adapter) |
| Native App | Yes | No |
| Connectivity | 2,4GHz / 5GHz | 2,4GHz |
| Storage | iCloud | iCloud |
| Power source | Cable | Cable |
| Compatible with | Homekit | Homekit Secure Video |
| | Check price on Amazon | Check price on Amazon |
Main differences between Eve Cam and Logitech Circle View
Looking at the table above, the are three main differences that are inarguable: 

The field of view: Logitech has a 180° field of view; Eve Cam only has 150°
Eve Cam has both 2,4 and 5GHz  connection abilities; Logitech only 2,4GHz
Logitech is waterproof and can be used outside (although the power adapter is not waterproof) 
Eve Cam has a native app; Logitech can only be controlled through the Apple Home App
Of course then comes the price difference, which can vary from $20 to $40 depending on the period. 

However, there are other differences to point out and considerations to be made that can only come if you take a closer look at both cameras. 
Read also: Best WiFi Security Cameras with Face Recognition
Design & setup
Both cameras have a plastic body in the head that contains the camera itself, but the Circle view has a much steadier metal pedestal. They can both be mounted on a wall or just positioned on a horizontal surface. 

Both the Eve Cam and the Circle View have privacy shutters button, which cannot be disabled in case you want to put the camera outside your house. 

Even if the Eve Cam has a native app, both cameras can be activated directly through HomeKit. In both cases the setup is as easy as it gets thanks to the flawless user experience offered by Apple devices. 

Here I should mention that since the Circle View doesn't have a native app, it's impossible to adjust and regulate bandwidth usage, frame rate or image quality. Apple is always trying to widen the set of capabilities of the Home app, but as of today there are still some options missing.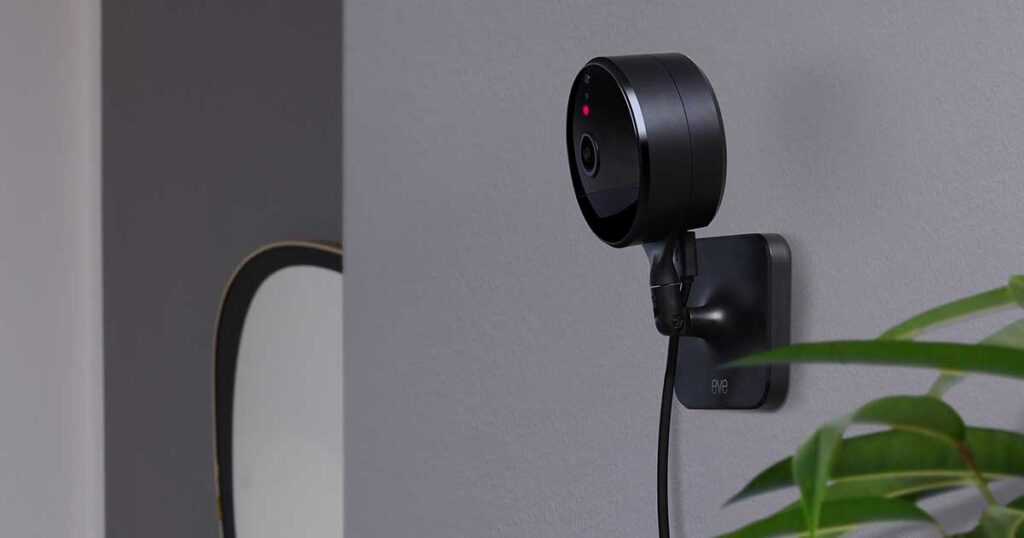 Indoor & outdoor
As I've already pointed out, the Logitech Circle View is a waterproof camera that works indoors and outdoors. This is great, but this alone doesn't make it much better than the Eve Cam. 

If we compare the two cameras for indoor usage, probably the Logitech Circle View is slightly better. But if we take the dispute outside, the fact is that there are just much better cameras than the Logitech Circle View for outdoor usage. 

The problem here is that the Circle View does not have a battery. This means that it will either require an invasive installation to let the cable go through the wall, or to be plugged somewhere out of reach for potential intruders, even more so considering that you cannot disable the privacy shutter button.

If you're willing to take care of the installation, a cable powered camera will require less maintenance, which in the long term can prove less discomforting than battery powered cameras. But nowadays you can find great outdoors security cameras, such as the Eufy line-up of cameras, that can work an entire year with a single charge. 
Video quality
Nowadays, HomeKit Secure Video only supports Full HD 1080p resolution cameras. So they both start from 1080p. But there is a slight difference in image quality that has been pointed out between these cameras. 

In perfect light conditions, the Eve Cam proved to be slightly better at keeping a crisp and detailed image. But in mixed or bad light conditions the Logitech Circle View outperforms the Eve Cam. 

Probably this is due to the fact that the Logitech Circle View is designed to work indoors and outdoors, so it's just better at equalizing the light that floods in its field of view, making it a more flexible and adaptive camera. 

So, if your priority is image and video quality, I recommend preferring the Logitech Circle View over the Eve Cam, simply because it's more likely that it will adapt to the light condition of your house.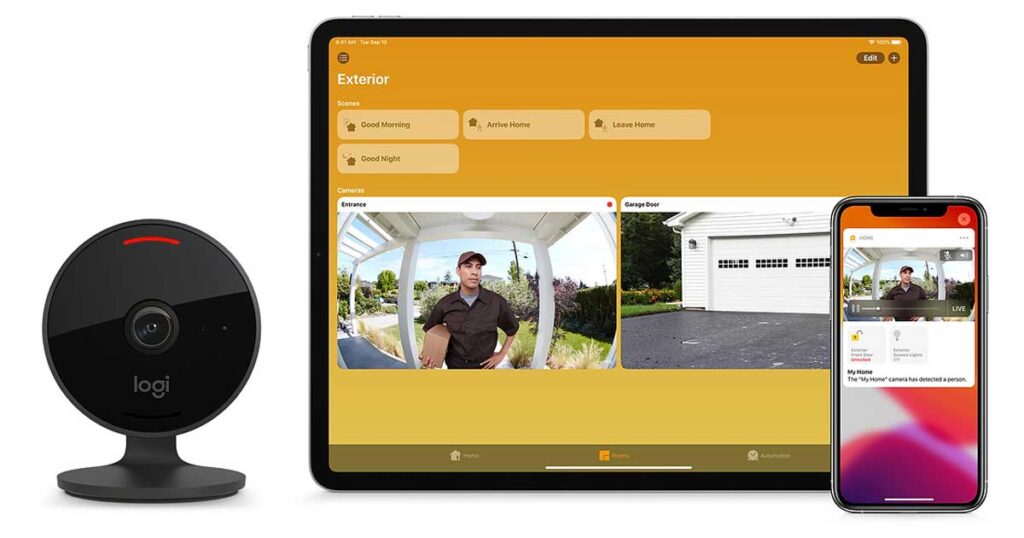 Face recognition and activity zones
All cameras compatible with Homekit Secure Video now have face recognition abilities and activity zones; this happened after Apple released its iOS 14 last summer.

Activity zones might be useful if you plan to place your camera outside your house and you want to make sure that only a relevant portion of the camera's field of view is analysed. So, this feature makes a great addition in the Logitech Circle View, which can be used outdoors. 

But the great advancement here is face recognition. This feature makes both cameras great at what they're designed for: which is to trigger an alert in a smart and meaningful way. In this article, I talked about the enormous benefits that come with face recognition security cameras, which can be summarized as follows: a security camera that alerts you 30 times a day because your family members pass by, is just an expensive toy. 

Since both the Eve Cam and the Logitech Circle View can recognize familiar faces in Homekit, they're both great cameras, which makes differences in image quality much less relevant in terms of security. 
Pros and Cons: a comparison
Let's see what are the pros and cons of these cameras when compared. For a detailed list of pros and cons for each camera, read the complete reviews that I linked at the beginning of the article.

| | |
| --- | --- |
| Logitech Circle View | Eve Cam |
| Pros | Pros |
| Better design | Lower price |
| Better image quality in difficult light situations | Better image in perfect light situations |
| Can be used outdoors | Has 5GHz connection |
| 180° field of view | Has a native app for extensive control |
| Cons | Cons |
| Higher price | Weaker design |
| No native app for extended control | 150° field of view |
| Not the best option for outdoors usage | Works only indoor |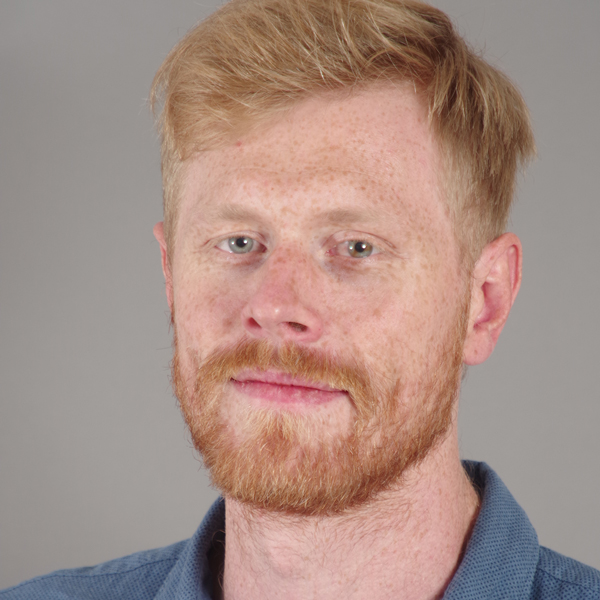 Contributor
Alessandro Eric Russo is a technology content writer with a passion for home automation devices that bring Artificial Intelligence into our lives in a meaningful way.
Opinions expressed by contributors are their own.