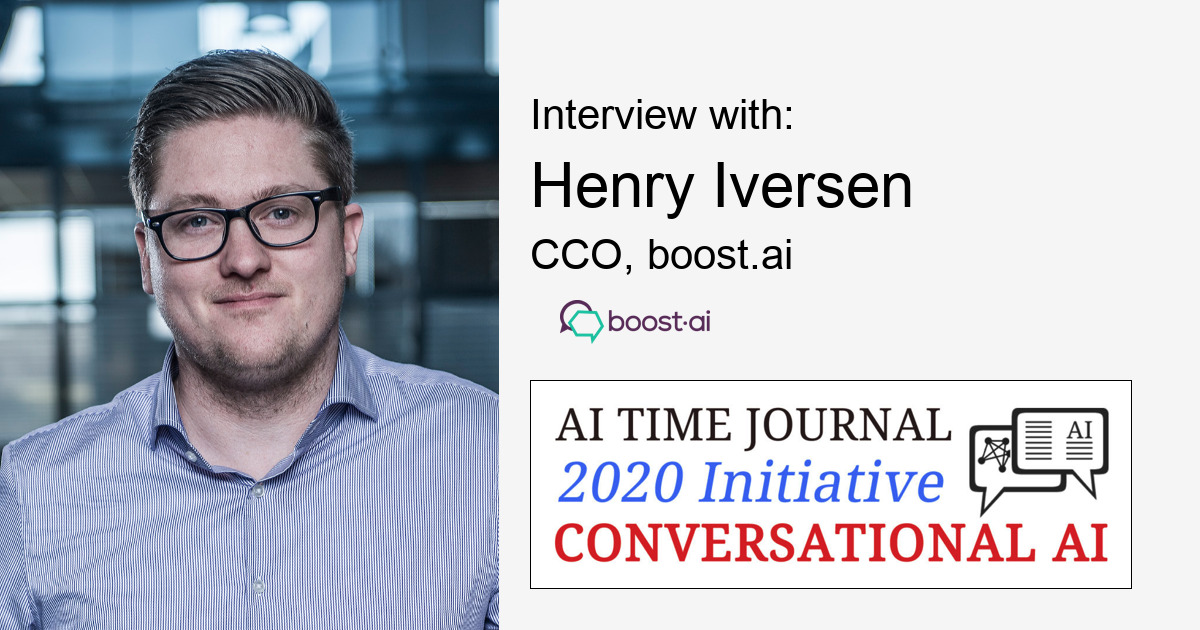 A large gap can be found in conversational AI, from simple FAQ navigation to almost real-human feeling conversation. We thank Henry Iversen from boost.ai for taking part in the Conversational AI Interview Series and sharing several insights, including:
How boost.ai integrated further functionality beyond just answering questions but providing actionable functionalities, such as OCR integration
How boost.ai was able to attract large corporations to integrate conversational AI into their client facing interfaces
How their client-focused approach helped to prioritize and grow their customer base quickly
We believe that the closer we can become towards feeling more understood by online interfaces, the more empathy we can create and leverage functionalities beyond just receiving answers. Eventually, human support staff is granted the opportunity to focus on the services which matter, where direct human communication is important.
Hi Henry! In 2019, we spoke with both boost.ai's CEO Lars Selsås and Chief Data Scientist Abhishek Thakur. What have you guys been up to during the last year?
Hi! The last six months have been extremely busy for us. As a company, we have hit a number of milestones including growing our team to over 100 employees, landing our first U.S. client with Silvercar by Audi and unveiling our new self-learning AI technology that allows us to build virtual agents from the ground up in as little as 10 days. 2020 has certainly not been without its challenges due to COVID-19, but It has also been an exciting period of growth for boost.ai.
How do the new integrations such as OCR and conversational IVR help your customers?
It's not enough for our virtual agents to only be great at language understanding. Our client base consists of some of the largest private and public organizations in the Nordics and they also require an equally great enterprise-ready feature set. That is why, in 2020, we have rolled out two fantastic new integrations that enhance the functionality of our virtual agents even further.
"The first, in partnership with Lucidtech AI, allows for full OCR integration within the chat panel."
It means that, for example, an insurance company can have their customers scan and upload receipts via a virtual agent when filing a claim, or a company's employees can upload travel expenses directly into its HR virtual agent. It makes for a more seamless self-service experience. The second integration is also incredibly exciting and something we have been working on for a while. By leveraging our Natural Language Understanding, we are able to dramatically improve traditional phone support with something we are calling conversational IVR. This is different from legacy IVR systems that use prompts and keywords to activate menu options. Instead, conversational IVR combines with our IVR solution partners (Twillo and Linden Baum) to interpret and understand what a customer is asking for over the phone and predict to the correct intent regardless of slang, dialect or even language. It's the same market-leading language understanding we offer via chat, but now available over the phone.
What motivated you to start boost.ai?
Along with my co-founders, Lars and Hadle, we identified a gap in the market for intelligent, chat-first customer service. It was clear in 2016 when we started boost.ai, that consumer habits were increasingly shifting to instant messaging, and we were frustrated that it was impossible to get a great self-service customer experience. We have made it our goal to change that by developing a conversational AI platform that removes the friction between customers and the brands that they love to interact with, giving them agency over the experience with the ability to still connect with human support if necessary.
The pandemic has created several challenges for enterprises and brands. Do you have any success story that you can share about how boost.ai's customers have overcome a particular challenge with your technology?
We have seen a number of incredible success stories emerge from the use of our conversational AI platform during the pandemic. One of the most exciting is with the Norwegian Welfare and Labour Administration (NAV) who have the important task of managing the country's key social benefit programs, including unemployment benefits and employee sick leave. Their customer support teams were overrun due to corona and reported that their virtual agent answered more than 270,000 inquiries during the height of the outbreak, doing the equivalent work of 220 full-time employees. The Norwegian bank, Sparebank 1 SR-Bank, also demonstrated an interesting use case during the pandemic by combining RPA with its virtual agent to allow customers to defer mortgage payments by up to six months. The entire process is automated, including the virtual agent using RPA to perform a credit check for eligibility. This sped up the application process and lowered the threshold for customers to apply for the service during a period when the bank's contact center was seeing dramatic spikes in call volume.
How is boost.ai differentiating from the competition when it comes to Conversational AI?
Our technology stack is a major way in which we set ourselves apart from other vendors. While other chatbot solutions use off-the-shelf Machine Learning and rule-based technology, we have developed a number of proprietary algorithms that dramatically improve our virtual agents' ability to understand user intent and reduce false positives by up to 90%. We also guarantee consistent prediction accuracy of around 90%, regardless of scale. Our virtual agents, on average, have 2,000+ intents, well above the industry standard which sits at around 2-300.
Earlier this year, we launched our latest innovation: self-learning conversational AI.
"This technology makes it possible for our existing virtual agents to continually improve themselves by analyzing conversation data in real-time."
It is also suggesting new and missing intents that can then be added to the model by a client's AI Trainer team. It also allows us to build a virtual agent from scratch at a far accelerated rate.
During your tenure as the CCO of boost.ai, what are the most important lessons about customer experience that you have learned?
I think the most important lesson is that time is our most valuable resource. Everyone's time is finite and no one wants to waste it – whether it's a customer waiting on hold or a company with inefficient processes.
"That's why, whenever we develop a new feature or tackle a new challenge, we first stop to think about how we can help our clients and their customers take back their own time."
Always keeping this goal in mind ultimately leads to a better customer experience.
In which industries or use cases do you think your technology has benefited organizations and end-users the most?
There are currently over 250 organizations in Europe and the U.S. that have successfully deployed a virtual agent built on our conversational AI platform. We work within a number of verticals including banking, insurance, telecom, the public sector and more. The advantage of our technology is its versatility – we are not confined to only a few sectors and can deliver up to 90% prediction accuracy rates across the board, regardless of vertical. If I were to pick one in particular, however, I'd have to say that the work being done by our virtual banking agents is particularly impressive. Our client DNB (one of the 3 largest banks in Scandinavia) saw incredible results with our technology. By employing a chat-first strategy, they successfully automated 51% of all incoming chat traffic within the first 6 months. Today, the virtual agent automates 22% of DNB's total customer service inquiries, including phone and email. DNB has over 2 million customers, so that's thousands of inquiries per day handled automatically that would have previously needed human support staff to manage.
As the head of global sales, what are your next steps to boost adoption of boost.ai solutions?
Thanks to self-learning AI, we are now able to offer new clients the ability to sidestep a 'cold-start'. We can feed chat logs from a company's existing chatbot or live chat and develop a virtual agent in as little as 10-days. We're so confident in this technology that we offer a 30-day, risk-free trial – not a sandbox or a chatbot with limited functionality, but a full-featured virtual agent powered by our conversational AI that you can deploy on your website to begin assisting your customers in less than two weeks. I don't think that's something any other vendor on the market can offer.
Contributor
I am PhD Candidate at Nanyang Technological University, Singapore. Passionate about autonomous systems, education, globalization, business and entrepreneurship. My mission is to create trust in artificial intelligent systems by enhancing robustness and communicating opportunities and risks with industry leaders and governments. I am always keen to connect and exchange ideas.
Follow here for ideas, publication and work on AI
Opinions expressed by contributors are their own.