AI and Automation have come a long way and are continually rejuvenating the way businesses are carried out. It has played a vital role in opening new avenues for organizations to operate their businesses seamlessly.  
With the compelling impact of technology on business, most organizations are openly embracing AI and Automation to create an enhanced experience for employees and their stakeholders.
Companies have started measuring success based on how well the people, process, and technology integrate smoothly to run business operations.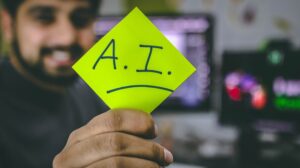 Credits: unsplash.com
Specifically, HR operations have undergone a complete transformation as Artificial Intelligence has automated the essential HR functions, saving time for your HR personnel to concentrate more on people management.  
If in case you are looking for how AI and Automation have impacted HR operations, then you have come to the right place. Let's deep dive into it in detail: 
Recruitment 
Recruitment is considered to be one of the most critical and complex functions of the HR domain. Right from screening resumes to onboarding the candidates, your HR personnel may have to invest a lot of time and effort to end up with a perfectly suitable candidate for the required job role.  
Artificial Intelligence and augmented technology are programmed to shortlist the best-suited candidates based on the skills specified. Your HR personnel no longer have to spend time reviewing each application, shortlisting candidates, and scheduling interviews.  
Learning and Development 
Every day is a new experience, and the same goes for technology as well! You will always find something new to learn with the increasing innovations in the market. AI can significantly help in guiding and training employees on the latest software and processes.
It analyzes the skills of your employees and suggests training programs based on their capabilities and job requirements. Also, AI can enable your HR team to quickly identify employees who need training by analyzing their data and behavior over a while.  
Administrative Operations 
AI plays a vital role in automating all the repetitive or administrative tasks for your HR personnel. Whether it's managing payroll, tracking leaves and attendance, ensuring legal compliance, managing expenses, or monitoring performance, you can streamline all these functions by automating them. 
Chatbots are one more AI-based solution to ease the burden of HRs. These chatbots may relieve your HR team from relaying employees of necessary company-related information and queries. Employees as well may find it more feasible to get instant responses for their concerns through a chatbot.  
Analytics and Reports 
AI cannot just help you analyze the data, but also create customized reports based on analysis conducted. You can build reports based on employee behavior, expectations, and opinions, which will further form a basis for your action plan to provide an enhanced employee experience.  
This will enable your HR personnel to make quick and unbiased decisions with cognitive support. 
Wrapping Up
If you are looking forward to automating your HR functions, then implementing AI can prove an ideal strategy for your organization. It will not just be boon to your HRs but has many more benefits such as improved employee experience, enhanced productivity, and reduced operational costs!