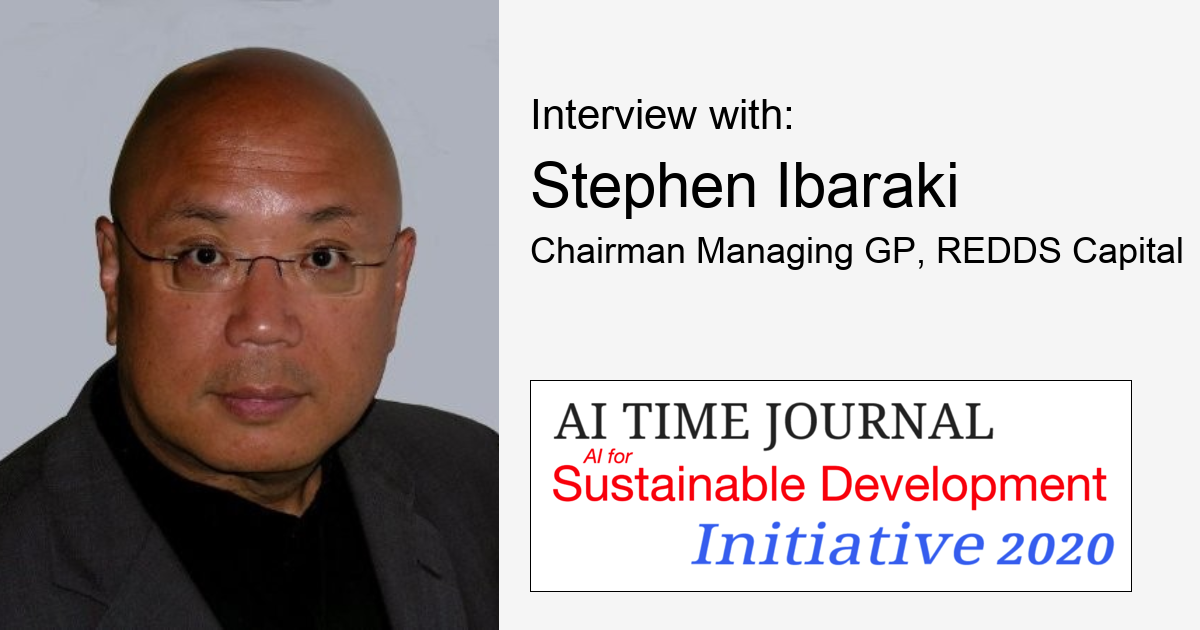 Here is an insightful article about interview with Mr. Stephen Ibaraki. We extend our profound gratitude to Stephen Ibaraki from REDDS Capital — Venture Capital Investments for taking part in the AI for Sustainable Development Initiative and sharing several cognizance. Read the complete article to know how Mr. Stephen estimates the exponential acceleration of technology advancements happening now in this COVID scenario. Also find out the beneficiaries of AI in the human metabolism and especially the "AI on the Edge".
Jagan: "A world beyond COVID". The entire globe is witnessing the digital transformation especially in times of COVID. According to you, what are the major advancements that we can witness in the digital transformation in the near-by future?
Stephen Ibaraki: We are in the midst of a planet reset which affords opportunities from the acceleration of digital transformation. Thus, take time to positively reframe for this unprecedented historical inflect point. The World Economic Forum (WEF) engaged the world in 2016 with the 4

th

 Industrial Revolution, KNVI in the Netherlands updated with Smart Humanity in 2018 and Japan with Society 5.0 in 2019.
What would have taken till 2030 to realize is happening now.  What is happening is the rapid acceleration of Smart Humanity/Society 5.0—taking 4 years rather than 10. For example, digital integration in healthcare expected by 2030 is happening today.

–Stephen Ibaraki
In real terms, the internet as a foundation with: AI assisted systems, 5G, and telemedicine for patient treatment; delivery and disinfection robots for front-line protection; materials dispatching, vaccine development, case tracking/modelling using big data, and AI. AI/ML is expanding in usage, understanding. For example DarwinAI with AI transparency and tools for AI optimization and AI on the Edge. We are near the end of Moore's Law and thus new chip architectures such as 3D stacking, photonic chips that mitigates energy costs,10-1000x plus performance benefits plus expanding on TensorFlow and GPUs. Quantum computing is further examined, trialed in the near and far term at post 40 percentile for industries such as financial services and healthcare. COVID lessons will lead to society being more inclusive and having less inequity. Education is impacted with online learning and lessons such that it takes 6.5 minutes before learners switch to another unrelated activity so having educational segments in smaller chunks. Doug Wilson, founder and chairman of the non-profit, CEO Leadership Alliance Orange County USA (members are leaders of the largest companies), is envisioning a global center of AI ecosystem excellence, in Southern California, powering diversity, equity, jobs, talent, K-14 education, economic growth and fairness, university programs and technology transfer, startup incubation, and much more. This is captured in my recent interview with Doug, appearing with the IEEE TEMS.   
Consumers are moving online in unprecedented numbers, companies are employing digital platforms with changes in business models, workers are remotely engaging; there are cultural shifts from COVID.  Since we are in the midst of this historical acceleration in digitization, there will be lasting changes in governments, industry, research, media, non-profits, United Nations, and society.
Jagan: How important do you think the public speaker posses the responsibility of embracing the audience through the ideas and convictions?
Stephen Ibaraki: Speaking is a unique responsibility to understand and learn from diverse communities and participants. To understand further ourselves and the other by a deep dialogue. This leads to having shared realities, areas of commonality and collaboration. The ultimate goal is co-creation for global good. This philosophy is the foundation of the non-profit, Million Peacemakers and Nonflict, which Stephen Hecht 
shares in this interview
. Speaking yields engagement, empowerment, and meaningful positive change.
Jagan: If given a chance to address the UN conference on AI technology, which problem statement would you choose to talk about?
Jagan: The advancement of Artificial Intelligence is surging in multiple sectors. But, what is the lifestyle sustainability that could actually be achieved through AI technology?
Stephen Ibaraki: In 2019, at the Austin-based South by SouthWest (SxSW) Conference, I 
spoke about AI and healthcare
 which covers lifestyle sustainability.
AI provides deeper insights into improved nutrition, healthy activities, better sleep, optimized performance, personal security, trusted contacts – every aspect of our lives.

–Stephen Ibaraki
There are proof points in the book, 
Own the AI Revolution
, and an upcoming book on Smart Humanity by 
KNVI
. A good example is "AI on the Edge" technology from 
Anagog
 providing hyper-personalized services via automatic production of timelines, schedules, and profiles.