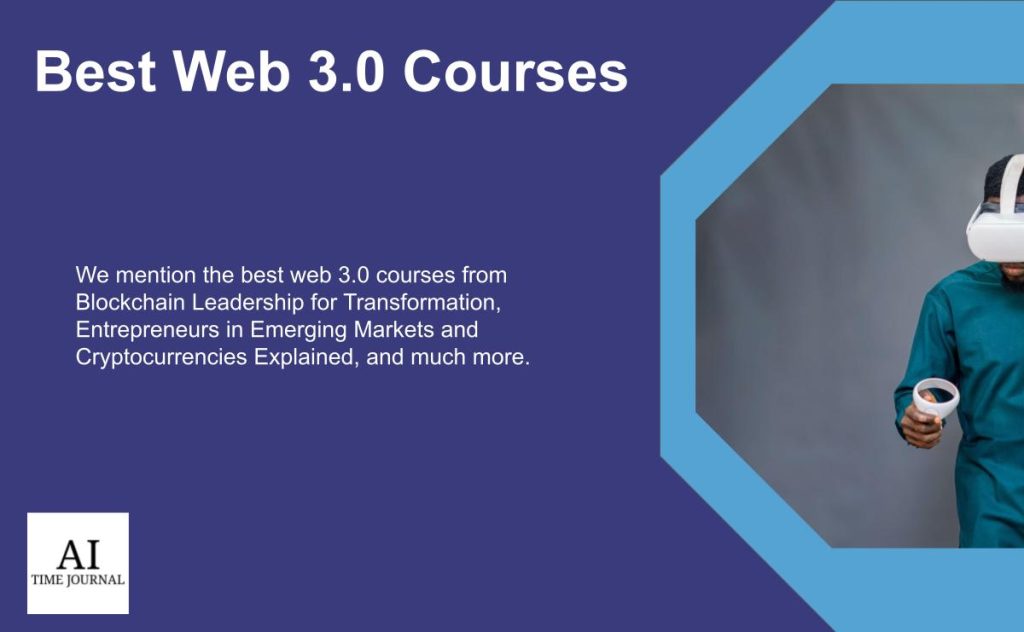 Over the past couple of decades, our society has operated online with what's referred to as Web 2.0. This is what we know as the internet we use today. It is a vast improvement from what the internet started when it was founded nearly 30 years ago. 
Today, we are on the verge of a revolutionary new iteration of web technology – Web 3.0. It is significantly different from Web 2.0 since it's characterized by concepts such as decentralization, blockchain, and token-based economics. These aspects will allow users to be in control of their own data, instead of Big Tech corporations owning and selling user data for profit. The goal is to provide greater data security and privacy with the newest iteration of the internet.
With Web 3.0 rapidly approaching, many people and businesses alike will need to understand how each of the concepts of Web 3.0 interacts to keep up with new developments. We look at some of the highest-rated courses to learn about different aspects of Web 3.0, offered by the online learning platform Coursera.
For more like this, check out these other articles: Best Cybersecurity Courses (2023) and Best Blockchain and Cryptocurrency Courses (2023)
Web3 and Blockchain Leadership for Transformation
Web3 and Blockchain Leadership for Transformation is part of a four-course Web3 and Blockchain in Global Commerce specialization offered by INSEAD. The course is taught by father-son-duo Alex and Don Tapscott, who are both critically-acclaimed authors and experts on how emerging technologies impact businesses and society. They are both well-versed in the world of blockchain and cryptocurrency and co-founded the Blockchain Research Institute in 2017. The Tapscotts instruct alongside Dr. Alisa Acosta, who is the Director of Research and Education at the Blockchain Research Institute. The units in this course cover topics such as smart contracts, the different types of digital assets, and how trust is established in blockchain technology. 
This course aims to help students understand the stakeholders of blockchain and their role in integrating blockchain on a global commerce scale. Upon completion, they will be able to explain and describe: 
The benefits and considerations of blockchain and other digital assets
The difference in how the key players in blockchain operate 
How blockchain will transform the roles of C-suite positions
The course is designed for those who have limited knowledge of blockchain and Web 3.0. The four units in this specialization take about 6 months to complete, but certification is offered at the culmination of the course. 
Smart Contracts
Smart Contracts is a program offered by the University at Buffalo and the State University of New York. It is taught by Bina Ramamurthy, who has two decades of experience in computer science and engineering. She holds multiple degrees from various institutions and is a prominent researcher, director, and presenter in her field. 
This course teaches students how to design and use smart contracts, which are the "computational element of blockchain technology". Smart Contracts has a 4.6-star rating and is offered as part of a blockchain specialization unit on Coursera. Overall, students will acquire skills such as cryptocurrency, blockchain, solidity, smart contracts, and remix IDE.
This program is designed for intermediate-level coders and requires knowledge of at least one high-level programming language and completion of the Blockchain Basics course, which is also part of the specialization unit. Students will learn to design smart contracts in Solidity, as well as test and operate in Remix. Learning these skills will help individuals design efficient and autonomous systems in blockchain technology.
This course will take students approximately 17 hours to finish, and they are awarded a certificate upon completion. Reviewers have stated that this course offers a solid foundation for being able to learn more about Solidity and blockchain framework. Blockchain and Cryptocurrency Explained
Offered by the renowned University of Michigan, Blockchain and Cryptocurrency Explained covers the technical aspects of blockchain technology and evaluates blockchain as a business solution. The course is instructed by Professor Robert Dittmar and Andrew Wu. Both instructors have conducted comprehensive research in fintech and have been published in the Journal of Financial Economics.
This course is part of a FinTech specialization unit on Coursera but helps students understand how this technology is used for Web 3.0. The program offers the ability to gain an understanding of key concepts such as:
Cryptocurrency
Decentralization algorithms
Consensus algorithms
And blockchain.
Students who have taken this class have said that this course perfectly explains both the benefits and drawbacks of financial technology emerging with the iteration of Web 3.0. It is described as a beginner course and only takes approximately 9 hours to complete. A certificate of completion is given to students who finish the course. 
How Entrepreneurs in Emerging Markets can master the Blockchain Technology
This course has a 4.6-star rating and is taught by Co-Pierre Georg, an assistant professor at the University of Cape Town. It focuses on the application of blockchain outside of finance and its application for emerging markets. It is designed to help users understand the decentralization of Web 3.0. 
Students will learn about the three types of AI algorithms in this course: supervised machine learning, unsupervised machine learning, and reinforcement learning. The course also introduces students to important topics such as blockchain, and distributed ledger technologies, and an introduction to the foundation of cryptography. 
Individuals looking to understand the benefits of blockchain and whether it is right for their business would benefit from taking this course. There are no prerequisites to take the course and it is an excellent choice for beginners wanting to emerge in the tech world. After 10 hours of study, students are honored with a certificate of completion. 
Blockchain Platforms
Blockchain Platforms provide a more in-depth look at blockchain and the blockchain ecosystem as a whole. This course is offered by the University at Buffalo and The State University of New York and boasts an impressive 4.6-star rating. The course is the second on this list led by Bina Ramamurthy, who teaches two additional courses on the Coursera platform. Students learn about different blockchain platforms, discuss two different use cases, and evaluate challenges associated with the privacy and scalability of blockchain. After the course, students will be able to explain the difference between emerging alternate blockchain platforms. 
The course is the fourth unit in a Blockchain specialization and requires students to have completed the previous three courses. Reviewers have praised this course for the hands-on project they must complete, saying that it helps to understand the underlying concepts behind blockchain.