We are quite used to hearing that the US and China are in a restless economic war. As they are the two giants of the global economy, we've been since long waiting to know who's going to be the winner in this trade fight.
An interesting playground to catch some insights about this contest may be the one of Artificial Intelligence.
China vs US: who is leading the research today?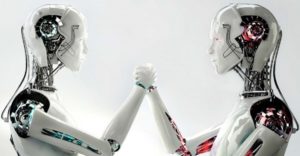 According to these 2017 data, the US are leading the innovation in AI. Considering various factors such as the number of AI talents, the number of companies that are researching in AI, and the investments made by the US, we can say that the overall picture still favors the US. Moreover: as we said last week, US giants are leading the research in AI, and nothing is letting us think that they are going anywhere any soon.
Where will China be by 2030?
How to predict the winner of this battle? A good indicator of where the geographical core of AI will be in the next ten years is political awareness. Chinese politicians seem to be far more aware of the future incomes of AI than their rivals in the US. According to the AAAS, the White House is planning to cut fundings for science and technology research by the 15 percent in 2018. This is not the trend on the other side of the ocean. 
The investments in China on AI are being estimated at around $300 billion. They're building a giant research park worth $2.1 billion. Talking about giants, Alibaba led a deal for $600 million in investments for the AI startup Sense Time.
This is just the beginning. China's goal is to reach $1 trillion in investments on AI by 2030.

How China is using AI in politics
Another interesting view is given by how China's politicians are using AI for foreign policymaking.
AI for policy making is good because it can show a various range of possible decisions even in an urgent situation. Honor or moral problems don't affect AI, it only focuses on the ultimate goal. Of course, this deployment of AI has its problems. The lack of goals at the beginning of the diplomatic interaction, just to point out one.
Again, this is not material for data estimates, but it does give an idea of how China's politicians are aware of the massive changes AI is going to bring in the economic table. 
We don't believe being on anyone's side is the point for the moment. As usual, we would like to keep looking at the numerous opportunities that will rise along with the investments made in this competition.

---