Companies › Stack Overflow
---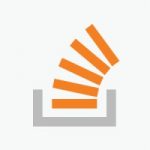 Stack Overflow
Stack Overflow empowers the world to develop technology through collective knowledge.
---
---
Stack Overflow's public platform serves 100 million people every month, making it one of the 50 most popular websites in the world.
Founded in 2008, Stack Overflow's public platform is used by nearly everyone who codes to learn, share their knowledge, collaborate, and build their careers.
Our products and tools help developers and technologists in life and at work. These products include Stack Overflow for Teams, Stack Overflow Advertising, and Stack Overflow for Talent.
Related Articles