Editor's comment: AI Time Journal promotes events and news aimed at spreading knowledge and advancements in Artificial Intelligence across several industries and domains. We are proud to share with our readers the 2nd Intelligent Chatbots Asia Summit, happening in Singapore in June 2019.

Returning from the successful launch last June, the 2nd Annual Intelligent Chatbots Summit will convene Chatbot practitioners to explore key themes on 'Business Synergies & Value Creation', 'Chatbot ROI & Performance', 'Continuous Improvement Initiatives', 'Building Intelligent Bots', 'Chatbot Adoption & Utilisation', 'Chatbot User Experience & Design' and 'Monetising Chatbots'.
Attend this 2-days program focused specifically on chatbots to get inspired and network with like-minded peers!
Event data/location: 18 – 21 June, 2019 | Equarius Hotel, Singapore
Download Intelligent Chatbots 2019 Full Brochure →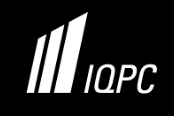 At its core IQPC is a global business to business event company that has embraced the digital age. We are the go to source for online and offline events, information, education, networking, and promotion for executives across an extensive range of industries and professions.