Editor's comment: AI Time Journal promotes events and news aimed at spreading knowledge and advancements in Artificial Intelligence across several industries and domains. We are proud to share with our readers the CDAOI Canada, happening in Toronto in September 2019.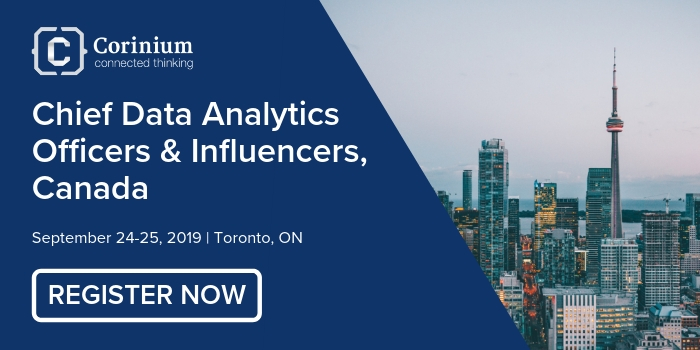 Corinium is excited to announce the return of Chief Data Analytics Officers & Influencers (CDAOI), Canada to Toronto on September 24-25, 2019!
Now in its 4th year, CDAOI Canada provides a platform for Canadian data and analytics leaders from across multiple industries to interact and network over the course of two days, giving participants the unique opportunity to share challenges and learn directly from one another.
Our early confirmed speakers include industry leaders like:
• Head of Analytics, The Chlorox Company
• Director of Analytics Architecture, Recipe Unlimited
• VP Business Intelligence & Analytics, Gore Mutual
• Head of Analytics Centre of Excellence, Bank of Montreal
• Vice President Data Management, QuadReal Property Group
• Chief Data Officer, Environment and Climate Change Canada
• Vice President of Business Intelligence and Analytics, FNF Canada
• Chief Data and Trust Officer, Telus
• Senior Director of Information and Analytics, Walmart Canada
…and more!
Don't miss out on your chance to join them and more of Canada's most influential data & analytics professionals!
Data & Analytics Leaders: Use promo code 'AITJ100' and get $100CAD off your registration!
Find out more at cdao-ca.coriniumintelligence.com
At Corinium we get excited about the incredible pace of innovation and disruption in today's digital, consumer driven world. As enterprises fight to stay relevant, we're witnessing the emergence and growth of new executive roles leading their companies into this new paradigm. The C-Suite is welcoming new recruits focused on Data, Analytics, Customer, Innovation and Digital, amongst others. Corinium is the world's largest community, designed specifically to inspire and support the executives in these pivotal new roles. We believe that connecting our members with the people and ideas that are driving this charge is a vital part of accelerating progress and innovation.