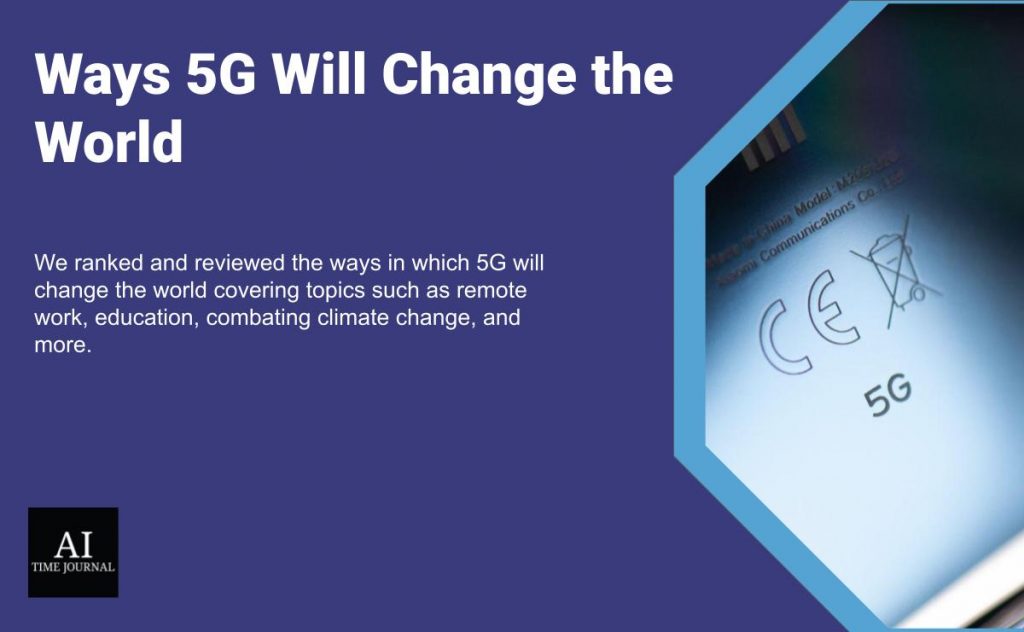 5G is in the market and we are about to see a technological disruption, incomparable to anything we've seen yet
Why is 5G so important?
5G is the fifth generation of telecom networks and is here to change the world as we perceive it. 5G will transform the way our devices work, connect, and the broader IoT. Not just communication, but the way technology accelerates, industries work and our common lives unfold will be determined by 5G. 
Unlike 4G, 5G has an extremely low latency rate (1 millisecond), state-of-the-art speed improvement, and a gigantic 5G IoT environment. Billions of devices can be connected to it and can still expect lag-free communication and downloads, regardless of the place. 
But, how will 5G change actual lives beyond theories? Most people nowadays simply cannot imagine their lives without access to the Internet, especially after covid. Huge and important parts of our lives now exist virtually and this will continue to happen more rapidly. From our vaccine status to our employment details, most aspects of our identity already exist virtually. Apart from our personal lives, electric power grids, smart cars, and appliances, autonomous or technology-driven industries heavily rely on IoT and capable networks which don't glitch and are efficient. 
6 ways in which 5G will create change
Remote Work
With Covid 19, many works have gone remote. It's therefore particularly important to have a telecom network that is very effective in real-time. Remote jobs, therefore, need a stable and reliable internet connection to make sure that their projects and meetings are immersive and lag-free to boost employee productivity. 
Education
In terms of education, students will rarely pay attention to class if their Internet is lagging and unstable. It will hamper the overall progress of their remote learning. High-speed Internet provided by 5G will be able to make classes more engaging and give the teachers more autonomy over virtual realms of teaching.
Meta
Meta's brainchild Metaverse, the successor of Facebook, will require 5G to be its foundation. For more in-depth realism and elevated sensory experience, and therefore a strong consumer base, 5G will make Metaverse a more probable success. The same applies to other VR gadgets and games too. 5G will help us build a technological landscape that will blur the lines between reality and the virtual world further and further. 
Automation and Robotics
On a macro scale too, 5G is going to bring drastic changes. Automation in industries will now be more cutting edge and lag-free. This means that any command input and reaction output chain will have virtually no connectivity issues or delay, increasing the rates of productivity markedly. Important robots and autonomous vehicles will be able to work remotely more efficiently due to 5G and its greater bandwidth and low latency features. 
5G will especially pave the path for autonomous vehicles to become more reliable, productive, and therefore consumer-friendly. As the connectivity between smart vehicles increases, more data about traffic, road collisions, or emergencies can be shared seamlessly in real-time, making streets safer for everyone. 
Combat Climate Change
Due to climate change, our environment is getting more and more unpredictable with recurring floods, droughts, earthquakes, and storms. During these times, 5G will be able to transmit crucial information, required for evacuation or emergency services, rapidly which will help save more lives and create less stress on rescue services. 
Healthcare
Another related advantage is the multifarious opportunities for telemedicine, which will allow Surgeons and Physicians to perform remote medical procedures in real-time with reduced network energy usage, 100% coverage, and 10 Gbps. This will make surgeries safer and more accessible for everyone during any scenario.
Hence, we must embrace 5G and update our lives accordingly. From individual lives to nationally important industries, 5G will be making our world more connected, reliable, productive, and accessible, incomparable to the past generations of telecom services. The Governments and Mobile Network companies around the world should continually work to make this network more omnipresent everywhere, including in rural areas, so that its benefits aren't skewed towards one type of population only.