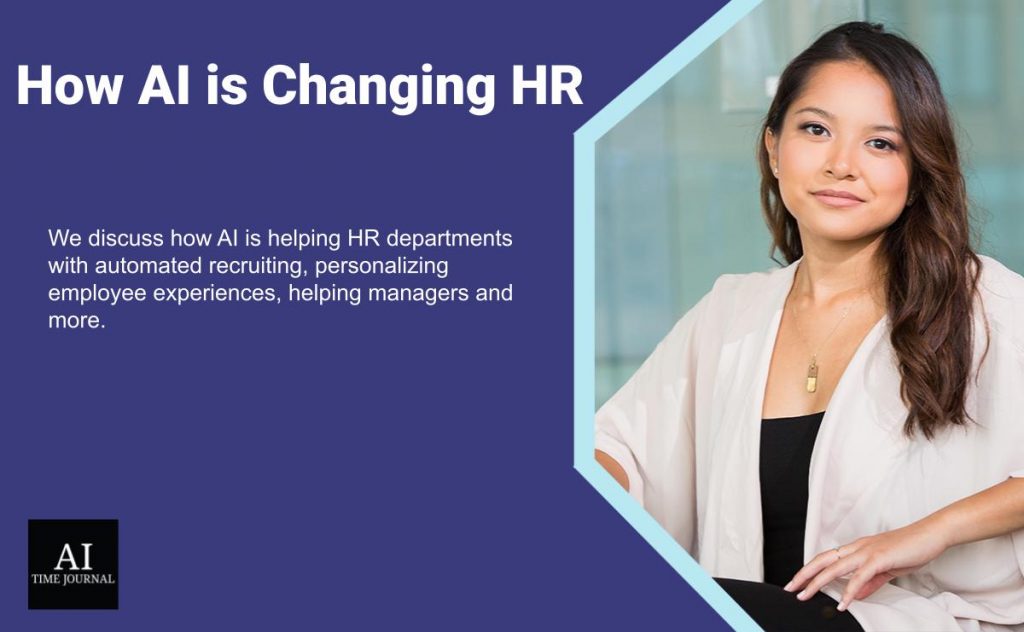 AI has entered the business world and is here to stay. Since the coronavirus pandemic began back in 2020, many businesses have focused on migrating to online platforms. These online platforms allow for the same kind of communication used in the office, just within a virtual setting. Of course, the physical aspect of communication is not the same, but much of the information communicated between employees is. 
Since many businesses have chosen to remain entirely remote or have developed a hybrid working model, AI technologies have been used within an organization to better utilize the information kept within these online working platforms. 
Many employees do not realize it, but when they are working online they are creating data that can be used to improve multiple realms within a business. This information is vital for departments such as HR, which focus heavily on factors such as employee improvement and worker productivity. It is up to the AI software to interpret the data and create improvements where needed and it is up to the HR department to implement the changes found by AI technologies. 
Automating the recruitment process, from sourcing candidates to scheduling interviews
There are many AI resources currently being used within human resource departments to increase the efficiency of human resource processes. Newly developed AI technology helps streamline common human resource processes such as:
Examining resumes
Cover letters
Employee Attendance
Employee productivity
There is AI software that evaluates resumes and covers letters by looking for specific words that may have been used on a company website or within the job description. These kinds of software can scan resumes, cover letters, and application tasks to find the strongest candidates for interviewing, resulting in creating the best pool of applicants for a position needing hire. Besides scanning resumes and cover letters, some AI software solutions also have the capability to administer a mechanical reasoning test as part of the pre-employment process which helps HRs find the top candidates who possess the necessary skills for the job.
In some cases, results yielded from AI technology for human resource processes are more optimal than the results yielded by human employees because they are programmed to search for specific details that the human eye may overlook. Another benefit of incorporating AI technology to streamline some human resource processes is that technology cannot show up to work late or become ill and often AI resources contribute to better results without having all of the potential negative aspects that may inhibit workflow.
Recruiting company Randstad uses a virtual assistant to help set up interviews with its many interviewers and applicants. After submitting the job application, the virtual assistant chat box pops up, helping the applicant schedule a 1 on 1 interview with the specific Randstad interviewer assigned to that job ad. Not only does this AI chatbot help with scheduling an interview, but it also asks applicants for legal questions such as the ability to work lawfully in the US, without employer sponsorship, questions about relocating or commuting, preferences for work hours, wage acceptance, any possible drug screening requirement, all questions the job poster from Randstad can customize based on what the job requires.
Analyzing employee data to identify patterns and trends
Some other AI technology developed for the human resource process can track the measures of performance that each employee outputs daily. This data measurement is especially helpful in discovering which issues employees encounter most often, as it allows businesses to develop measures to prevent these issues in the future.
Recently, there have been breakthroughs in UI Intelligence with software such as WalkMe which analyzes how humans interact with the software they use within the workspace. Analyzing the human interaction with this software allows WalkMe to find the best solution that optimizes the time and better allocation of tasks for employees. Something as small as clicking through 1 page of information instead of 4 could save plenty of time for employees to continue completing more important tasks and lead to an increase in productivity. Essentially, this AI technology prioritizes the work that needs to be done and finds loopholes in achieving greater efficiency.
Another example of software that collects and analyzes employee data to identify employees who must be retained and identify underperforming employees is Enable. Enable is a software that collects data that employees submit regarding goal progress and completion, and it takes this data, analyzes it, and churns out information about which employees are the most productive and which employees are severely underperforming, helping human resource managers make decisions on creating rewarding motivators and rewards for quality performers and which employees need help to get back on track or lay off.
Helping managers to identify potential issues and coaching opportunities with employees
AI helps employee monitoring software more effectively in its purpose to monitor and track employee productivity and utilize this data to identify problems and generate solutions for the business to implement. 
Employee monitoring software is improved by AI in which many processes are streamlined and automatic. These systems often identify bottlenecks in work tasks and issues that are hindering optimal productivity for employees and provide recommendations that human resource managers can help implement throughout the needed departments to resolve these issues, whether it be having 1 on 1 meetings with the employee to discuss more resources to make the task more efficient or simply having a 1 on 1 check-up meeting to make sure everything is alright and the employee is feeling satisfied with their work. A common conception is that people are hired for their talents and fired for their behavior. 
The behavior of employees plays an important role in determining the culture and productivity of the workplace. Some employees like to spend the first few minutes of the day browsing Internet news websites, and some employees use their free time to grow their other dreams. Opinions on behavior are all perspectives, but AI technology helps reshape employee behavior with its AI algorithms. 
CloudDesk is an example of an employee monitoring software that utilizes AI technology to streamline its processes and information delivered. This software provides a multitude of analytical tools to help reshape employee behavior: active and idle time on the computer, internet, and computer application usage, facial recognition system, and screenshot collector. A compiled look at multiple types of data collected helps human resource managers get a better perspective on the productivity of the employee.
For example, an employee's active time may be high, but that does not necessarily mean all of the active time on the computer is related to progress on tasks. Another look at the internet and computer application usage, and possibly the screenshot collector may find that that employee spends many hours during the day on non-work-related websites such as surfing YouTube and screenshotting funny memes on Reddit. 
The issue here with this employee is time management, looking at the many hours wasted not working on business-related activities. This alerts the human resource department to possibly have a 1 on 1 meeting with this employee to maybe rearrange responsibilities for this employee so they are more productive throughout the day and have less inclination to use the computer for non-business activities. There are a lot of ways to help everyone in the company to be more productive. 
Employees are also generally more discouraged to do such behavior that is non-business when there is the acknowledgment of an AI system that tracks their computer usage type.
Providing employees with personalized recommendations and feedback
Information gathered from weekly or monthly surveys, collaboration platforms, and internal social networking are often used to generate personalized recommendations for employees and feedback for improvement. However, often many companies are not efficiently creating employee feedback due to the limitation of human analysis with numerous raw data. AI software can analyze raw data from engagement surveys and generate meaningful data that is easily analyzed for many purposes. 
Three areas in that AI has improved the traditional way of human analysis of employee feedback inputs are:
The development of predictive appraisals
The area of bias in performance reviews, and 
The area of planning for immediate course correction
Likewise, it works the other way around, AI technology can also quickly interpret employee feedback and mitigate problems from occurring within the office, for example, simple issues such as employee satisfaction going down because there is no longer a free snack and coffee bar at the office, advanced sentiment analysis can identify patterns and provide recommendations with less human involvement. 
BetterWorks is enterprise software that creates individualized employee work profiles based on data collected from common integrations with Google Apps, email, Microsoft Office, Slack, and more. This AI software uses an algorithm that tracks the employee's goal progress, goal alignment, and types of messages sent in all of the connected integrated apps. BetterWorks will take this data and connect relevant people to give feedback or recognition when it's needed, as frequently as possible. 
Another example of AI software available to companies in crafting individualized feedback is WonderWork. WonderWork is a new software branch from the software WonderFlow, which utilizes a Natural Language Processing (NLP) technology to capture, process, and regurgitate inefficient form customer feedback. WonderWork is the internal version of that, also using NLP to collect and analyze employee feedback and offer insights to relevant people within the company to take action.   
Creating a more engaging and personalized employee experience
There are many areas within a company that AI can help benefit and better, including employee engagement, developing talent, strengthening company culture, and execution of common human resource software. It is common knowledge that there is a positive trend between happy employees and productive employees. 
AI is foremost used in streamlining a lot of the hiring portion for companies, but the hope for many companies is to apply AI throughout the entire employee cycle-from job application to exit interview. AI can potentially help develop a personalized goal timeline for employees, with data-centric career plans, created for each individual based on their progression and needs.
AI can also analyze decisions made by managers, such as firing or promoting and give insights into whether or not this decision is fair, reducing actions made that may be negatively biased. AI can also help reduce high turnover by offering predictive insights and generating employee behavior mapping.
The Vibe is a Japanese AI software that can be easily integrated into commonly used company apps such as email and Slack that help distinguish the mood of employees based on keywords and emojis sent in, for example, a chatroom. 
Another example is ADP Compass, which offers similar seamless integration and provides insights and recommendations for human resource managers and managers within the company on how employees are feeling if they need to increase motivation or open discussion. 
Discussion and honest communication between employees from various levels of a company is another important factor in a healthy company and positive employee experience. When used effectively, Chatbot is an AI software that makes the employee communication path much more interactive and collaborative. Chatbots can be integrated into the company's current communication system and can help benefit the employee experience by giving feedback to managers, maintaining satisfaction for tasks done, and streamlining communication across a multitude of departments.