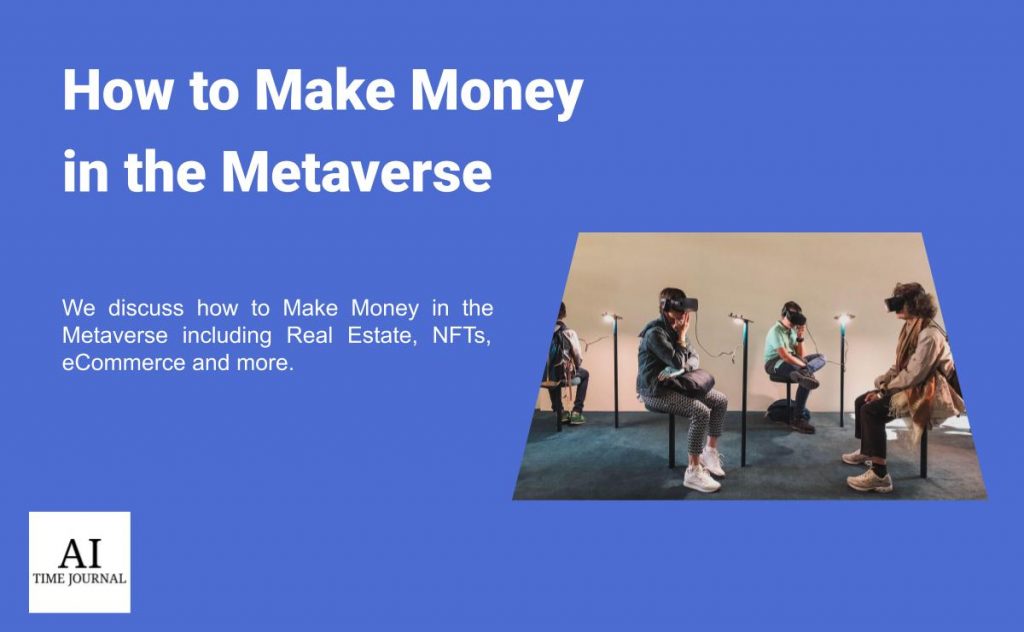 The shift towards remote work as a result of the Covid-19 pandemic has persisted much longer than most people would have thought. As societal values shift to being able to work and make money from home, the Metaverse is offering new ways for remote workers to earn a living. 
The proliferation of online work has created an entirely new market of supply and demand for online labor and online laborers. Qualifications necessary for jobs in the real world have all but been removed for their digital parallels. Many of these new opportunities require only a basic understanding of augmented reality and a strategy to attract business. 
The Metaverse trends are still new, so the virtual job market is not as saturated as the physical job market. While there are an endless number of ways to make money on this new platform, we review some of the best ways to enter the digital job space. 
For more on remote work and virtual reality, check out these articles: Top 7 Challenges of Working Remotely and Top VR Companies to Watch.
Real Estate
Making a profit from real estate has never been easier. In the Metaverse, users can buy property for themselves and develop it as they would in real life, or flip it for a profit like a real estate agent. The upside to owning and selling virtual land is the drastic reduction in paperwork and legal hoops to jump through.
Real estate moguls have already made millions in the Metaverse, citing features such as the view and furnishings as a reason to buy and resell once prices rise. Celebrities and large corporations alike have already staked their virtual claim in these plots of land, which could be an indicator of an emerging market and a reason to invest in your own digital property.
Real Estate can be purchased with cryptocurrencies and NFTs, making the next profitable opportunity on this list an equally lucrative choice to start earning money in the Metaverse. 
NFTs
Non-Fungible Tokens (NFTs) took the world by storm in 2021. These digital collectibles represent ownership in a range of real-world and virtual reality assets, from artwork and luxury goods to real estate and everyday commodities. 
Creating NFTs that represent assets in the Metaverse is a great way to earn a profit in the digital gathering space. Artists can create and mint their own NFTs, or investors can purchase NFTs and wait to resell them for a profit, much like real estate. While this method does require a bit of skill and knowledge of how blockchain technology works, it is becoming an increasingly popular way to make money. 
eCommerce
eCommerce is not a new concept, however, its application in the Metaverse is. Companies like Nike, Gucci, and Dyson are using the Metaverse to market their digital products. These businesses are harnessing the power of VR to allow consumers to 'test' products before they purchase, driving sales and business.
Multiple types of eCommerce exist within the Metaverse. Physical-to-Virtual, Virtual-to-Virtual, and Virtual-to-Physical commerce all provide businesses with ample opportunity to reach new audiences with their products in the digital world. People may discover your product in the virtual world, and order its real-world counterpart, and vice versa. You may just want to stick to strictly digital products, keeping overhead and inventory costs low and maximizing profit. Whatever it may be, the Metaverse offers a solution to an emerging market with substantial earning potential.
If you've dreamed of opening a business, now may be a perfect time. Online stores can sell customizable clothing pieces for Metaverse avatars, furnishings for virtual homes, and virtually anything you can imagine. Physical products aren't necessary to be profitable, although expanding product selection to include both physical and virtual products could increase revenue for your online business. 
Architecture
With virtual land being sold, virtual buildings will need to be developed. People with an eye for 3D design are able to use their talent to earn money in the Metaverse as an architect. Fortunately, no degree is required to build virtual property – just skill and an eagerness to learn. Metaverse citizens who don't or can't design their own virtual items will pay these virtual architects to do it for them.
An architect collective founded by Decentraland hires architects for contract-based building opportunities. These contractors design a wide range of products, including but not limited to houses, boats, working spaces, furniture, and fashion. Contracts pay out anywhere from $5,000 to $22,000 for work completed as one of Decentraland's architects. 
Creating virtual property in an alternate reality allows architects to push the envelope of what was previously thought possible. This manual-turned-virtual labor creates the potential for reality to be reimagined. Metaverse architecture won't be constrained by the limits of reality, and Metaverse citizens will be able to enjoy virtual models of things that just cannot exist in the real world.
Freelance
Online businesses need online labor. Freelancing is a great way to provide businesses with marketing, designing, editing, programming, and a plethora of other essential business operations. Consider this type of work if you value freedom in choosing hours, type of work, clients, and rates when making money.
So far, LinkedIn and Fiverr have been popular sites to hire freelance workers, but the Metaverse offers residents a new platform for hiring short-term workers. Payment for these jobs comes in the form of cryptocurrency, meaning you could earn more than you were originally paid if the value of your crypto increases on the market.