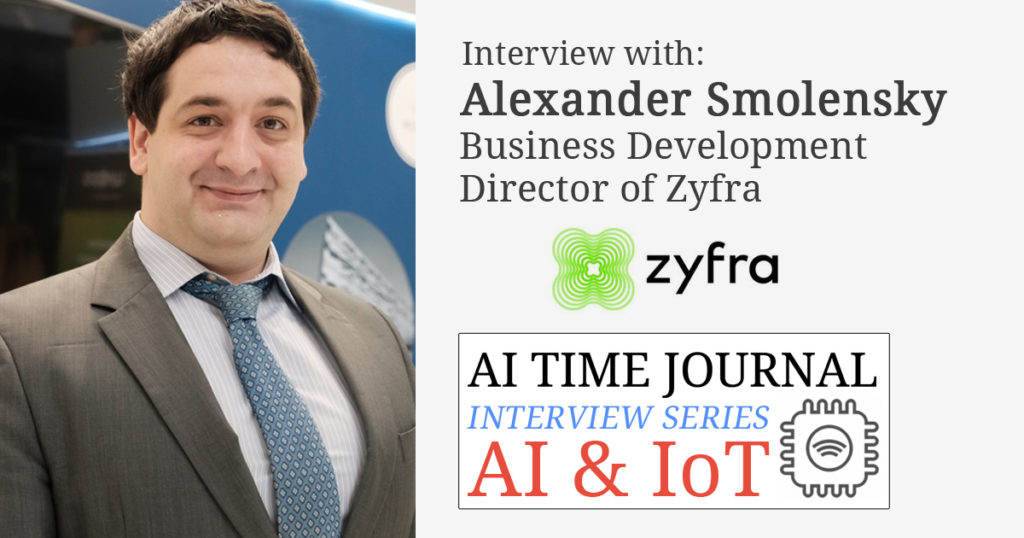 It was an immense pleasure hosting Mr.Alexander Smolensky in my "AI & IoT Interview Series". The insights that he gained over the years made his responses to each of the questions from me a profound one. His opinion on how AI & ML impact the data collection system is really commendable. Mr.Alexander manifests his fine attitude of being a honcho by addressing the necessity of advancing the research in the field of IoT. In addition, go through the below detailed interview to witness how Mr.Alexander can extend his ideas in many hypothetical scenarios. Give a read to gain an insightful & fun experience.
---
You have presided over a period of rapid expansion of AI & IoT in the last three years. How did this make you implement a huge framework strategy?
That's simple. You just put as much pie in your mouth as you possibly can, then try to chew it. Everything that falls out has no place in your framework.
Here at Zyfra, we have big mouths and great appetites, but even we had to part ways with some things (particularly electric grids and smart cities). It is still kind of hard to chew but the rest is too good, and we will never let it go.
The mining & oil pump is an area with high labor demand. And Zyfra's "Artificial Lift" solution has proven its muscular extremity to overcome it. Can you elaborate on it?
Oil and gas companies understand as much as the others. On the one hand, they do not completely understand the potential benefits. On the other hand, they are aware that efficiency of production processes can be increased both upstream and downstream which is based on digital data being processed in real time and affects production decision-making in real time.
When you drill a horizontal well at a depth of four kilometers then, in seismic terms, the accuracy of the petroliferous strata presence prediction will be + 30 meters. If we use data from sensors installed behind the drill bit, build a model and operate this bit all the time so that it hits the stratum more exactly, then the well flow rate can be increased by 10–20%. That is, more oil can actually be extracted without additional subsequent hydraulic fracturing.
Solutions in artificial lift sector (mechanized extraction) can help increase extraction at a well by 1–2%. But it is very hard for oilmen to accept this figure, as huge money is spent on drilling and geologic exploration, in particular for services of the Big Four in the market of
oil-related services (Schlumberger, Halliburton, Baker Hughes, Weatherford). This can be millions of dollars per well depending on complexity, and terms of contracts are not stringent: it will be accepted as it works out. Therefore, it is hard for oil companies to recognize that it is really possible to increase yield rate simply due to navigation. With this solution, we have already drilled 4 thousand wells. This looks like real-time control center where IT specialists sit and control the system, and drillers work on the grounds of data received from them.
In the downstream area, use of digital advisors can increase efficiency up to 20%. And if it's to close the whole cycle, assemble materials management and make production control center then the effect will be even more noticeable. Thus, oil refinery works 24 hours a day, and
ETP-specialists (engineering and technical personnel) work one shift for a period of 8 hours. Accordingly, for the remainder of the time – over two other shifts – a refinery works according to those settings which have been set by production engineers. The idea is to connect all plants to single common operator center via our Zyfra Industrial Framework platform and to make the ETP shift 24/7. Thus, the efficiency of refining can be probably increased by 5% which, in financial terms, is substantial enough.
Back on the topic of robots, I should note that for various industry sectors, the transition to unified digital management can vary greatly. I suppose that in mining, it is already not far off this as there is dispatch and the robots are ready. In fact, it is necessary to overcome several regulatory restrictions and prove the economic effectiveness, i.e. show that the productivity rate will increase.
If we take machines, then what we have done now – industrial equipment and staff monitoring – only constitutes 5% on the way to unmanned production. So far, we know that at some moment or other a worker hits a nail. Watch how he does this and eventually, the multistory block in the form of turbine results from the nail.
If we try to answer the question of when Industry 4.0 in general will occur, I think that after 5–7 years this will be possible. Within this period (5–7 years) I predict significant growth because the potential of efficiency increases in various industry sectors is enormous due to data acquisition process optimization according to this data in real time with adaptive feedback. And we are just at the start of this journey.
How do you situate the eminence of AI and ML in a data collection system to provide insightful analytics? Do you connect high-accuracy forecasting with the data collection system?
AI and ML are not at all eminent in the field of analytics. The only persistent and unchanging constant in this area is "math is king!" ML is undeniably good if you want to "make an educated guess", "get an understanding", have a "highly probable assumptions" – that is very valuable and will generate revenue for Zyfra for years to come. But if you want to KNOW THINGS (as you do, sometimes) you need algorithmic methods with ironclad math behind them.
How do you level Zyfra with IoT initiatives to enhance your ability in competing with competitors who aren't meticulous about such matters?
Almost nobody works with several industry sectors at once like we do. At some point, we understood that it makes no sense to go simply from platform solutions, because business and production need real experience and production scenarios. For instance, for drillers, the data and control models which come from drill bits and excavators are different.
And our product strategy, without overstating it, is rather unique. It consists of taking industry solutions and making a single digitization platform out of them. We don't go top-down but bottom-up. Precisely that sort of competitor doesn't exist. But, of course, there are competitors in each separate niche: both in mining and in drilling, we compete with products of the Big Four, while we are the only in the world to propose a platform with navigation, geomechanics and petrophysics integrated in it.
In mining, the majority of dispatch systems have been bought by equipment manufacturers, i.e. Caterpillar, KAMAZ and Hitachi. If a company produces only dump trucks and does not produce excavators – and this is the case – then, consequently, they do not develop software for other types of equipment. There are several European machinery monitoring systems (as dispatchers), yet they do not make hardware. That is to say, we differ in that we make the equipment itself in the form of a device in which downtime causes can be entered, drawings can be viewed, etc.
Nowadays, the topic of digitization is vast and noticeable. Business itself deals with it instead of IT specialists, and many state and private companies gain the intuitive wish to create competencies internally. From here, joint ventures (JV) originate, and companies declare the importance of and readiness to develop everything by themselves, hiring, for example, 500 programmers each. It is natural technological development cycle because even before Windows and DOS were invented, there were plenty of various operating systems. Everybody would write everything themselves and could write in Assembly language, but the market subsequently consolidated.
Companies want to create competence internally because it seems to them that this brings a direct business effect without a back-office or commodity. They therefore want to develop organizational knowledge by themselves and learn by themselves.
Moreover, they think – and this is true in various sectors – that they need to experience how to employ digitization under their conditions. Because all processes and production are indeed different. Thus, there are no two identical oil refineries in Russia, and the results are therefore also different. Somewhere, a technological optimum has been already obtained, whereas elsewhere there is a "dark forest", and in other places there are obvious points, solving which will lead to optimization if problems that nobody can solve are solved (such as Fermat theorem).
Thus, the first cause is the desire to develop one's own organizational knowledge, and the second cause of independent digitization consists of understanding that packet solutions and solutions for unique problems are not suitable for them. But while many companies want to deal with digitization independently, 90% of companies would like to engage partners, as in fact the topic is sufficiently diversified and it is impossible to create such competencies inside a company. We are ready for various forms of cooperation and do not feel in competition with internal resources of companies.
Artificial Intelligence: the risks could outweigh the rewards. How would you evaluate this statement and rephrase it?
"It's alive!" said Dr. Frankenstein in astonishment.
"Ok, then, I'll take its clothes and motorcycle" said Skynet's own Terminator.
Seriously, it's too early to speak about the risk/reward ratio in Industrial AI. We are still in the honeymoon phase. It was an arranged marriage, but it turned out just fine.
Right now, there are no real or significant risks. There are plenty of imaginary risks and future is always scary for some. About real-life risks – talk to us in three years.
The impact of any solution or the use case will taste the flavor of success once it addresses societal issues. In this regard, where do you see yourself in the next 5 years?
Everyone who went to Soviet school knows that the basis for Marxist revolution is the proletariat. An unskilled massive labor force that barely gets a living wage, often working in harsh and dangerous conditions. The proletariat has been in rapid decline since the 1970s and we want to finish the job. The future of manufacturing is higher skill requirements, a safe working environment and minimum manual labor. It is not a five-year journey, obviously. The next five years are mostly about squeezing all possible efficiencies from existing technological processes across industries.
I look at myself in the future and I see a hybrid cyber-organic entity with a mind distributed between the organic brain and vast computing and networking infrastructure, capable of using a variety of robotic devices and drones seamlessly, just like I use my limbs. Well, maybe not in five years, perhaps little bit longer, but anyway…
Which movie has most fascinated you through its incorporation of technological elements?
Movies are more or less the same these days. A hero, more often than not from an old comic book, runs from CGI to get to the Product Placement. Or vice versa. Let's talk TV shows, like Black Mirror or video games, like the recent Man of Medan. They are on to something.
Fun with Thoughts: how would you make money from an ice-cream stand near a fitness center using AI?
I would just put a big sign on the stand: "Low-fat, gluten-free, eco-friendly, local, artisan ice-cream that supports #CURRENT SOCIAL TREND". That would probably do the trick.
But if we were using AI, I would do a social network search after using facial recognition on everyone passing by, to generate a deep fake video of a person's favorite celebrity who will whisper to them as they look at the stand: how good looking and fit they are, how they should not postpone happiness, how they deserve a little break and holiday, "carpe diem" and so on. Temptation and seduction are definitely the cornerstone technics in B2C. It has always been like that but with AI it will increase on a whole new level. But we, industrial AI people, are not like this. You can't seduce the laws of physics. At least I hope you can't.
Then I'd name it an "AI's cream" or "Ay I scream". I could analyze Big Data collected on fitness center clients and provide ice creams with different AI-generated recipes, meeting the needs of each individual customer. I could also optimize SCM and sales of ice-cream utilizing AI to process data about flows of clients and their demand in order to forecast demand and ensure optimal logistics and resource management.
If not Artificial Intelligence, what could you rename it (without using vowels)?
I would definitely call it OBM – Outdated Brain Models, you know, because a neural network is based on ideas from the 1960s about how the brain actually works.
Or perhaps TTPGWYPBFSSRWSHG: that is probably even better. It obviously stands for: Trying To Play God With Your PC But Failing, Still Significant Results, Will See How it Goes