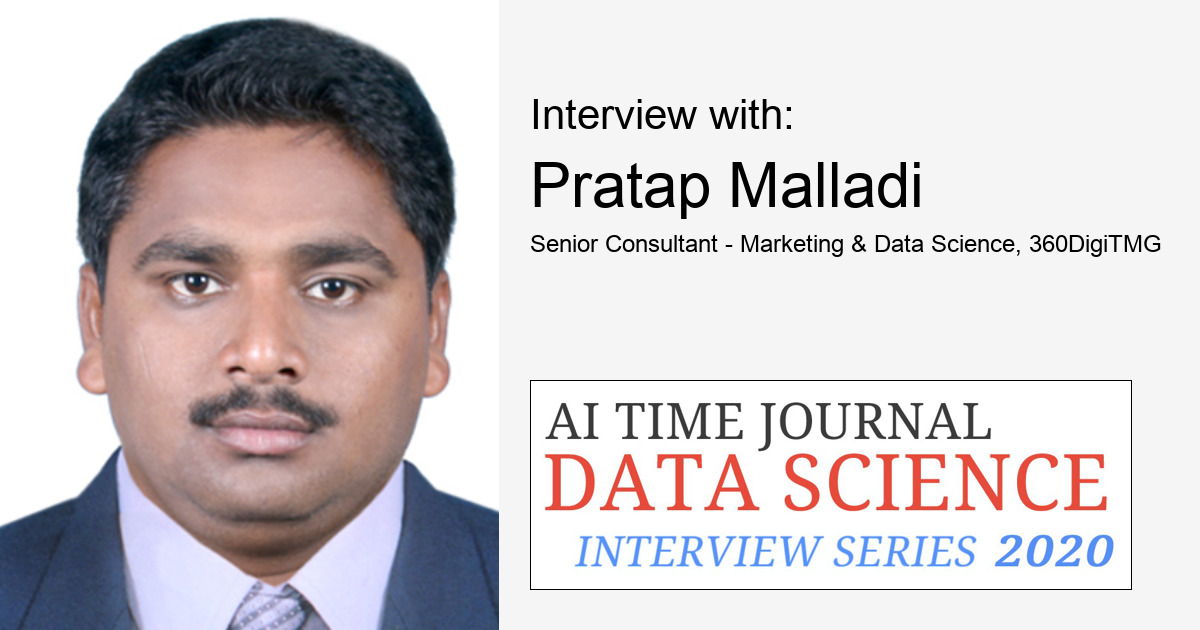 How did you first get into data science?
By the time I started looking into DATA SCIENCE, I was Sr Business manager working on Mobile Internet & AI Products for a prestigious company in Pune and other side reporting, analysis is being part and parcel of my professional career journey, what I feel is with data, businesses can learn more about what the clients want. Organizations can mine data on specific requirements and respond to these preferences with laser focus. Furthermore, businesses can also analyze aggregate data on several clients to holistically optimize business development strategy.
I got to know about Data Science from one of my good colleagues who completed the course with few capstone projects from one of the prestigious training and consulting firm in Hyderabad and made a Career in the field of Analytics. I got a chance to attend the demonstration session on Data Science by Mr.Bharani Kumar D from 360DigiTMG, where I got really impressed and started deep-diving more on the same, got into the course to know the appropriate direction, got certified, started working as a Senior Consultant, also started knowing more from connecting with real-time experts, learning from their experience, reading blogs, articles, publications, attending webinars, meetups, MOOCs and finally research, research, research on the subject with respect to wide-angle domains and business problems solved.
With consistent effort, I got the gist of the same, started sharing my knowledge and expertise with aspirants across colleges, corporate, social media, blogs, articles by continuously transforming myself.
It's not that easy but I am crazy about DATA & DIGITAL all the way.
Learn; Practice; learn; Practice; Learn; Practice is my say to whoever opting into this field.
How is data science used to create value in your current project(s)?
My background is more from Digital Media & Internet advertising industry, I mean most of the POC's to projects are around "How Data Science Is Revolutionizing Digital Advertising", solving problems with tens of thousands of campaigns running every minute, there's a problem because in most scenarios we can't see all the variables. So looking at effective CPM, bid requests, Conversion rate optimization, Campaign management, CTR, CPM, and relevant metrics might give few insights if deep-dived.
What are the key skills that you use every day as a data scientist, and how did you develop them?
The Skill that Data scientists require
Asking the right questions, Data Gathering, Data Wrangling, Assessing, Clean, Explore, Drawing insights, and communicating the results. Aside, The 3 most commonly used words in majority job descriptions you can see are Data, Experience, and Business.
Tools that will be used in daily life are R/Python, SQL, Excel, Tableau/PowerBI, and Basic Statistics.
What are the top challenges you currently face as a professional data scientist, and how do you go about tackling them?
Data preparation can be made difficult by the process of raw data collection. Designing a system that collects data in a form that is useful and easily digestible by data science is an art. Providing full transparency to Data science how exactly the data flows to the system is another. It involves processes that consider sampling, data annotation, matching, etc.
Tackling the same by Brainstorming group discussions with the Team, Learning from the blogs, articles, sessions, Industry experts, etc.
How important is the domain knowledge of the business/industry you're in as a data scientist, and how did you acquire it?
Data science is everywhere nowadays; it becomes crucial to understand the implications and challenges surrounding the field. Domain knowledge, it's critical to asking the right questions, setting up the right analyses, and knowing how results can be applied practically.
However, it's easier to gain domain knowledge through experience than gain technical or mathematical expertise through experience as opposed to education. I acquired the same mostly by working in the same industry, working in different areas in the same company, attending industry conferences, reading papers, publications, blogs, connecting with Data Geeks, learning from them and implementing in practice.
However, it's easier to gain domain knowledge through experience than gain technical or mathematical expertise through experience as opposed to education.
Do you create data science content?
Yes I do create content and share it across on LinkedIn with my followers, Sharing attractive content via bulk Mailing to aspirants, hashtags and at my blog https://pratapsdigital.wordpress.com/, GitHub repo, with few online journals, etc. I share content more on Career and Opportunities related to Data Science & Digital Marketing, Applications of Data Science, Data Science Project Management, Tips, and Tricks for better coding etc.
3 words that best summarize how you learned ML and data science:
Thanks to all the respected mentors for directing me appropriately towards the Data Science journey; And after all, Learn, Research, Practice and Implement in business (Always iterative in nature);
Courses: what courses/programs have you taken that have significantly contributed to advancing your career in data science?
If you are smart at Googling /Searching on the Web, you will get tons of attractive material on the same, however one can go through the below stuff for better understanding.
Books – (eg. Data Science from Scrath – Joel Grus , Python Data Science Handbook – Jake Vander Plas, Data Science for Business – Tom Fawcett, Data Science for Dummies – Lillian Louise Pierson, Doing Data Science – Cath O'Neil and Rachel Schutt, Data Science Project Management from Mr.Bharani Kumar, 360DigiTMG are few to name)
What are the top 3 resources that you use to keep up with the advancements in the field?
When finding the best sources to learn Data Science, there are a couple of things you should consider:
1) Your preferred method of learning
2)The depth of material/content you wish to learn
If you're looking to just build some foundational understanding of Data Science, books and free online resources are most likely your best bet. There are plenty of ways to start learning Data Science like:
Online Tutorials – (eg. Data camp, Tutorials point, 360DigiTMG, Udacity, Udemy, Kaggle, Insofe, Edureka,Techwaysys)
Online Blogs – (eg. Towardsdatascience, Data science central, No free Hunch, Inside Bigdata, Simply Statistics, Medium, AIJournal, 360digitmg.com/blog)
What advice would you give to someone who wants to get into data science today?
Creativity and caring. You have to really like something to be willing to think about it hard for a long time. Data science is not yet a field, so there are no credentials in it yet. It's very easy to get a Wikipedia-level understanding of, say, machine learning. For actually doing it, though, you really need to know what the right tool is for the right job, and you need to have a good understanding of all the limitations of each tool. There's no shortcut for that sort of experience.
Think about the industries that interest you, some industries, like Telecom, BFSI, healthcare, are enough mature in applying data science.
Follow your dream companies and keep an eye out for their blogs, press coverage, etc.
Follow bloggers/speakers in the sector.
Find professionals in your network and speak to them.
Your favorite thing about working in data science:
I was going to say solving problems. I love solving problems. I've had the privilege of mentoring dozens of people that come from myriad walks of life and watching their enthusiasm in mastering the material and helping them showcase relevant business use cases with real implications is the best part.
But really, there's something underneath my love of problem-solving. And that's my desire to understand why and how things work.
What inspires you about working in Data Science?
Bringing data to life, from understanding a user journey through a company website to visualizing the connection of people on social networks. It's amazing what insights you can gain with programming and data.
Using the latest and greatest technology to help businesses transition to the big data world and to make data-driven decisions is always inspiring the work I do in Data Science.