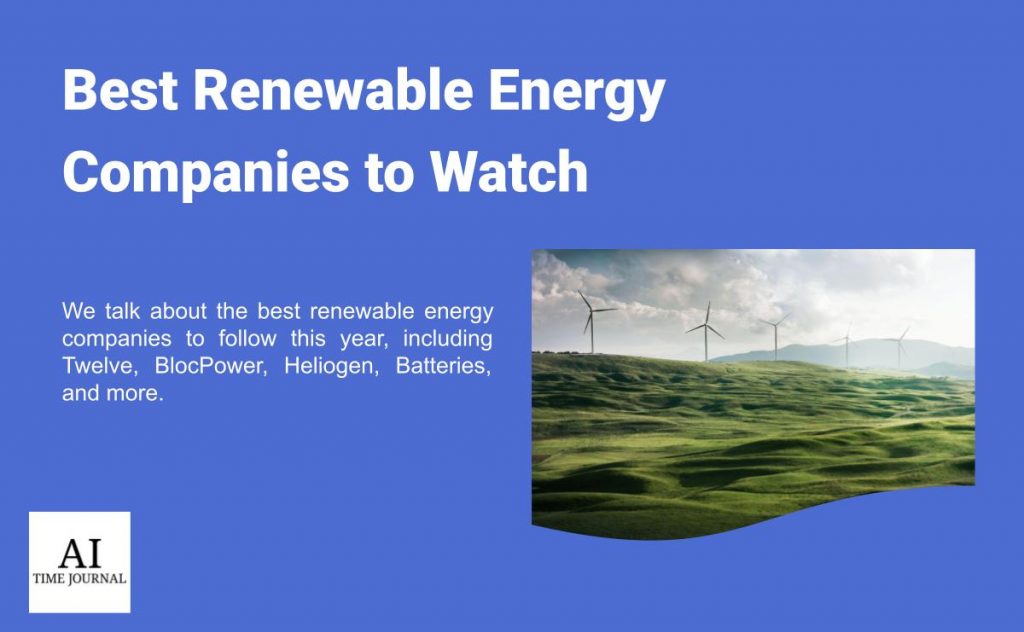 Environmental problems become more urgent and affect the lives of people, marine life, and various animal species. For example, forest fires in Spain, France, and many other countries worldwide led to the destruction of animals' natural habitats, a decrease in the number of air producers, and many harmful outcomes for local residents.
Although it is hard to say if humanity can still stop global warming and other environmental issues, there are some ways to restrain their development, and the utilization of renewable energy sources is among them. In this article, we list the best and most innovative renewable energy companies to keep on your radar this year.
Moreover, if you are seeking more information on how modern technology can help us prevent global environmental catastrophes, read these articles: 5 Ways AI Can Improve Environmental Sustainability and How AI Helps Clean Oceans from Plastics. 
The increasing amount of carbon emissions is an ever-growing environmental issue. Fortunately, such great companies as Twelve are working towards the shared goal of a fossil-free future. Twelve is a carbon transformation company that produces diverse materials, the most critical chemicals, and essential fuels from the air without utilizing a single drop of oil.
The technology created and implemented by the company is an absolute revolution as it replicates the photosynthesis process in plants. Therefore, the company can now manufacture various critical products with the help of renewable energy and water. One of the advantages is that the outputs of this artificial photosynthesis are water and oxygen which do good for the environment. In this case, Twelve is an example of an eco-friendly company for other manufacturers and a perfect solution for eco-lovers. 
Headquartered in Brooklyn, BlocPower is a climate technology startup providing building owners with all-electric heating, cooling, and hot water systems that help them build green and comfortable homes. With more than 1200 buildings with completed energy projects, not only does the company ensure an eco-friendly way of heating the house, but also helps save on energy bills 20-40% of expenses.
In addition, BlocPower's systems help residents improve their health conditions by providing them with healthy and purified air. Also, the utilization of the company's products benefits building owners in many ways, for instance, by increasing their buildings' values. Moreover, BlocProw offers such lease benefits as: 
Low and predictable monthly payments
Included regular maintenance
No lien on the building required
15-year performance guarantee
Greenhouse emissions are produced not only by manufacturing or vehicle utilization but also by anthropogenic or human activities. Climate TRACE is a company created to address this problem by collecting and sharing the emissions from human activities to facilitate climate action. The company was built to improve greenhouse gas emissions by providing detailed, fast, and independent reporting.
Climate TRACE utilizes modern technologies, including artificial intelligence (AI), satellite imaging, and ground truth measurements, to create models that can "estimate emissions right at the source." If you are interested in more information on air pollution and greenhouse gas emissions, you can also access the company's News & Insights page, where Climate Trace publishes crucial information on this environmental issue.  
AES is one more great company working in the renewable-energy industry. The company offers such products as new clean energy, advanced energy networks, cleaner reliability, and scalable ecosystems. Let's take a closer look at AES's suggestions.
Through the first option, the company helps its clients achieve their sustainability and business goals by developing and scaling their renewable energy supply with solar, wind, and energy storage. The advanced energy networks option helps businesses and homes implement "next-generation utility platforms to ensure safe, reliable, and efficient energy." 
Also, AES provides its customers with a cleaner reliability option to help them define, develop, and achieve their sustainability goals. For instance, the company can assist you in optimizing current contracts, securing low-cost and resilient energy, accelerating economic growth, developing infrastructure solutions, and managing complex logistics. The scalable energy solution explains how the company works with partners and utilizes technologies to create new product lines giving customers access to sustainable energy. 
Who doesn't know about smart devices and smart homes? Span is a company that suggests its customers control home energy utilization from their phones – a technology that can be compared to how smart devices function. However, Span's solution brings many advantages and innovations to the table.
For instance, the company suggests devices such as the home electrical panel, a universal EV charger, and an app to control energy usage. Span re-created the old model of the electrical panel and suggested new solutions to prepare your home for electrification upgrades, including solar, home battery, and EV charging equipment. 
With the help of Stem, you can transform your renewable projects by utilizing clean energy intelligence. The company offers its clients to lower their energy bills, reduce greenhouse gas emissions, sell wholesale energy, and make their organizations more resilient.
Among other great solutions the company suggests, the company's Athena Smart Energy Software is a product worth knowing about. By combining this software with advanced energy storage solutions, Stem's clients get the opportunity to increase the value of renewable energy and optimize their energy utilization. Also, you can find some of the company's case studies on its website. With such well-known clients as Facebook, Adobe, Ups, and more, Stem definitely earned its place on our top list. 
Founded in 2013, Heliogen is an electric services company that works on replacing fossil fuels with the power of sunlight. The technology the company is working on will play a crucial role in solving the world's greenhouse gas emissions problem and help cost-effectively replace fossil fuels like gas or oil.
Heliogen's solutions include HelioHeat, HelioPower, and HelioFuel. HelioHeat produces carbon-free ultra-high temperatures that are enough for various production processes, such as the manufacturing of cement, steel, and petrochemicals. HelioPower generates power from sunlight by using specific CO2 turbines; the energy is then used to power mining operations, data centers, and industrial facilities. HelioFuel is a great solution that helps clean fuels that can be later used in transportation, household heating, and heavy equipment. 
This Berlin-based company's main offer consists of various EV batteries-based solutions, such as swappable e-mobility batteries, energy storage, and mobile, productive use of AC & DC power. Betteries has a team of talented professionals passionate about making our planet greener, reducing carbon emissions, and avoiding e-waste.
The company's team consists of experts in designing, upcycling, repairing, validating, certifying, and performing more actions with batteries. In addition, Betteries's solutions encompass various modern technologies, including AI and machine learning, to increase efficiency. For instance, the company values connectivity and connects all of its systems to its proprietary cloud to improve remote monitoring and customer support. In this matter, AI and ML-based battery analytics technologies can provide the best strategies and improve the devices' performance.
SolarGaps is a company that brought a great innovation – solar blinds – to the market. The company's product allows customers to lower their bills by approximately 30%, generate nearly 100Wh of energy, and get green loans and government support. Not only is SolarGaps's solution great because of its design, cost-effectiveness, and contribution to saving our planet, but also because of its convenience. The device can be operated by mobile application, supports Alexa and Google Assistant, and has a smart auto shading mode.
Moreover, the company provides its solution not only to homes but also to office buildings. SolarGaps's product can block heat from entreating the building through the windows and generate energy to power some of the office operations. 
Cambridge Industries is a progressive waste management and renewable energy company that aims to address waste and energy issues in Africa. The company reduces the amount of waste ending in landfills and produces green energy. In 2014, Cambridge Industries started building Africa's first Reppie WtE facility that will be able to process nearly 1,400 tons of waste per day and produce clean energy. Located in Addis Ababa, Ethiopia, this facility will eliminate nearly 80% of municipal waste and deliver the required energy to the surrounding city.