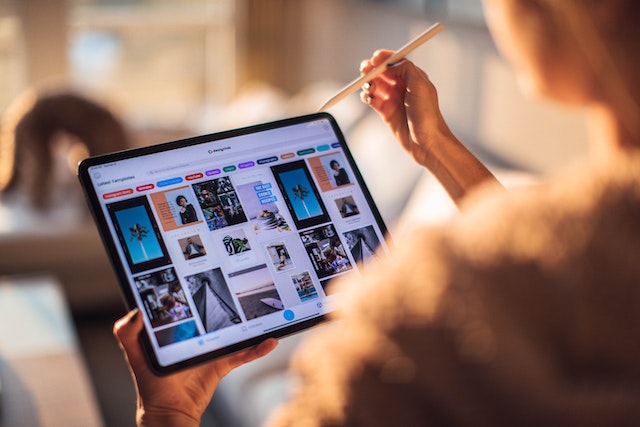 As of today, the EdTech tools market itself has a worth of $340 billion. The importance of educational technology tools is increasing day by day as it helps teachers to intermix the use of different ideas through technology in the classroom. 
Not only teachers, but even students benefit from the use of EdTech software, as the learning process is even more convenient and easy for students. 
We are fully aware that education and technology are intertwined in today's time. It is because educational technology tools for students help them to improve their overall academic performance. 
Later in this article, we will get into the list of the best education tech tools. But before that, let's get familiar with tech tools itself. 
What are EdTech Tools?
Technology tools for the classroom are usually hardware, software, and tools that are used to increase engagement among students through fluent communication and interactions. 
EdTech products can be used by teachers, lecturers, and professors to: 
Plan about all the course titles and units
Conduct classes online without any hassle
Perform different tasks like evaluation of grade
Track notes records that are done through online essay writing service
Take day-to-day attendance of students and much more 
Not only that classroom technology makes classes more engaging and interesting which helps students to improve their concentration. 
Tech tools for teachers have five different components. They are: 
Design
Development
Utilization
Management
Evaluation
Not only that it also includes some writing tools for students to make their writing process more fluent. 
Must-Have EdTech Tools in 2023
As we already know about education tech, now let's choose suitable tools to make your educational journey easier and more creative. 
EdTech Tools tools are usually sorted into four different types. 
Let's go through the list of educational technology tools based on their categories: 
Social Learning
Lesson Planning
eLearning Platforms
Utility Tools 
Social Learning Tools
These kinds of tools usually use the power of different social media platforms to help a student learn things and/or different subject matters. The professors can even connect with these tools. 
You can share your tips, notes, and suggestions on different social media sites. Some of them are listed below: 
Flip: It is Microsoft's free app that makes your learning process fun and engaging. It is a safe space where educators can create groups of students online where they can share their idea and viewpoint through text, video, audio, and much more. 
Google Classroom: This powerful tool enables you to your teaching and learning process more fluent. You can also use different tools together to drive a positive impact on the education sector. 
Kahoot: Plenty of teachers and students across the world can learn with Kahoot! You can choose from 100+ million games or create your own Kahoot in just a couple of minutes. Moreover, you can create, host live, assign a Kahoot or share them to engage students after your class. 
Lesson Planning Tools
Lesson planning tools enable its users to plan and design different projects based on their requirements. These kinds of tools are usually used by professors, teachers, and lecturers to plan and organize their lesson plans. 
Some of them are mentioned below:
Google Docs: It is one of the best online writing tools that allow you to be productive online. You can write your content, and insert links, and images as per your needs. It can also be useful when there are plenty of people to share ideas with while doing a project. Google Docs make your collaboration and sharing work more convenient. 
WordPress Appointment Booking Plugin: This plugin plays a huge role to accept bookings and appointments online for your businesses. Many companies related to education, beauty, sports, and industries can use it to gear up time and service. Not only that you can plan the staff, and provide real-time bookings just with a fingertip. 
Timetoast: It can be used to create a great, complete, professional, and functional timeline for you to share almost everything. Its delightful timelines will help you to tell your story in the best possible way with the help of gorgeous interactive timelines. You can also add timeline events or multi-date timespans. 
eLearning Platforms
This platform is designed and developed to create, manage and provide content and materials to the readers. It usually includes virtual classrooms, webinar platforms, LMS, and much more. 
Some of the eLearning Platforms are mentioned below: 
Coursera: It is one of the best platforms where you can learn on your own without any limits. Sky is the limit! This platform provides its users with 5400 courses. Not only that, but you will also receive professional certificates and degrees from world-class universities and colleges. 
Code.org: As of today, around 243 million projects are created using Code.org. It provides a full course catalog for you to understand things better. There are around 80 million students and 2 million teachers across the world. It helps you to increase diversity in computer science by providing them with different skills that they are willing to acquire. 
Utility Tools
Utility tools are not an integral part when it comes to education tech tools but they make students day to day learning process easier and more convenient. 
We have listed some of the utility tools below: 
Canva: Canva is one of the best platforms that enables you to create and share your professional designs. It has ready-made designs, teamwork, an option to publish, download and share an option to optimize office templates, and much more. Enjoy the all-in-one solution for teams of all sizes to create and collaborate. 
Figma: You can connect everyone in the designing process to deliver the products faster. It helps you in the fastest possible way to make your idea turn into reality. Create, iterate, and repeat as per your own needs. Not only designers, but Figma also helps to bring all the team members together. 
Wrapping Up
To make sure that your students don't miss out on the latest educational trend that provides the best facilities, make sure to use education tech tools. 
As per different research paper writing services, different users have different needs. So, analyze and list the features that you need in your Education Tech Tool. Then, go through all the tools mentioned in the article and choose the one that meets all of your requirements. 
Also, if you have used any of these tools before, feel free to share them with us in the comments section below! 
We wish you all the best to use modern EdTech Tools!