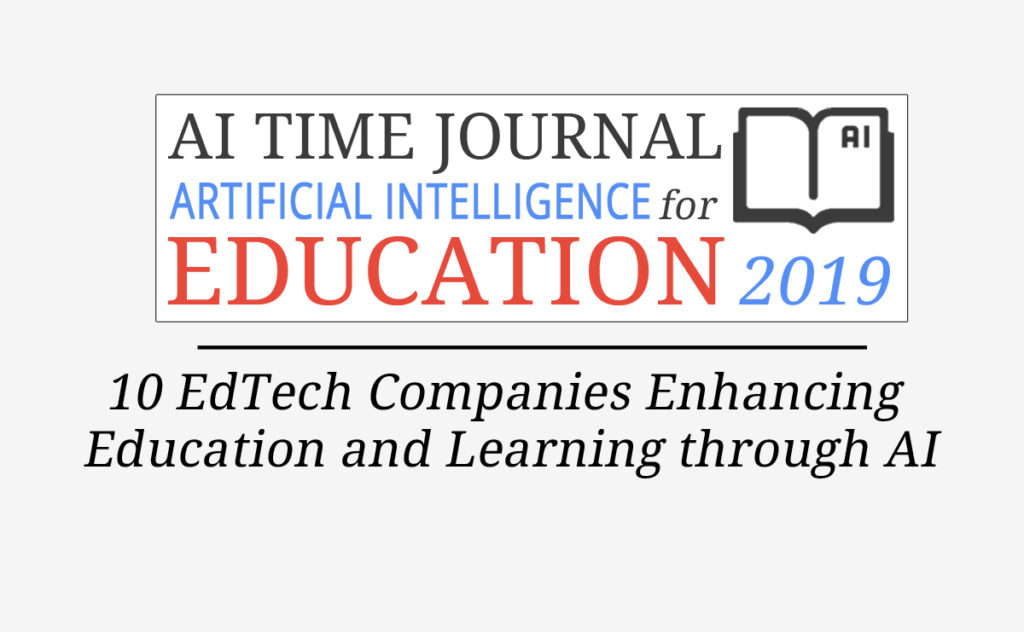 Official Announcement
The AI for Education 2019 Initiative Committee has completed the evaluations of prominent EdTech companies applying Artificial Intelligence to enhance education and learning.
The companies selected in the list apply AI in different ways to benefit students, learners and the educational sector at large.
The evaluation is part of the AI for Education 2019 Initiative, which aims to identify and showcase the most impactful and beneficial applications of Artificial Intelligence in the field of Education.
AI for Education Committee Members
We thank the AI for Education 2019 Initiative Committee Members who took part in the evaluations.
They have evaluated the EdTech companies based on their vision, the maturity of their technology, and their contribution to applying AI technology to solve significant problems in the educational sector.
10 EdTech Companies Enhancing Education and Learning through AI
---
Special Mention
---
Thought Leadership comment by Committee Member Dr.Premlatha KR
Century is one of the best EdTech platforms for International schools (individual education plan for all children). Century ensures the evidence-based scientific and pedagogical techniques in their products. Nowadays, international schools are trying to differentiate their classrooms from others. They use CENTURY AI in different ways, from an effective classroom learning platform to a homework tool. CENTURY's new Pop-up AI Classroom provides a personalized learning path for all students.
Wonder Workshop is one of the finest 10 EdTech Company learning through AI. It uses Robots, to trigger the creativity of kids and provide learning space to obtain critical coding skills. These Robots afford fun and interactive learning experience for small kids. Recently, this EdTech Company launched its new product, Class Connect. It offers tutors, a dashboard to monitor students' progress, understand where the students are succeeding and struggling in real-time and determine the precise learning standards and resources.
Kidaptive's Adaptive Learning Platform uses AI technologies that support schools to collect learners' data and improve learners' commitment. Students were analyzed based on their strengths and weaknesses, and predictions were made on their future performance based on current learning patterns.
Recently, I came across the wonderful EdTech website named WhiteHat Jr on social media sites. WhiteHat Jr makes 6-14 age group kids learn fundamentals of AI coding, logic, structure, sequence and algorithmic thinking. In addition, they prepare them to generate creative animations and apps.
Trends of AI in EdTech in 2020

Currently, EdTech Companies are trying to automate the educational process wherever manual intervention is more required (creating assignments, setting questions, evaluation, and performance assessment etc…). AI Educational Chatbots are the better way to implement all these things (can serve as a tutor; serve as counselors to guide students, make an inquiry, collect feedback and analyze results, etc…). AI enables the EdTech domain changing the one-size-fits-all model of classrooms and ensures personalized and collaborative learning. AI brings essential improvements in EdTech in terms of Adaptive e-learning, Online learning platforms, and recommender systems. Besides the above-discussed areas, there are some other EdTech platforms that are also doing well and going to dominate in the next decade.
null
---
---