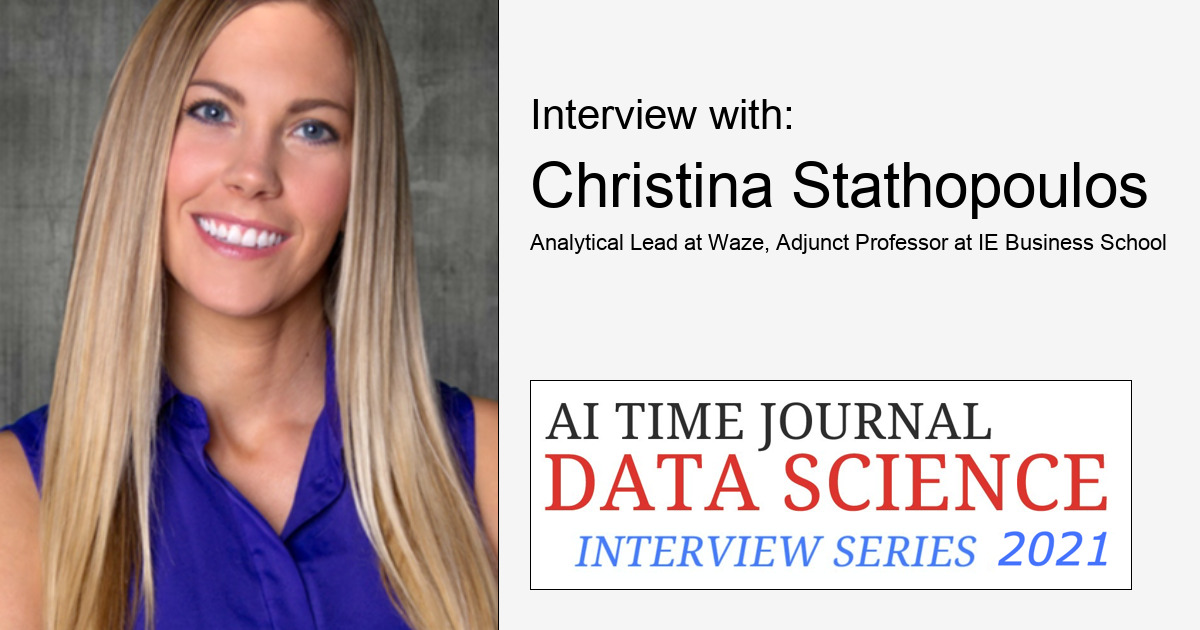 Christina Stathopoulos is a well known keynote speaker, advocate of the #bookaweekchallenge and #bookamonthchallenge, a data nerd and a true inspiration of a woman in tech. Before moving into the role of an Analytical Lead at Waze, she spent 3.5 years working as a Data Specialist at Google.
It has been my pleasure to interview Christina Stathopoulos from Waze and IE Business School and we thank her for taking part in the Data Science Interview Series and sharing several insights, including:
The journey into Data Science and the key skills required to keep up with the industry
Various methods to acquire knowledge and keep abreast with the latest in technology
Ways to bridge academia and the corporate world
Advice to budding data nerds and scientists!
"The only constant in life is change," and the data science field is no stranger to change.

– Christina Stathopoulos
Getting into Data Science, Key Skills and Challenges
How did you first get into data science?
I followed a very unconventional path to get to where I am today but I always knew I wanted to work close to 'numbers'. I grew up with a love for mathematics and statistics, so it was only natural for me to end up in data science. Even though data science was not such a 'hot field' like it is today, my studies always revolved around the concept. I studied an interdisciplinary degree at NC State University, close to my home in the US, with a focus on statistics, and years later went on to study a Master in Business Analytics and Big Data at IE Business School in Madrid, Spain.
It was not until after my Masters that I started working directly in the field, though I quickly came to realize that data science was a natural fit. I have jumped around between different titles such as Systems Engineer, Data Engineer, Analytical Consultant and Data Specialist, but they all boil down to the same concept: making sense of all the data we have at hand.
What are the key skills that you use every day as a Data Specialist, and how did you develop them?
I need a combination of hard and soft skills to succeed at my job. I would say the most important hard skill in my case is SQL. I have to work with massive amounts of data from different sources and I build scripts on a daily basis to pull, clean and combine data to ultimately create value for the business. I was originally exposed to this in my studies but I did not start to become proficient at it until I began using it regularly at work.
On the soft skills side, communication skills are paramount. I work as a tech person on a sales team and I am responsible for making the connection between our clients needs and the data we have available. This has been particularly challenging for me because, even though I am an effective communicator in my native tongue, most of my career trajectory has been inacted in Spain, thus I perform my work in Spanish – a second language for me and one I learned from scratch once I moved here! Practice and getting comfortable outside of my comfort zone have been fundamental in my journey to become a skilled communicator.
AI Time Journal Resources

Are you learning data science?
Check out what books helped 20+ successful data scientists grow in their career.
What inspires you about working in Data Science?
"The only constant in life is change," and the data science field is no stranger to change. The landscape is constantly transforming which really keeps you on your toes. For me, it is a field that you cannot get bored in. The moment you start to get bored, look for a change, there are plenty of opportunities out there.
The knowledge acquisition process!
How important is the domain knowledge of the business/industry you're in as a data scientist, and how did you acquire it?
Domain knowledge is very important but not always necessary to get started. I have worked in industries as diverse as travel, telecom, security and FMCG. In each case, I started with minimal domain knowledge and one of the biggest challenges was bringing myself up to speed with the industry dynamics. It is vital as a data scientist that you understand the industry that you form a part of in order to truly understand the meaning behind the data you work with.
As a data scientist, you will usually be tasked with communicating your findings directly with business leaders which means you must learn to "talk the talk" – understanding the meaning and the value behind your data and then explaining it in a language that those business leaders can grasp.
It takes time to understand any new industry, but my approach is to (1) pick the brains of peers working in the industry, (2) research online and (3) sign up for online news or magazines that cover the latest trends in that industry.
Books: which books have helped you the most in your journey and why?
As the host of the #bookaweekchallenge (and most recently the addition of the #bookamonthchallenge) on LinkedIn, a considerable amount of books come to mind! I have read many non-technical books on data science to understand the latest advancements in the field but from a societal or business perspective. There are two particular books that come to mind in this sense:
Everybody Lies by Seth Stephens-Davidowitz – A look into what our online behaviors can reveal about the human psyche. The author does a wonderful job of data storytelling throughout, twisting a story around every piece of insight. I use this book as inspiration for how fun data science can be and how creativity plays such an important role in the field.
Weapons of Math Destruction by Cathy O'Neil – An analysis of the societal impacts of algorithms. This book is one of the first to open my eyes to how careful we need to be in data science; often times there are people behind the numbers and we cannot forget our responsibility to society as a whole.
What do you think would bridge the gap between academia and the corporate world?
I firmly believe it could help if we had more people working simultaneously in both academia and corporate settings. I currently work on both sides but my time in academia is limited since I teach on a part time basis in addition to a full-time job.
Having more professionals at the intersection of academia and corporate would help to keep both sides up to date and benefiting off of one another, a win-win situation. I would love to see this become more commonplace and have more acceptance of professionals who could split their time 50/50 between the two sides.
Advice and Inspirations
Do not underestimate the power of networking and building your personal brand!

– Christina Stathopoulos
What advice would you give to someone who wants to get into data science today?
Do not underestimate the power of networking and building your personal brand! I do not think the 'network effect' is applicable to only goods and services, we have our own 'human network effect' that amplifies as you build a stronger personal network and learn to bounce off of it to build your career. You can do so by being consistently active on LinkedIn, attending local events, and sharing your thoughts and ideas openly.
3 words that best summarize how you learned ML and data science:
Communication, Passion, Persistence
Tag one or two women in tech who have inspired you.
It is hard to pick just one or two! I would like to highlight three in particular who are also very active in the community and with strong online presences:
I am the Co-Founder & CTO of Xaltius, a Singapore based Data Science and AI startup, and a machine learning enthusiast who loves to interact with people and learn more about how artificial intelligence is shaping the lives of organizations and people and how it is being used to optimize business operations today.
Opinions expressed by contributors are their own.