In spring of 2020, Logitech released its new Logitech Circle View, a fine camera with good image quality that works indoors and outdoors. It is specifically designed for Homekit, to the point that it doesn't even have a native app.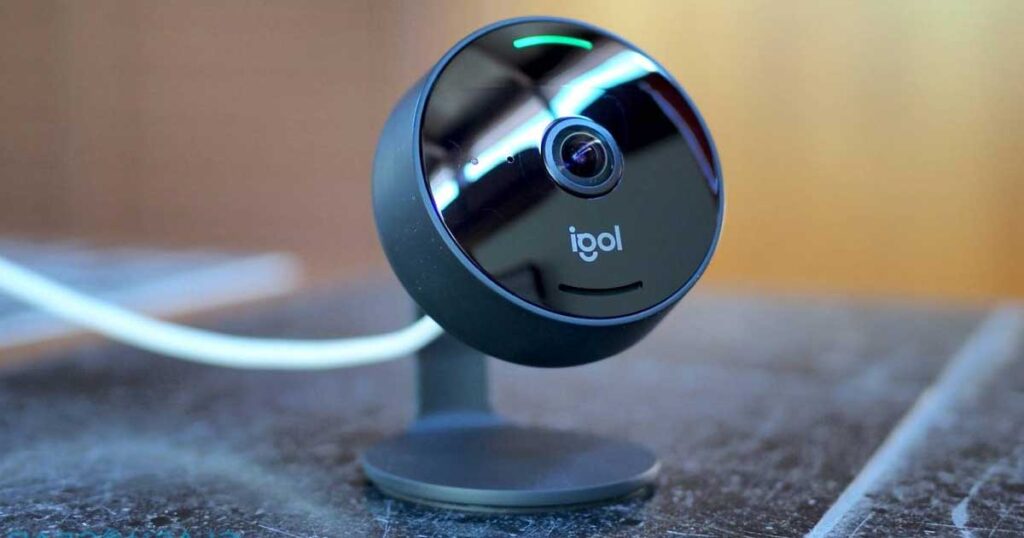 What's interesting about this camera is… well, the Homekit part. Not that the camera itself is not good. The camera works just fine, but as we'll see, with Homekit Secure Video updates, you can now get face recognition, which largely improves what you can expect from a home surveillance system.

We will talk about this later, but if you're not yet convinced about the value that comes with face recognition for home surveillance, I suggest you to read this article, where you can find out if it's worth it to even consider a camera that doesn't have this option in 2021.

The premise is made, let's see what comes with the Logitech Circle View.
Logitech Circle View specs
| | |
| --- | --- |
| Video quality | HD 1080p |
| Field of view | 180° |
| Night vision | Infrared Black and White |
| Dimensions | 5.68 cm x 6.72 cm x 7.05 cm |
| Audio | 2 way |
| Connectivity | 2,4GHz |
| Storage | iCloud |
| Power source | Cable |
| Compatible with | Homekit Secure Video |
What's in the box
1 Logitech Circle View
USB power cable 6 meter
USB power source
1 wall mounting plate
Screw set
Installation guide
Design & setup
The new Logitech Circle View is a well designed camera. The camera itself is a circle, mounted on a pedestal in a way that lets you tilt and rotate the camera to cover every possible angle. The power cord is positioned on the back of the camera and does not interfere with the pedestal.

The interesting thing to notice about the design is that it offers both a privacy shutter button and a very easy way to tilt the camera to make sure it's not capturing anything we don't want it to.

Read also: Best WiFi Security Cameras with Face Recognition
Not being compatible with the Logitech app, the setup is very easy and quick, because you'll only have to pair the camera with your smartphone on the Home app and connect it to Homekit.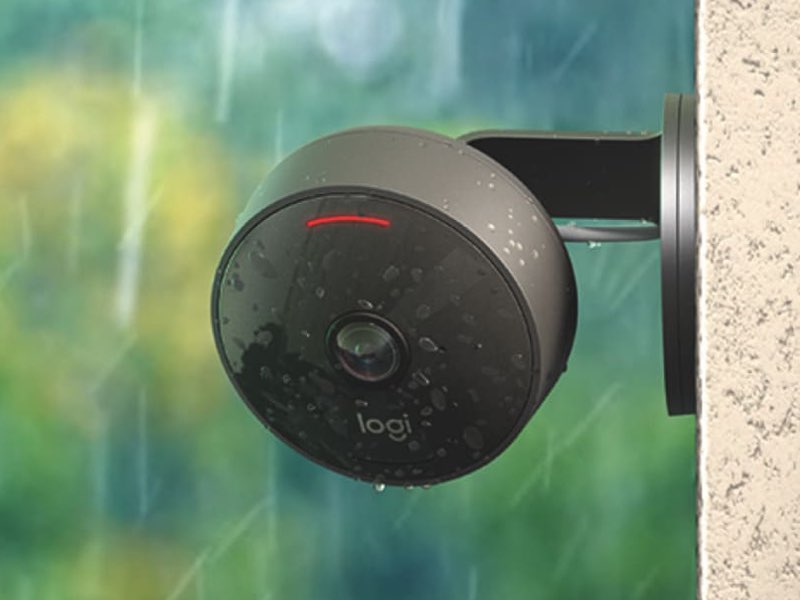 Video and audio quality
The Logitech Circle View offers great video quality, both in color vision during the day and at night with its infrared black and white night vision. The resolution is Full HD 1080p, which is the maximum you can get as of today from a Homekit security camera.

In fact, there are two main options for Homekit users that want to add only one security camera to their houses: the Logitech Circle View, and the Evecam (which I talked about in this article).

The main difference between the two cameras is in the image quality, which is sensibly better in the Logitech Circle View, but apart from that, since they're designed to work with HSV, they offer more or less the same features.
Image recognition and face recognition on the Logitech Circle View
Previously, Homekit users could enjoy image recognition features that could part motion when it was coming from animals, cars or people. But after Apple released its update on iOS 14, every home security camera compatible with Homekit Secure Video, now has face recognition among its features.

This means that from the day you turn it on, the camera will start to collect faces in a dedicated library, and you'll have to tag these faces in order to let the camera learn the features and start to recognize them.

This feature is very important because it makes the camera much better at its main task, which is to alert you when something is wrong, like when you have an intruder in your house. By reducing the number of false alarms, it dramatically increases the chances of you looking at the alert when you receive it.

Of course in a complex home device such as a security camera, there are many fancy features to look at, and some brands offer a vast set of skills and options.

But the one thing where you should not settle is security, and this camera, with its facial recognition feature, is a great addition for that matter.
Storage on iCloud
The camera itself does not offer a local or cloud storage option, but the footage can be saved on your iCloud account. If you have already signed up for the 200GB plan, you will be able to store up to ten days of motion events that triggered the camera. After these ten days, the older footage will be automatically removed to make room for a newer one.

It is important to mention that in this 10 days interval, the footage will not take weight on your 200GB space. You can access footage remotely from your smartphone, and save it or share it. Of course if you save a clip, it will be permanently put in your iCloud account and it will be counted on your data allotment just as any other file.

If you plan to add another camera, you'll have to upgrade your iCloud subscription to the 2TB plan, which will allow you to add and store the footage for up to 5 cameras. But if this is the case, I strongly recommend to consider buying a different product, like the eufyCam 2C which comes with two cameras and 20 dollars in price difference.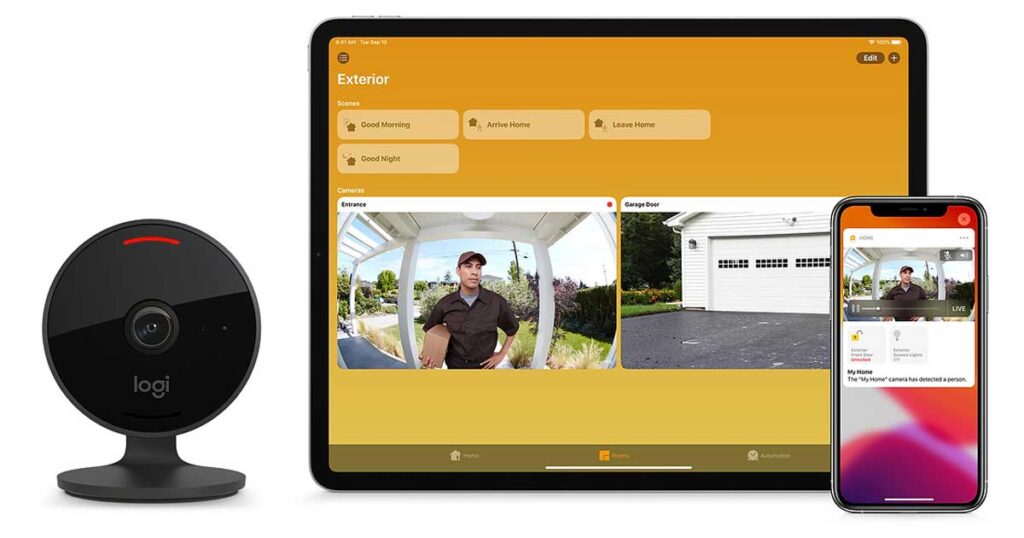 Compatible interfaces
As I mentioned before, the Logitech Circle View does not offer access from the native Logitech app, because this camera is specifically designed for Homekit users. Which brings us to the downsides of this camera.

As of today Homekit does not have enough features to handle every little aspect that a normal dedicated app has. So, not having a native app on this camera means you cannot adjust video quality settings or frame rate, or regulate the bandwidth usage.

One thing that I want to mention though, is that Apple is constantly updating its Home app in order to overcome these difficulties. In fact, a year ago you couldn't even access the two way audio directly from Homekit, nor set activity zones, which are pretty basic features. After the latest update was released for iOS 14, all those things are possible. So, we hope to see improvement in the area of video settings.
Logitech Circle View Pros and Cons
Pros:
It's compatible with Homekit Secure Video
Has face recognition abilities
Has activity zones
Good image quality
Easy set up
Cons:
It doesn't have a native app
You can't adjust video settings
If you're interested in a similar product, check out this article where I reviewed the Eve Cam, a home surveillance security camera with a slightly lower price and similar features.
Also, in this article you will find a full comparison between the two cameras.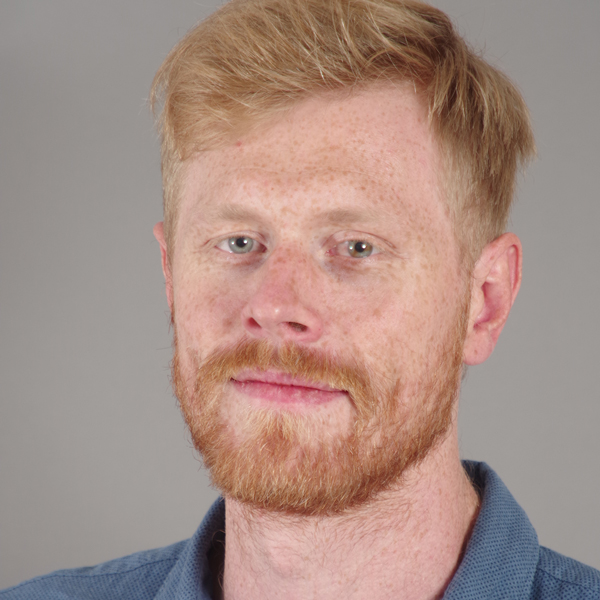 Associate Editor
Alessandro Eric Russo is a technology content writer with a passion for home automation devices that bring Artificial Intelligence into our lives in a meaningful way.