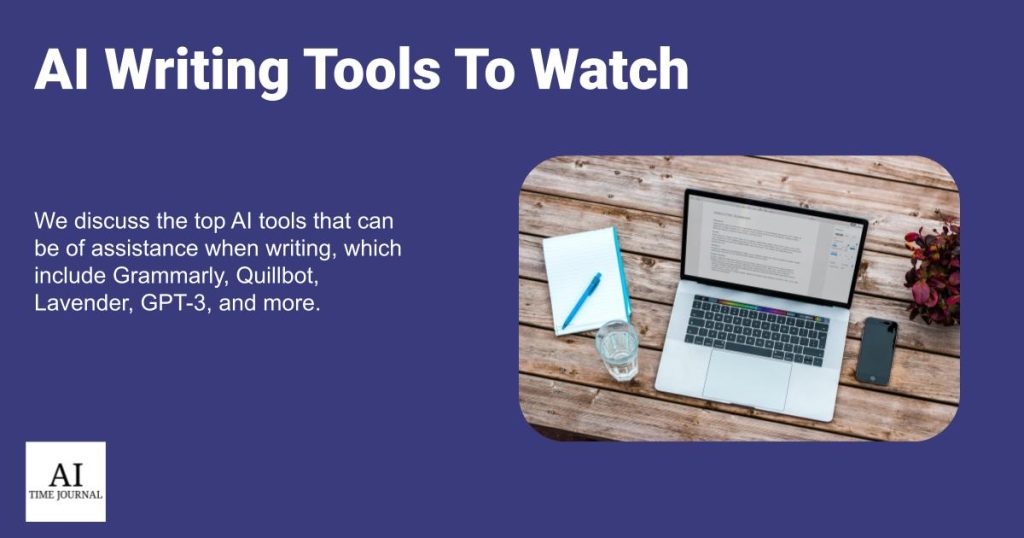 It's time to say goodbye to the good old days and make way for the exciting new future of AI. Artificial intelligence writing tools often referred to as AI content writers, are software that produces text based on user input and is powered by artificial intelligence.
The AI writer tool assists you in improving both the quality and speed of your writing, allowing you to become a more accomplished writer. The AI will evaluate your writing, and it will offer constructive criticism in order to assist you in making improvements.
In this article, we will describe different AI tools that you can utilize depending on your current skill level and what you want to concentrate on. In order to assist you in making a choice, we will describe each function and explain which software suits you the best.
To learn about content writing tips check out: Outsource Your Content Writing Effectively With These 5 Tips and 5 Kinds of AI-Powered Tools to Optimize Your Business Operations.
It can be challenging to come up with original ideas after writing for a few hours. With the assistance of Grammarly, however, your work will immediately improve, thanks to the suggestions and spelling checks it provides.
Grammarly is a set of online tools that can help improve your writing by identifying and correcting common grammatical and spelling problems, as well as offering advice on how to become a better writer.
Even though it won't be able to take the position of a writer or come up with ideas on its own, it will function similarly to a peer reviewer who is always willing to help, and this tool is there for you whenever you need it.
In general, it's extremely approachable, and it's very accurate. This application can help any writer correct their grammar in the shortest amount of time possible, and you can use it on your computer, smartphone, or tablet.
Here are a few tips to use in writing: Outsource Your Content Writing Effectively With These 5 Tips.
The tone used in a document, such as an email, can significantly impact how its receivers interpret its contents. Quillbot not only checks for grammar but also analyzes the tone of a piece of writing and suggests how the following sentence, paragraph, and overall structure should be constructed.
You can use the grammar check, plagiarism scanner, and paraphrase generator that are provided.
It's perfect if you need to generate the following:
Articles
Essays
Social media posts
Email
Product Description
Co-writer is a wonderful feature because it allows you to bundle all the other tools into one location. A document editor where you can type out your article or essay utilizing the features available to you. For the user, this means less work and more convenience.
This platform is used by coworkers, students, and teachers. It also allows users to generate citations correctly in MLA and APA formats.
Learn more about AI and plagiarism: The Role of AI in Checking Plagiarized Text.
With the help of the AI writer GPT-3, a hot topic for everyone, why exactly is it so powerful? A machine learning model called GPT-3 presents itself as a helpful, self-educated, thinking and writing robot that can pick up and get better at tasks without being given any instructions.
For this reason, it's currently popular in natural language processing.
With just a small quantity of input text, Open AI, the inventor of GPT-3, can generate a vast amount of content, including articles, poems, stories, news reports, and dialogue. GPT-3 is not limited to just human language text; it can generate any text structure. Besides summarizing text, it can also generate code.
Where exactly does GPT-3 draw the line, if there even is one? :
Occasionally provides responses that seem reasonable yet are inaccurate or illogical.
It's sensitive to input phrasing and can genuinely not know the answer but answer correctly with a simple rephrase.
The model overuses words and phrases.
To learn more, check out the following: Open AI's GPT-3 VS ChatGPT: What's The Difference? And Gato, GPT-3, and DALL-E: What are Generalist Agents and how close are we to AGI?
With an increase in engagement from both brands and users with the assistance of INK for All, SEO+ has reached new heights. Campaigns that are human-centered and built on proven success are developed by Ink for All. These campaigns are inspired by new thinking and driven by data. This SEO tool provides insights into what's new.
The program optimizes everything about a website's written content, returning the best possible results to users and boosting the site's overall performance. Everything about a website's written content is optimized by the program, returning the best possible results to users and boosting the site's overall performance.
Below is a list of the benefits of using INK for All:
It works with all of the operating systems that most people use around the world.
The software comes with a version that is completely free and can be used by anyone without cost.
The software helps users create content that is free of all kinds of spelling and grammar mistakes.
To learn more about other ways to improve customer relationships, check out: Enhance Your Customers' Viewing Experience With AI-Based Video Content.
The use of ContentBot.ai has made writing a breeze. Al can quickly produce lengthy written articles. It can produce over 2,000 words and comes with outline and template options. AI will carry on and complete the writing if you only put a question or a sentence that only partially makes sense.
For people who lack experience with social media or content promotion, this platform is for you. With the help of AI writers, you can come up with clever captions for your social media posts that will attract more readers. All of the articles, emails, and emails you create with this tool are original to you.
Benefits of using ConstantBot.ai in your business:
It saves time while increasing efficiency and scalability. In the case of small businesses
It saves money on content marketing services and/or pays a content marketer's salary.
Improves the generation of new and fresh ideas on a regular basis.
Overall, this is an excellent resource for those who own small businesses and need to write creatively with little to no experience.
Peppertype.ai is extending the concept of AI copywriting to the field of advertising. Those who run blogs or are advertising their business or website will be pleased to hear this.
Peppertype.ai is a website that uses AI and machine learning to generate and expand data and text automatically.
For example, it can be designed to automatically generate copy for use in social media posts, blog entries, news articles, product reviews, and more. You can begin by making a new project, entering information, or utilizing existing layouts.
Peppertype's features include:
Getting product reviews and making blog posts look better
Providing new material for your website as well as new posts for your social media accounts
This is the solution for you if what you're searching for is high-quality text that can boost the conversion rates of your website and make it easier for your business to stand out from the crowd.
Improve your writing with the help of Aiseo's built-in prompts and outlines. It rewrites, summarizes, and enhances the general grammar quality of your blog entries, all while employing the Hemingway style to increase readability.
An artificial intelligence (AI) SEO writing tool, sometimes known as a long-form assistant, with features such as a blog post workflow and a blank slate If you're having trouble getting started, you can use the premade templates and sample paragraphs provided by the Start from Scratch option, while the Workflow function will offer guidance as you write.
How do both of the features above work?
Starting from scratch:
In the title, write the title you want to use.
Now that the editor is active, you can start creating posts for your blog.
To extract the Google search engine results as page data, use the SERP section.
Blog post workflow:
Fill in the blanks with the title (optional). If you're stuck for a title, click "Generate Title" to get started.
Choose "Use this" if you made your own title.
Use the description box to write your meta description.
Create options for paragraphs to begin your blog article. Click "Create again" if any of them are not to your liking.
Constantly sending out business-like emails can take up valuable work time. Lavender is an add-on for Chrome that improves your writing AI, social data, and email efficiency all at once. Emails and responses can be analyzed by AI for ways to improve.
Lavender is an AI email assistant that helps thousands of sellers around the world write better emails faster and more effectively.
While responding to messages, insert this platform through your emails, such as Outlook, Gmail, Salesloft Outreach, and even LinkedIn. It will provide you with suggestions for rewriting and grammar, allowing you to say goodbye to the stress caused by composing emails.
Lavender has three price tiers, ranging from $0 to $49. Lavender also offers a risk-free trial.
Doing background research on a topic can be time-consuming. Your research may now generate material in minutes with the help of Frase, which summarizes content for you. In order to speed up the time spent on research and writing, content marketers might greatly benefit from using Frase.
The key aim to assist researchers is by:
Analyzing the most popular search results for your selected keywords, this tool assists you in determining which topics might work best for your content.
Scanning your material and comparing it to competitors' for your selected keyword to detect topic gaps.
Summarizing research automatically.
Content marketers seek ways to simplify research, authoring, and SEO. To get the best outcomes in less time, work smarter.
Business websites can use Readable, a content marketing and analysis solution, to check for typos, tone, and other issues with the information they publish online. Members of staff can monitor keyword density and do language sentiment analysis across material on numerous websites.
Readability measures how easy it is for consumers to read and comprehend a piece of material.
Increasing the readability of your content increases the likelihood that the reader will properly understand your ideas and thoughts. It makes it more enjoyable to read, and as your content becomes more engaging, there is a greater possibility that readers will return.
Conclusion
In conclusion, AI writers can be more helpful in developing writing abilities and generating fresh thoughts when writing, as well as understanding the right format for articles, blogs, and research, among other things.
The right approach for making the most of artificial intelligence writing tools is always to push yourself to improve as a writer through practice and experimentation.
Technology is constantly evolving to meet our demands and make everyday tasks easier.
Check out other ways AI is making things easier: How to Use ChatGPT to Study Better and 5 Ways That AI is Helping Artists Become More Creative.