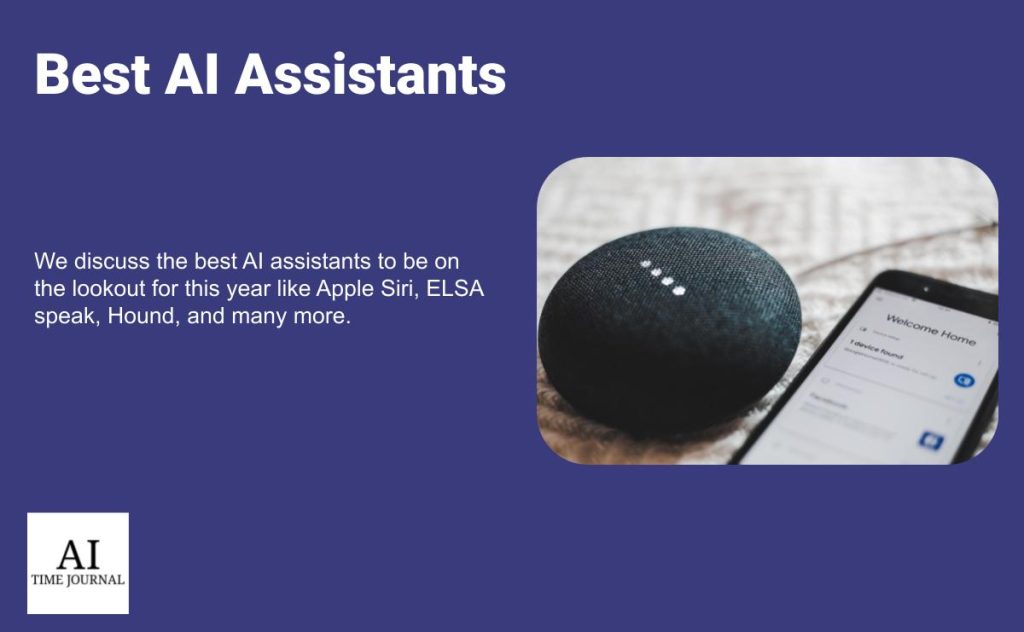 Business, as we know, will never be the same thanks to technological advancements in our modern society. And as Artificial Intelligence goes mainstream, AI assistance is becoming the norm for busy professionals, entrepreneurs, and individuals wanting smart homes.
What are the perks of upgrading to AI assistants?
Well, let's put it this way… If in the past 24hrs, you've wished you could add an extra hour or two to your day because that to-do list seems impossible to manage or if you're struggling to drive your team's productivity, it might be worth exploring the latest in AI assistants development.
That's precisely why we've rounded up the top ten best AI assistants. But before we jump in, how about we clarify what an AI assistant is and does?
What is an AI Assistant?
Think of an AI assistant as a program that can perform tasks when given proper commands. We interact with them as we do with others when issuing assignments or tasks in the workplace.
Many AI Assistant solutions can efficiently conduct the duties of a personal assistant or secretary, including:
Making phone calls,
Setting up appointments,
Giving their owner reminders of upcoming meetings,
Receive dictation commands,
Create content,
And much more.
AI is changing the way we do business. One of the best uses of AI technology in business is consolidating data and getting assistance in decision-making. Think about it. Since AI is more accurate and capable of quickly processing large chunks of data, working with the right AI Assistant could save the business time, money, and resources.
So let's cover some of the best performers in the market today and how they could serve a business, notwithstanding that many of these solutions continue to evolve.
Here are our top 10 recommended AI Assistants:
Alexa is one of the best-known AI assistant programs that made life easier. This AI software can manage your calendar and to-do lists, set reminders, and act as a superstar personal assistant. It requires a steady internet connection.
If you get Alexa for Business, you can unlock even more features that benefit your team and provide extra help around the office and during meetings.
Siri is a component of the Apple ecosystem. This is one of the best AI personal assistant apps. Exclusive only to iOS app platforms. It's one of the greatest voice-based AI programs developed. Siri can get instant information on almost anything, give you reminders, and send text messages. Think of Siri as that extra helping hand while you run the business.
Google Assistant is a good AI Assistant for both business owners and consumers. Instead of just providing links to websites, your Google Assistant will converse with you to ensure you complete your tasks.
Google Assistant helps assess your need and provide solutions without you typing your queries. You can also use this app to control the smart devices in your home to carry out basic automation tasks like setting lights to go on and off or playing music at certain times of the day.
Google Assistant is great for managing team communication and collaboration for a business owner.
Utopia P2P ChatGPT
Utopia P2P ChatGPT is a new, anonymous, and secure AI assistant built into the decentralized Utopia P2P ecosystem. ChatGPT is a smart bot that answers any questions in real-time 24/7.
ChatGPT is a powerful tool that can help you solve a variety of tasks. It is available in Utopia P2P Messenger — a tool for instant communication that provides privacy and security of communication. Therefore, you can be sure that all your conversations with ChatGPT are completely confidential.
To start using AI Assistant, download or update the ecosystem, and in your contact list find "Utopia AI." Start sending the necessary messages and the bot will help you. The bot is free, works without credit cards or phone numbers, and even when the network is overloaded.
Microsoft's AI Assistant Cortana is designed to help people save time, get more focused, and improve productivity. Through voice command, Cortana can manage your calendar, open apps on your computer, create and manage lists, join a meeting in Microsoft Teams, or find out who your next appointment is with.
It's a great solution if you're already invested in Microsoft to run your day-to-day operations.
Samsung's AI Assistant Bixby was late to join the party, but it's easy to use and keeps getting smarter. Although it's not specifically designed for business, it manages activities on your phone, including creating tasks, setting reminders, and other helpful duties that make your life easier.
Bixby improves with each use as it adapts to the user. It remembers how users interact with the Assistant. Experts project a bright future for this virtual Assistant.
This is an AI assistant that was specifically designed for business. IBM Watson can automate complex processes within your business operations and consolidate large data sets to make accurate future predictions.
The company also shares how the AI assistant can be plugged into your operations to help optimize employee performance while improving customer experience.
If your business is in dire need of digital transformation, this could be your best solution.
Is pronouncing words hard for you? Thanks to ELSA, English is easy for anyone to learn and speak. ELSA is the most intelligent English pronunciation app in the world. It's designed to help users speak English.
Communicate with authority, fluency, and confidence using this app.
A great solution, especially if you operate remotely and outsource your resources.
SoundHound delivers results with speed and accuracy using its AI technology. You can make calls, send texts, find a hotel that matches your preferences, call an Uber, or even check flight status.
It's not a business AI, but it's great for saving you time and increasing personal productivity, which, as we all know, directly impacts performance at work.
Mycroft AI assistant can be used for personal and business. Mycroft AI is open-source software that modifies to suit your needs.
This AI platform focuses on voice usage on any device. It can function as a flexible, aware personal assistant. It allows users to collaborate and aid one another.
DataBot
DataBot is an artificial intelligence-powered virtual assistant that helps businesses automate their customer service processes. It is equipped with advanced natural language processing capabilities to understand customer queries, provide real-time answers, and route customer inquiries to appropriately skilled agents.
It can be used to streamline customer service operations, improve customer satisfaction, and reduce operational costs. DataBot can be accessed through multiple channels, including web chat, SMS, and voice, allowing businesses to provide a unified customer experience across all channels.
Conclusion
The growing benefits of AI Assistants
Suppose your business requires a lot of customer experience and timely deliveries. In that case, plenty of solutions could make that experience seamless and more efficient for customers and employees. From improving your productivity to enhancing team communication and collaboration, there are many beneficial reasons to start testing the water with your preferred AI assistant today.
The Potential of AI Assistants
We're still early in artificial intelligence but can begin to see the massive impact AI technology will have on our lives and businesses.
Through better data collection, measuring, visualization, and interpretation, companies integrating data-driven AI assistance will make better predictions about future outcomes. Productivity and customer experience-related AI promise to enhance the services and products we offer the marketplace.
The more we learn to leverage AI assistants, the more time, energy, and resources we'll save, and the better our output.