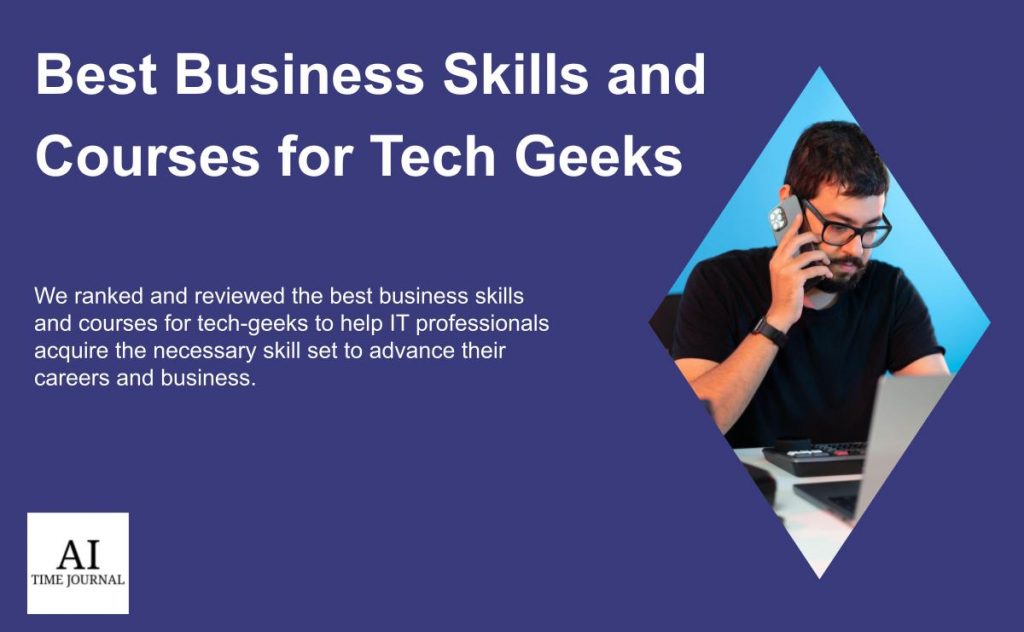 Nowadays, technological literacy is one of the most important skills that anyone can acquire. Especially after Covid-19, dependence on technology has increased a lot, which makes career options in coding and Artificial Intelligence quite lucrative. 
However, complete immersion in technology might not be the best thing for one's career. 
From computer scientists to tech entrepreneurs, any technological invention or plan is quite meaningless unless its business aspects are taken care of. Indeed, no one is going to work for innumerable hours to build software just for its aesthetic. They would want to market it and convey it to the public. 
From the perspective of a not-so-innovative tech geek too, it is always a healthy mindset to learn useful skills. Be it to stay ahead of the curve, get better job opportunities or diversify one's portfolio. 
Therefore, this article mentions some key business skills that tech enthusiasts can skim through. To those end, related courses have been mentioned too which are all available on Coursera. 
Leadership
Historically, this term has been kind of clichéd, and rightfully so. 
This doesn't have to be the case. Leaders, in the most basic sense, keep their teams together while healthily providing productive results. It's more of a collaborative effort than a hierarchical one; it's one of the most important skills that techies should aspire to have. 
To build something truly transforming one needs a team, no matter how prodigal they are. And for that team to function properly, someone needs to step up and build a culture that's cooperative, steadfast, and visionary. Otherwise, the project will remain an idea only, be it software or a robot. 
High-Performance Collaboration: Leadership, Teamwork, And Negotiation offered by Northwestern University and taught by Leigh Thompson is a course available on Coursera. Learners found this course quite impressive in terms of the effective coursework and practical guidelines. 
5 Best Leadership Courses is also an excellent guide for anyone looking to skim through multiple course options. 
Teamwork and Communication
The aforementioned skills should indeed come naturally after years of schooling and living in a society with people, but unfortunately, they don't. Communication and Teamwork are very integral skills, yet they still do not get their fair share of the limelight. 
Most Programmers or CS grads know nearly all the basic foundations of Computer Science and Technology, but still do not know how to communicate those ideas or concepts to non-tech people or even to their teammates.
This creates a myriad of issues, namely miscommunication, and a decline in overall productivity. These skills are important for everyone so that their teams do not suffer from communication gaps or inflexible teams. 
Teamwork Skills: Communicating Effectively In Groups offered by the University of Colorado Boulder and taught by Matthew A. Koschmann, Ph.D., is an excellent starter for anyone wanting to brush up on group work dynamics. 
Storytelling
Storytelling in this context does not mean writing short stories as a CS major, but much more nuanced than that.
Whenever someone creates a product they need to advertise it or at least tell people why they should care about this one single product amongst millions of other similar products. No matter how ingenious the product is it will never reach its potential unless the team behind it crafts a story surrounding the product which will compel people to take notice.  
Storytelling isn't limited to that but expands to tech enthusiasts' job opportunities too. Doing well in interviews or writing a gripping cover letter requires the applicant to be a storyteller, not just a proficient techie. 
Storytelling and influencing: Communicate with Impact by Macquarie University is a great starting point as it intersects Storytelling in the broader context of business. 
Sales
One of the most basic tenants of business is Sales. Pitching one's products to inappropriate places and negotiating effectively to 'get a yes' is a crucial skill for any professional.  It is important to get funding for projects, pitch ideas, and form strong long-term business-customer relations.
Moreover, from a career perspective to a more creative one, eg. selling an invention, having some foundational knowledge of Sales can make people passionate about tech more indispensable. Not to mention, it looks great on every CV too. As a result, this skill makes the tech enthusiast a more well-rounded candidate, ready for any job challenges. 
The Art Of Sales: Mastering The Selling Process Specialization by Northwestern University and taught by Craig Wortmann is an ideal place to start. Learners especially benefit from the Hands-on projects which let them translate the theories learned in the course into reality.
Marketing
Marketing has similar elements to Storytelling and Sales. To make any business profitable, marketing is essential. Efficient marketing has to be done to raise awareness about the brand/product/service. Through that, a solid consumer base can be built which will ensure the elevation of the brand amidst various other similar brands bidding on the same consumers. Not just for Tech Geeks, Marketing is a useful skill for anyone in business. Scaling one's business and self-promotion are intrinsic skills that Marketing teaches one.
Meta Social Media Marketing Professional Certificate is a beginner-friendly course that any tech geeks can depend on for a basic understanding of marketing. As this course is by Meta, learners can be assured to receive the most up-to-date and practical lessons on marketing. 
This course also provides certification that can be added to a portfolio, increasing the chances of employability.