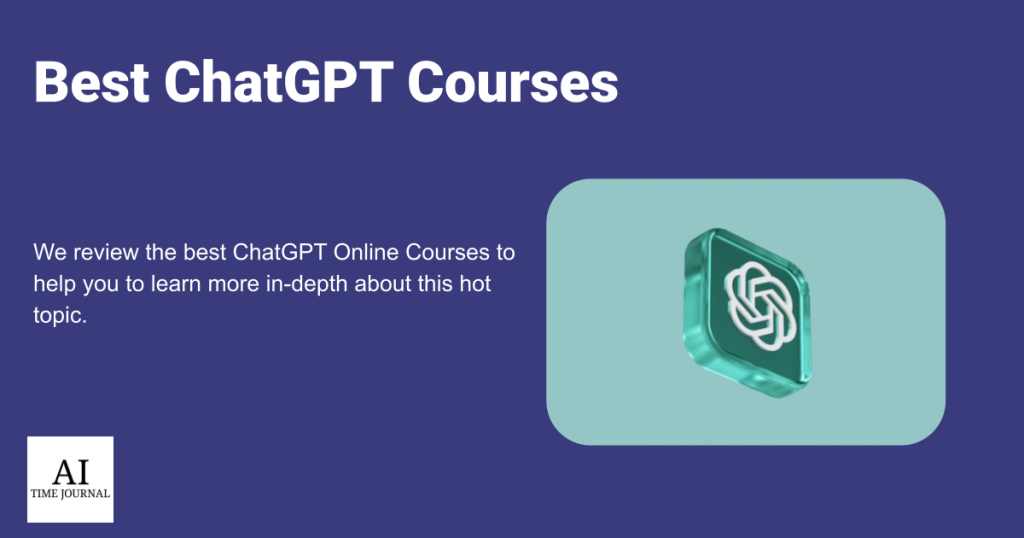 As the global population grows, so does reliance on technological advancements. Artificial intelligence (AI) is quickly becoming a part of our daily lives we can't do without it gradually. Artificial intelligence has transformed various industries by enhancing processes and predicting future trends.
One application of AI that has gained significant attention in recent years is conversational AI, specifically ChatGPT. ChatGPT is an AI-based conversational platform developed to simulate human-like conversations. The technology is being used to improve the customer service experience and provide virtual assistants for businesses.
With the growing demand for ChatGPT, many courses have been developed. To provide in-depth knowledge of its uses and potential applications. Ready to learn something new? We've compiled a list of the Best ChatGPT courses in 2023. Providing learners with valuable insights and skills to navigate the ever-changing landscape of AI.
Table of Contents
Top ChatGPT Online Courses in 2023
Below is a comprehensive list of the top-rated online courses designed to enhance your understanding of ChatGPT. ChatGPT has 1.16 billion users. Early May 2023 saw it crossing the 1 billion users mark. These numbers increased by about 55% from February to March 2023.
Introduction to ChatGPT
The Introduction to ChatGPT is a beginner-level course that teaches the fundamentals of ChatGPT taught by James Chapman. The course has two parts. The first covers ChatGPT suggesting recommended practices. To generate high-quality and relevant content. In addition, the most popular applications of ChatGPT in the commercial world will be covered, such as:
Text summarization.
Drafting marketing content.
Explaining complex concepts.
Generating and explaining code.
Students will also learn to apply a framework to identify new use cases for ChatGPT integration. This course teaches how to use ChatGPT safely and successfully without prior knowledge. After completing this course, students will have the confidence to use ChatGPT in various situations, enhancing their speed and efficiency in different tasks.
This course is offered for free and can be completed in one hour. Enrolling in this course will give students an understanding of ChatGPT. Also, its capabilities and limitations allow them to leverage the power of AI.
ChatGPT, DALL-E, SciFi Writing
The ChatGPT, DALL-E, SciFi Writing course is designed for intermediate learners with experience in ChatGPT. The course covers the basics of ChatGPT and DALL-E and teaches participants how to use these technologies. To create science fiction writing and visually appealing images.
This course is taught by Danilo Oliveira Vaz. Participants will co-write a science-fiction-inspired story. Also, generate images that complement the narrative alongside ChatGPT and DALL-E. Students must have a basic understanding of computers, as well as a passion for science fiction and creative writing. It provides step-by-step guidance through instructor-led videos, and learners can complete the project on their browser or device without requiring a virtual machine. Participants will gain proficiency in the following:
ChatGPT's and DALL-E's UX.
Organizational and workflow skills.
Feedback feature.
ChatGPT Teach-Out
The ChatGPT teach-out is a course offered by the University of Michigan on Coursera. It is a beginner-friendly course that provides an overview of ChatGPT and its uses in education. The course is taught by leading Teach-Out Experts.
The course covers the basics of ChatGPT, including its functioning. Also how it can be used to support teaching and learning. It also explores the ethical considerations and legal implications of using ChatGPT as well as its impact on society, the economy, and education. Learners will gain insights into the benefits and drawbacks of using ChatGPT and how it might evolve in the future.
The course takes approximately 6 hours to complete and is accessible to anyone interested in learning about ChatGPT.
ChatGPT for Beginners: "Using AI for Market Research"
The ChatGPT for market research course is ideal for beginners who are new to ChatGPT and want to learn how to apply it to market research. This course is taught by Jan Demiralp.  It takes a different approach with case studies and exercises of real-world experience. Students will learn:
How to create and train a ChatGPT model.
Understand ChatGPT's capabilities and limitations.
For market research, try different ChatGPT prompts.
Preparing ChatGPT for a market research project.
Present findings in a final report.
Once you are done with this course, students will have a solid understanding of the benefits of using ChatGPT for market research. Such as improving the accuracy of surveys and increasing efficiency. The Coursera-hosted course can be finished in a little over an hour.
Machine Learning with ChatGPT: Image Classification Model
Machine learning with ChatGPT is a course offered by Coursera and taught by Jousef Murad. The one-hour project is designed for intermediate learners. With some experience in ChatGPT and wants to learn how to use it for image classification. The course covers the process of fine-tuning a Machine Learning model using the widely-used MNIST database of handwritten digits. Participants will learn to:
Import required libraries.
Load data.
Define model architecture.
Compile and train data model.
Evaluate the model's performance.
Prerequisites for the course include basic coding and machine learning knowledge and a Google account.
The course will teach students how to use ChatGPT to develop a machine learning model and its potential in coding and machine learning. Instructor-led videos are given for this course. Students will study how ChatGPT generates machine-learning code. Keras (a high-level API for machine learning) will build Python code for a rudimentary neural network, and ChatGPT will optimize their Machine Learning Model's hyperparameters.
Coding with ChatGPT
The Icons8's ChatGPT Coding Course could be a guidebook for programmers from entry-level to advanced communities to utilize ChatGPT in code automation and boost productivity for programmers at all professional levels.
This course offers learners a comprehensive guide enriched with practical tasks, coding examples showcasing ChatGPT, and demo conversations illustrating key concepts. Additionally, a handy cheat sheet is provided for convenient reference in daily usage, along with advanced tricks that unlock the full potential of ChatGPT.
Conclusion
The field of ChatGPT and advanced AI continues to evolve rapidly, creating new opportunities and challenges. As such, staying up-to-date with the latest trends, applications, and ethical considerations is essential for anyone interested in this field. Fortunately, the courses listed above can help learners gain a better understanding of ChatGPT and its potential uses.
From introductory courses to more advanced programs, learners can pick from a range of options to suit their needs and interests. By enrolling in these courses, students can gain valuable insights and skills that can help them navigate the ever-changing landscape of ChatGPT and advanced AI.