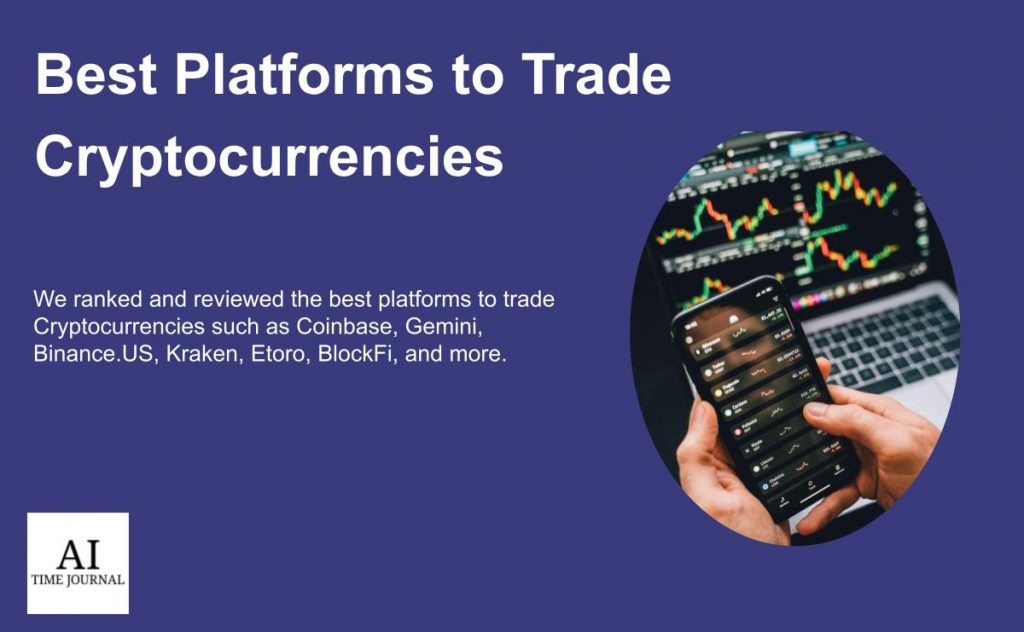 Cryptocurrency trading is becoming more and more popular among almost everyone. Quoted as the next big thing of the future, cryptocurrency is the burning topic of discussion among entrepreneurs, seasoned businessmen, and even teenagers, because of its user-friendliness, profit orientation, disassociation with formal governments, and overall security. 
However, being a cryptocurrency enthusiast and being an active cryptocurrency seller/buyer is an entirely different thing. To trade cryptocurrencies, it's extremely crucial to be constantly aware of the volatility of cryptocurrency stocks, and for that, it's equally important to participate in trading sites that are safe and transparent. 
Do you want to know which are the best trading platforms? Keep reading below.
Coinbase Global, Inc., is an American cryptocurrency trading platform, with no physical headquarters but only a virtual workspace. It is the largest American cryptocurrency trading platform, with over 89M verified users, $547B Quarterly volume traded, $278B Assets on the platform, and operation in over 100 countries. 
Trading with Coinbase is particularly useful for beginners who are new to cryptocurrency trading while being equally useful for experienced professionals too because of its large volume of trading. 
Gemini Trust Company, LLC, is a New York Trust Company that is regulated by the New York State Department of Financial Services. Gemini is an open market where users can trade both Cryptocurrencies and fiat currencies under strict regulations and cybersecurity measures. 
The majority of Gemini's assets are held offline and in cold storage, as protection mechanisms against hacking via traditional means. This high level of security along with the over 70 cryptocurrencies to choose from, makes Gemini a staple among cryptocurrency traders, even though its trading volumes aren't as high as Coinbase. 
Kraken is a cryptocurrency exchange platform and bank based in the United States. 
Kraken stands out among its peers due to its variety of services catering to cryptocurrency enthusiasts and also more active investors. With features like Staking, Margin Trading, Deep Liquidity status, and personalized portfolio consultation, Kraken is a one-stop trading platform for everyone. 
As Kraken is a market data provider for Bloomberg terminal and partners with TradingView, investors can rest assured that their assets are in safe and experienced hands. 
Etoro is a trading and multi-asset brokerage company that is based in Israel but is still available in the UK and the US. Etoro has over 30 types of cryptocurrencies to choose from and has a comparatively low minimum fee. 
The distinctive feature of Etoro is that traders can match the activity of popular traders, allowing for a more competitive trading environment. In terms of regulations too, Etoro is safe and user-friendly. 
Crpyto.com is a Singaporean cryptocurrency exchange company, with over 10 million users. Users can choose from over 250 currencies and sign up by paying an affordable fee.
What makes Crypto.com truly unique is the multidimensional system that they're trying to build by incorporating more cryptocurrency-based interactions that go beyond trading, such as buying and selling products with cryptocurrency for various types of services. 
Uphold is a cryptocurrency trading platform that is available in more than 180 countries and also allows transactions in a wide variety of currencies.
The company also strives toward making foreign exchange and remittance transactions easier and more transparent. While maintaining a fairly clear fee structure, Uphold is both Novice and advanced trader friendly. 
Kucoin
Kucoin is one of the largest cryptocurrency trading platforms with over 500 coin choices and low fees. Even though Kucoin is available in over 200 countries, it isn't licensed to work with American citizens. With promising trade features for experienced traders and the option to receive interest on crypto-owned, professional non-American traders can trade on this site more effectively.
FTX.US
FTX.US is a well-established cryptocurrency exchange platform with affordable minimum fees. Alongside cryptocurrency, users can trade fiat currencies, and do margin trading.
The ability to trade NFTs is what truly makes FTX.US special, as well as its other more professional-oriented trading features. 
BlockFi is an all-encompassing cryptocurrency trading platform for advanced traders. Users will be able to earn interest on crypto without any required minimum balance.
The most crucial feature of BlockFi is its help centers which are generally interactive and assist customers throughout the journey, making it significantly more user-friendly than other trading sites.
Binance.US is an American partner of Binance founded in China which is the world's number 1 cryptocurrency platform by trading volumes. Users can buy and trade over 90+ cryptocurrencies with low fees from a wide range of currencies and with debit and credit cards.
A unique thing about Binance.US is that users can set up recurring buys to purchase any currency of choice either weekly, monthly, or daily. The Binance.Us application is simple and easy to use