This landmark approval of Paige Prostate by the FDA marks the beginning of a new era in the use of AI in pathology and paves the way for new innovations using AI in diagnostics.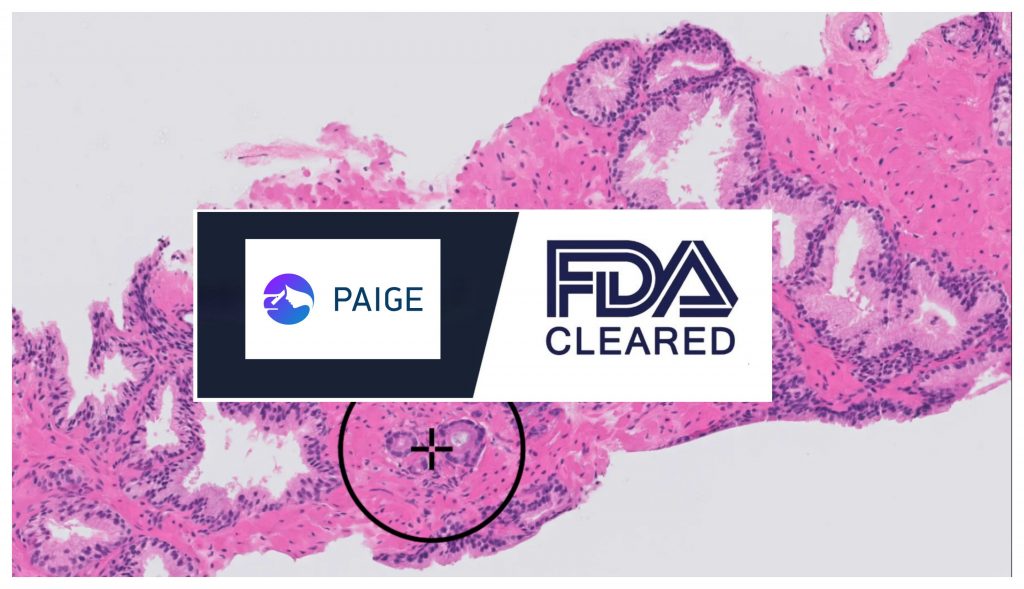 This week in a historic milestone, the FDA approved the first ever AI-based pathology product approved for clinical use. Paige Prostate is the first and only AI-based pathology product to receive FDA approval for in vitro diagnostic use in detecting cancer in prostate biopsies. FDA approval allows pathology laboratories to use Paige Prostate to help make diagnosis more accurate, more reproducible, and more efficient. Paige Prostate is also CE-marked for use in laboratories and hospitals in the European Economic Area, Switzerland and the UK.
The number of cancer cases worldwide is projected to increase by 60% over the next two decades. Since there will be a decrease in the number of pathologists relative to demand, there is a significant need for new technologies for use in pathology. According to the CDC, aside from non-melanoma skin cancer, prostate cancer is the most common cancer among men in the US and one of the leading causes of cancer death in men. Paige Prostate is a clinical-grade AI solution designed to identify foci that could indicate cancer, enabling fast, accurate in vitro diagnosis. Pathologists using the technology have been shown to significantly increase their capabilities to accurately and effectively find prostate cancer.
"This achievement is the culmination of more than a decade of work and a testament to the dedication of Paige and our collaborators in developing clinical-grade AI that will transform the practice of pathology," 
Thomas J. Fuchs, Dr.Sc., Co-Founder and Chief Scientist at Paige, and Dean of AI and Human Health at Mount Sinai
About Paige
Paige was founded in 2017 by Thomas Fuchs, Dr.Sc., David Klimstra, M.D. and colleagues from Memorial Sloan Kettering Cancer Center. The company builds computational pathology products designed so that doctors and their patients can make more effective and informed treatment decisions. Paige created an AI-based platform to deliver novel technology to pathologists to increase diagnostic confidence and productivity. Paige's products deliver insights to pathologists and oncologists so they can arrive efficiently at more precise diagnoses for patients.
Paige Prostate does not automate pathologist grunt work. Paige compares tissue patterns in a prostate needle core biopsy to a large database of known cancers and provides information about matches to the pathologist to be used during the pathologist's diagnosis. A study conducted by Paige show that providing this additional information to pathologists during their diagnosis allows pathologists to reduce their false negatives by 70%, reduce their false positives by 24% and likely improve turnaround time of the results back to the urologist and patient. This study was conducted with pathologists from a range of experience levels and prostate cancer subspecialty, and showed a benefit for the entire cohort of pathologists. By using Paige, pathologists gain more information during their diagnostic process that the pathologists can weigh in their diagnosis. Paige Prostate is the first of many similar medical devices that will provide the pathologists with more information during their diagnostic process and bring benefit to their patients.
Highlights From Clinical Study Submitted to FDA
The FDA evaluated data from a clinical study where 16 pathologists examined 527 slide images of prostate biopsies (171 cancer and 356 benign) that were digitized using a scanner. For each slide image, each pathologist completed two assessments, one without Paige Prostate's assistance and one with Paige Prostate's assistance. The study found that Paige Prostate improved detection of cancer on individual slide images by 7.3% on average when compared to pathologists' unassisted reads for whole slide images of individual biopsies, with no impact on the read of benign slide images.
pathologists using Paige Prostate were shown to increase sensitivity by 7.3% in correctly diagnosing cancer (from 89.5% to 96.8%). 
pathologists using Paige Prostate had a 70% reduction in false negative diagnoses and a 24% reduction in false positive diagnoses. 
improvement was independent of diagnostic sub-specialization or years of experience of the pathologists and whether the analysis was done remotely or on-site. 
non-specialist pathologists using Paige Prostate were as accurate as prostate specialists who were not using the software. 
The dataset included slides from over 150 institutions to ensure the system generalized to cases from different hospitals and different geographies. 
The dataset represented a broad range of natural variations encountered in day-to-day clinical practice and Paige Prostate was used across this entire dataset without modification or the need for calibration.
"This landmark approval of Paige Prostate by the FDA marks the beginning of a new era in the use of computer-assisted diagnostics for pathology. This innovation paves the way for the introduction of numerous future tools to help standardize pathology diagnosis, expedite the diagnostic process, and provide pathologists and patients greater comfort from the added scrutiny of their pathology slides" 
David Klimstra, MD, Co-Founder and CMO at Paige