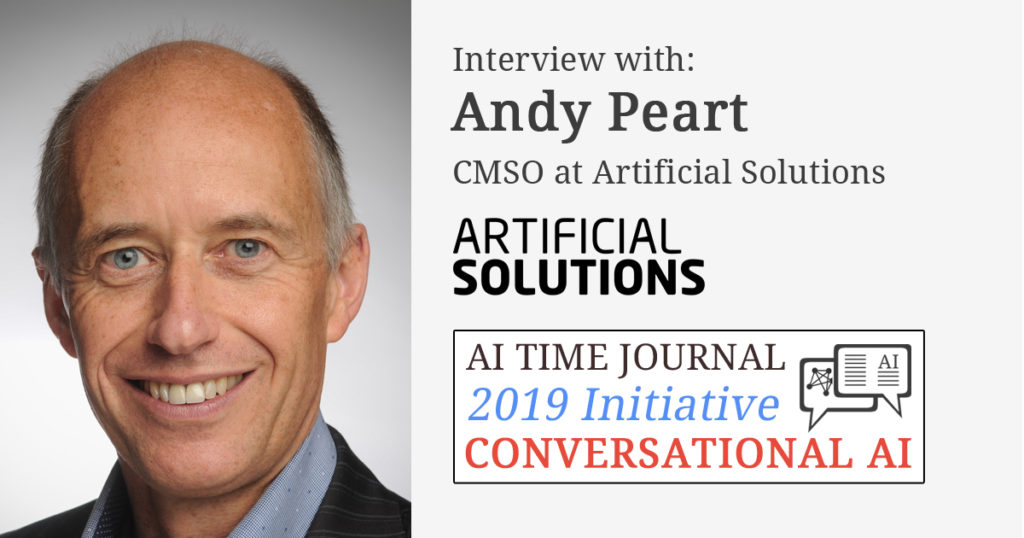 Andy Peart is the Chief Marketing and Strategy Officer at Artificial Solutions, a company that allows business users and developers to collaborate on creating sophisticated, highly intelligent applications that run across 35 languages, multiple platforms, and channels in record time.
In this interview, Mr. Peart shares insights on how Conversational AI can be used to scale operations from initial lead generation through to sales and customer service.
This interview has been featured in the Conversational AI Initiative 2019.

---
What is Artificial Solutions' mission?
At Artificial Solutions, think that technology should understand humans, not the other way around. We use conversational AI to achieve this. Quite simply we make technology think.

What is your background?
The company was founded in 2001 focusing on natural language solutions, predominately in the customer services sector. About a decade ago, we could see that the market was about to explode. Devices were getting smaller and more powerful and using conversational AI would become the natural interface between humans and machine.

At the time, and to a large extent, this is still the case, building these conversational applications took a vast amount of resources such as skilled technicians, computational linguistics and an enormous amount of pre-categorized data (read human curated). Recognizing that the cost alone would put many enterprises off, we re-engineered our technology into the Teneo platform it is today.

Who are Artificial Solutions' customers and how do you create value for them?
Our customers vary from the US's largest telco to the world's biggest car maker. We create value for them in different ways. Firstly, our technology enables our customers to develop advanced conversational AI applications faster than any other commercial product available today. Teneo also allows enterprises to take their original build and reuse around 80% of it when porting to new channels, languages, devices, etc. They can even reuse parts of a dialogue in a new application that another team may be building.

There is also significant value in the actual application created. This might be simply providing online assistance that diverts calls away from a contact center to solving complex queries that can take a human several hours to correlate the relevant data to give the correct answer. In other cases, it may be relieving the stresses on an HR team, allowing them to focus on building a career path for highly valuable employees.

Finally, there is the value in the data generated by the conversations. When people speak they reveal a huge amount of information that business can capture and use, even when complying with privacy regulations such as GDPR. This information can be used to increase customer engagement through greater personalization, to deliver actionable data insight back to the business, and to help optimize the system saving maintenance costs.

What challenges do they face, or will they face in the future, that Artificial Solutions can help them overcome?

The challenges are numerous, and most of them revolve around data or rather a lack of it. From training the system to increasing personalization and maximizing business insights, data is everything.

The problem is that most conversational development tools are machine learning based. This requires vast amounts of curated data to train the system initially, data that the average enterprise doesn't have.
At Artificial Solutions, we have fifteen years worth of conversational data already built-in to Tenei that gives development timescales a massive boost. We also take a different approach to other vendors by combining linguistic and machine learning at a native level. This hybrid approach delivers precise and predictable understanding improving the overall customer experience.

Once the conversational AI application is up and running, we allow for the data generated to be used to personalize the conversation even further, to optimize the system itself and to provide business critical insights back to the business. Teneo's data privacy capabilities allows enterprises to use the data while complying with the most stringent privacy regulations such as GDPR.

In addition, data tools within the Teneo platform enable enterprises to understand and make sense of the massive amount of free text generated. When people talk in a conversational way they reveal a lot of information about their likes and preferences. It this information that can provide the nuggets of gold that focus groups can only dream about.

However, with competitive products all the business sees is the users final intent such as a sales order. They don't know that 50% of their customers would buy more if only they offered a particular extra choice, or that a slight change to their website to make something clearer would result in 10% extra sales. All that data is held by the provider…to sell or maximize to their own advantage.
Are most of your customers in a particular industry, and if yes, why?

Teneo is used in a wide variety of industries. It's one of the advantages of delivering in a platform. Not only can it be used by a bank, an airline or a car manufacturer, it can be used throughout the entire organization from sales to HR and finance. Teneo is able to connect easily to third party systems and to integrate seamlessly into emerging technology such as RPA (Robotic Process Engineering) allowing employees, not just customers, to take advantage of the productivity benefits that intelligent conversational systems bring.

Tell us about the Artificial Solutions team.

With around 150 of us, we're still a pretty tight team, even though we're scattered throughout the world. Many of us have been here for a long time and I think that's a reflection on the culture within the company of encouraging innovation and personal growth. Perhaps it helps to be working in such a dynamic industry, there's no time to get bored!
Walk us through Artificial Solutions' products, and what problems they solve.

Teneo is our conversational AI development platform. It consists of several parts that are seamlessly integrated through a unified user interface.

Teneo Studio is our easy to use graphical unified interface that allows developers and business users to collaborate and create conversational applications. A powerful and intuitive tool, Studio puts non-technical users in control.

Teneo Data is a set of powerful real-time analytics and reporting tools. It turns free-format, conversational data into a pipeline of actionable business insight, and increase engagement to generate even more data based on the voice of your customer.

What channels do you provide chatbots for? (Google Assistant, Amazon Alexa, Facebook Messenger, Slack, Whatsapp, etc.)
All of them and more. The latest messaging app in the US isn't the same as in China since our clients are often global businesses we need to cater to all of the possibilities. We even have APIs to allow an enterprise's legacy systems to connect easily their conversational AI applications.
Are you specialized in one specific channel? Why?
Again the benefit of a being a platform is that our customers can port to any channel, now and in the future.

What are channel-specific challenges and/or opportunities for enterprises to leverage bots?
I can't think of anything that is specific to our technology, but for enterprises building their bots using tools provided by the Tech Giants I would say watch out for data ownership. You'll get to know what your customer has ordered, but not the whole conversation. The one that tells you they would have bought two if you had it in blue, or that they were really looking for mittens, not gloves.
But the messaging provider? They get everything and it won't take them long to spot the newest trend and source the right product for your customer to buy from them.

How do you measure the performance of your bots?

We always encourage our customers from the outset to define measurable evaluation criteria.
CIOs need to be able to demonstrate to interested stakeholders the business value for a project to gain acceptance, whether that's a 400% increase in online conversions, a 40% reduction inbound calls or 98% customer satisfaction rating. All real statistics that Teneo is achieving for global businesses today.

What is your experience with voice-enabled interfaces?

Voice is a really interesting topic. For us, it's just another input method, the same as text or gesture. It's the underlying intelligence of Teneo that does the hard work of understanding exactly what the user is trying to achieve.

But the increase of voice does raise questions. If your car entertainment system is reading aloud your messages on the commute home, should it continue when it switches to the home hub as you walk through the door? If you don't live alone, it could prove embarrassing.

The use of voice in applications definitely needs design consideration. There are plenty of use cases when it makes sense to use voice, but there are also times when perhaps designing something to ask closed questions that can be confirmed with a tap or click will increase the user experience. It's all about understanding how and where your customers are likely to use the app, and on which type of device.

How can enterprises get started with their conversational ai strategy?
This is a complex question to answer. In fact, I'd rather point you to our blog post that covers exactly this. There are so many points to consider. I don't think I could do it justice in a couple of paragraphs. https://www.artificial-solutions.com/blog/conversational-ai-getting-started
Don't think of conversational AI in terms of point solutions, consider how you will use it long term throughout the company.

How can enterprises prepare for the changes in the industry brought by Conversational AI technology?

Chose technology that offers the greatest flexibility. Don't think of conversational AI in terms of point solutions, consider how you will use it long term throughout the company. We're currently seeing a number of large enterprises set up center of excellence that are tasked with solving problems at a much higher level than the traditional "grass roots" approach.
How will voice-enabled conversational interfaces change the game?

I don't think it will have as big an impact as people think. Voice is only an input method, it's a minor cog in a much bigger wheel. It still relies on technology such as conversational AI to actually provide the intelligence and the capability behind the app to work as the user expects.
Which Conversational AI-related technology trend do you think will have the biggest impact in your industry in the coming years?

Undoubtedly the convergence with other emerging technology such as augmented reality in order to deliver a totally conversational immersive experience.
---
Editor Update, April, 2020: We reached out to Andy for a comment on the trends of Conversational AI, the Q&A follows.
What have been the most relevant developments, breakthroughs and advancements in Conversational AI in your industry in 2019, and what do you foresee for 2020?
Digital Collaboration – get ready for your Conversational AI bot to work alongside other virtual assistants.
The chatbot revolution has seen enterprises building a multitude of standalone conversational bots with different tools and Conversational AI platforms. But now businesses are faced with a difficult challenge – how to scale a potentially already considerable investment in conversational technology and deliver operationally strategic consistency across the organization.
I believe that in the next 12 months, disparate chatbots will begin to collaborate through an intelligent layer. This, together with deeper integration into back-end technology through easy to use connectors, will significantly increase the capabilities of Conversational AI systems and allow enterprises to deliver a more intelligent experience to their customers, while increasing their own productivity.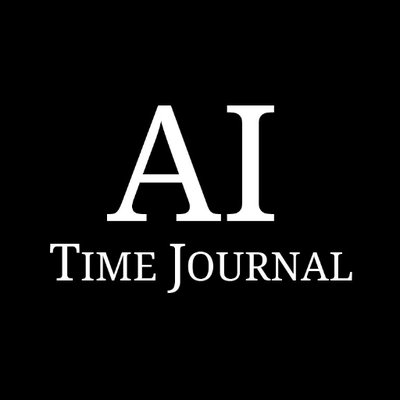 The mission of AI Time Journal is to divulge information
and knowledge about Artificial Intelligence, the changes that
are coming and new opportunities to use AI technology to
benefit humanity.