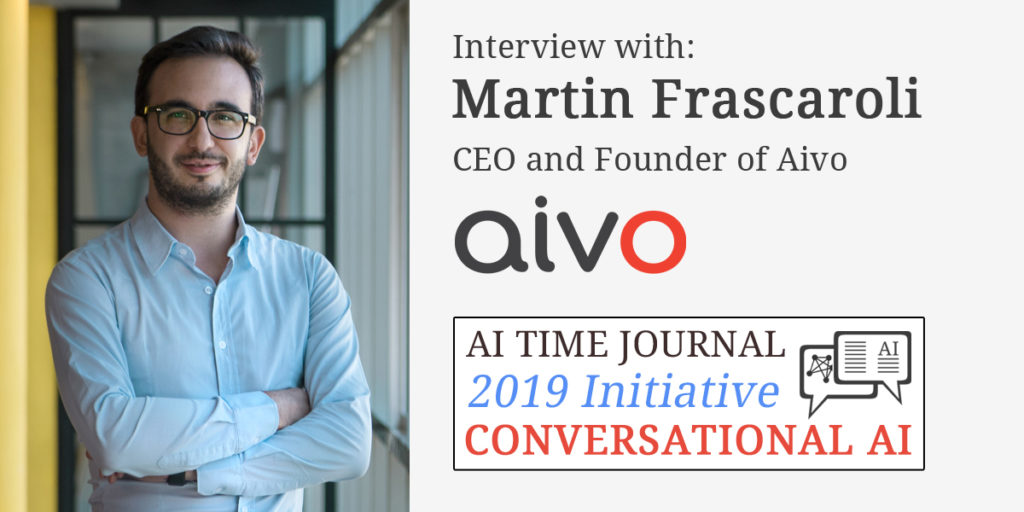 Martin Frascaroli is the founder and CEO of Aivo, a company that helps enterprises solve their challenges in customer service and sales growth with omni-channel solutions powered by Artificial Intelligence.
In this interview, Mr. Frascaroli shares insights on how enterprises can leverage technologies such as conversational AI, voice-enabled interfaces and omnichannel virtual assistants across several business functions, including customer service, sales, and marketing.
---
This interview has been featured in the Conversational AI Initiative 2019.

---
What is Aivo's mission?
Our mission is giving time back to people, to both companies and their clients. Customers are tired of experiencing long delays when contacting companies, and employees spend hours and hours answering simple questions. In 2019, digital tools allow us to bring solutions to the table to change this scenario.

In other words, our mission is to make sales and customer service processes easier and faster for everyone involved with innovative, evolving technology. This way, the next time someone wants to know when their new sneakers are arriving, they can just get an answer in 5 seconds instead of having to wait until the call is transferred to an available agent, spell a thousand-digit purchase number, and have the agent look for the order status.

Customers are ready for this new reality. A recent study revealed that 64% of customers believe the top benefit of using a chatbot is the ability to get 24-hour service, 55% believe the top benefit is getting instant responses to inquiries and 55% believe it is getting answers to simple questions. So I believe we are on the right path towards better customer service in the future.
Who are Aivo's customers and how do you create value for them?
Our client is a small, medium or big size company that has an issue to tackle or aspect to improve regarding customer service or sales growth. In general, the ones looking for our solutions are CEOs or owners, marketing managers, CX managers, or IT managers.

What challenges do they face, or will they face in the future, that Aivo can help them overcome?
The challenges they face are providing 24/7 support, lowering costs, generating leads, offering omnichannel communication, and/or deflecting traditional channels to automatic services, among others.

Are most of your customers in a particular industry, and if yes, why?
Not in one particular industry, but most of them are within the E-commerce, Fintech and Telco verticals. This has to do mainly with the fact that our solutions, on one side, are great at complementing sales teams to generate leads and close sales and, on the other, provide a secure service that protects customers' data, which is what online stores, financial companies and telcos value the most. Other industries we supply to are Education, Utilities, Security, Wellness and Travel.

Tell us about the Aivo team.
We have seen a huge growth over the past year, we almost tripled the number of employees. Today, we are almost 100 people distributed all around the world. From Argentina to the USA, Brazil and Pakistan, we have a global team, we speak multiple languages and we are heading towards a remote workspace with flexible hours and locations.

Another thing that I'm really proud of is that women occupy 45% of the team and 50% of leadership positions. We work hard to ensure equality and diversity in our teams, not just in terms of gender but also in terms of cultures, religions and nationalities.

If I had to describe Aivors (that's how we call our employees), I would say they are curious, humble, focused on self-improvement and ownership, and they think big.

How many data scientists and/or machine learning engineers do you have in your team?
We currently have one machine learning engineer leading our IA and we are looking to further grow this department.

Which technology stack are you experts on and are you leveraging the most?
Our solutions are developed with Javascript, Python (specifically in machine learning) and PHP. On the other hand, our infrastructure is developed with AWS. Our team is always searching for and working with the best and new technologies that will better adapt to each one of the challenges we face.

What skills do you look for when hiring data scientists and/or machine learning engineers?
We look for someone oriented at searching for solutions using AI technologies, someone that hasn't been always working in research or investigating. We need someone that has implemented practical solutions or prototypes in the past with a specific goal and going after specific results; someone whose previous work was based mainly on constant trial and error, so that they can make decisions based on metrics to periodically improve the algorithms that support a certain project. He or she must be unstoppable in the search and proposal of new tools that will give time back to both users and administrators of the virtual assistants.

What are the biggest challenges that you are currently facing at Aivo?
We are currently facing four major challenges that we are excited to overcome in Q3 and Q4:

Global expansion: we are currently focusing on growing our USA market, opening APAC and ME. With that in mind, a major challenge is to continue opening new markets and overcoming the language barriers that it implies. We are currently testing our solutions in other languages besides Spanish, English and Portuguese to expand our brand to other regions.
Product: our challenges in terms of Product include implementing new features and integrations, further improvement of AI understanding and interaction, and implementing predictive technology.
Better business-client relationship: we are looking forward to improving the customer experience, establishing natural and seamless interactions with our own AI solutions, and evolving our legacy systems.
Promotion and pricing: we are integrating all of our products into one single Aivo Suite as a full-stack solution, which will be a major communication and marketing challenge for the rest of the year.
What are Aivo's biggest achievements in the last 12 months?
We have grown so much over the last 12 months in terms of both product and business development that it is hard to just name a few achievements. If I had to pick only a few, I would say our biggest achievements over the past year have been our partnership with Zendesk, Salesforce, Genesys and Smooch (WhatsApp); launching Voice -our automatic customer service solution for telephone channels with AI- and breaking it in the USA market with a local American sales team.

Also, implementing a self-service channel, giving users the possibility to create an account on the platform and have ownership over their virtual assistant without needing any help from the Aivo team. This has changed the game completely for our clients and it has given them autonomy and independence to manage their service from one single place.

Finally, potential clients can now pay online with a credit card from anywhere in the world, which has been another major step towards our global expansion challenge for 2019.
Walk us through Aivo's products, and what problems they solve.
We provide four different products, that will soon be integrated into one single full stack solution. Even though we still haven't launched the official Aivo Suite, these products don't work in silos, they are all managed from the same platform and can be implemented on the same channels:

AgentBot: this is an automatic, omnichannel virtual assistant powered by Artificial Intelligence. Its understanding engine allows it to interact with users with natural, human-like, and conversational language, learning from each interaction. This way, the bot can understand misspellings, jargon, and different ways of stating a question. It provides an immediate, 24/7, personalized and omnichannel communication between companies and customers.
Voice: this is our automatic customer service solution for telephone channels, powered by Artificial Intelligence. This is especially useful for people that still want to use their telephone to solve their inquiries or issues when it comes to dealing with companies so, just like AgentBot, Voice understands natural, human-like language to maintain fluid dialogues.
Live: this is the best co-pilot for human agents. It is used when the virtual assistant can't solve an issue or when the customer wants to speak to a representative. Once the transfer to an agent is made, Live provides real time, omnichannel and asynchronous conversations with the customer.
Help: this is a centralized knowledge base and intelligent search engine that empowers agents and improves self-service experiences.
Which product are you currently focusing the most on?
We are not focusing on one single product. Like I mentioned before, we are about to integrate all of our products into one single Aivo Suite, so that's currently our main priority, always focusing or providing omnichannel, personalized and immediate solutions.

Which product do you think is creating most value for your clients, and why?
Probably AgentBot, since chatbots are the latest trend in the industry and where clients are experiencing the greatest results. It helps them tackle some of their most important pains, like 24/7 communication, immediacy, lowering costs, and overall better customer experience.

On the other hand, the most valuable advantage is how AgentBot understands the intention behind the questions. This allows companies to instantly know what customers want and, therefore, instantly resolve their issues, providing an amazing customer experience.

Do you customize your product based on each customer's needs? How?
Each solution is able to adapt to each customer's system, with native integrations or connectors like Zapier. In some cases, we also develop customized solutions for clients that require so.
What channels do you provide chatbots for?
Our solutions are available for web chat, Facebook Messenger, SMS, RCS and phone channels.

Are you specialized in one specific channel? Why?
No, we are not specialized in one specific channel because we focus on providing omnichannel solutions, which means offering the same experience on different channels, at the same time and with the same quality of the service. We believe that when a customer contacts a company with a certain inquiry or issue, they need an immediate response, on any channel, at any time and offering the best possible solution for all.

What are channel-specific challenges and/or opportunities for enterprises to leverage bots?
Every time a new channel emerges in the digital environment and users start engaging with it, it is always a challenge for companies to adapt to it. At one point, phone channels were the main source of contact with companies, then came social media, and now it is all about instant messaging, especially in mobile. Messaging is the future and providing an amazing experience on these new channels is the current challenge enterprises are facing. The greatest opportunity in this scenario to leverage bots is that there are solution providers, like Aivo, that are using innovative technology to integrate all channels through one single omnipresent chatbot, so companies don't have to face this challenge alone.

Which internal processes are you helping enterprises automate with bots & Conversational AI?
Our products help enterprises in mainly four different areas. First of all, in Customer Experience, providing customer service solutions, customer information, tech support and loyalty management. We play a major role as well in Sales, since our products are capable of generating and qualifying leads, booking appointments, applying cross-selling and up-selling techniques, improving the online sales experience and dealing with payments.

On the other hand, we take care of Knowledge Management through micro-sites, internal teams, google search indexing and HR processes. And last but not least, our products help re-engage with leads and customers by retargeting, sending notifications, retaining customers and, again, applying cross-selling and up-selling techniques to potential customers.

How do you measure the performance of your bots?
We consider essential to provide not just a great conversational tool, but also a powerful analytic system to measure the chatbot's performance. To measure its success at providing optimal customer service, we take into consideration the quality of the overall service based on a set of metrics:

Effectiveness: sessions are considered Effective when more than 75% of the interactions were resolved by the virtual assistant, were not transferred to a live representative, and did not receive negative feedback. If your chatbot is having a lot of Not Effective sessions, then it is time to review your knowledge strategy.
Number of transfers: The objective of the chatbot is to handle the simple requests and free up time from human agents. If a chatbot is unable to answer correctly a users' question or the user request to speak with an agent, then the session will count as transferred. If a high percentage of all chatbot interactions end up in transfer, this is also a red flag for companies' to review.
Effective transfer: sessions are considered Effectively Transferred where, even though more than 75% of the interactions were resolved by the virtual assistant, because of the complexity of the issue, they were ultimately transferred to a live representative. On the other hand, it is Not Effectively Transferred when the chatbot can't solve at least 75% of the interactions and, therefore, the live representative has to take over.
Feedback: when a user is interacting with a chatbot, they can provide feedback to a specific response the chatbot gives by clicking on a thumb up (positive) or thumb down (negative). Sessions are considered positive or negative when at least one of their interactions received a positive or negative feedback.
AgentBot automatically combines all of these metrics to analyze the overall performance of the chatbot. Therefore, companies can identify patterns and see what can be improved. For instance, if one question is resulting in too many transferred or not effective sessions, it means that the information provided is not good enough or that the issue is too complex to be solved without a human agent.

On top of that, the platform also provides chat and customer reports. They show details of what the customer asked and how the intention was asked. This allows companies to read and analyze how the sessions developed and get specific information such as the general context and how things happened. This will help make the necessary improvements in relation to the way users usually talk to the bot and make sessions more natural.

What is your experience with voice-enabled interfaces?
Like I mentioned before, one of our solutions is Voice, a voice-enabled interface that interacts with customers through phone channels. It is a great solution for companies that still have a large number of customers that prefer voice channels instead of instant messaging or social media.

What opportunities do voice-enabled interfaces bring for enterprises?
The current scenario is that a lot of people still want to communicate through phone channels. I don't think it will be the case in the future, but for now, it is a reality that enterprises need to face by providing an omnichannel service that offers a great experience in both digital channels and also phone channels. But the fact that there is a portion of the market that still uses the phone doesn't mean that they don't expect immediacy, personalization, 24/7 support and effectiveness at solving their issues.

Questions like "when is my purchase arriving", "I want to change my email address" or "how can I return my order" should definitely be solved instantly over any channel, including voice-enabled interfaces. This means that these solutions should be as resolutive as possible. Without AI solutions that can tackle these challenges, companies would have to invest a lot of money and time in human resources to deal with these phone calls. But the greatest opportunity that comes with voice-enabled interfaces is that human agents can take care of more complex issues instead of picking up phone calls to answer simple questions like the one I stated before.

How can enterprises get started with their conversational ai strategy?
First of all, they should focus on their customer persona: who they are, what they need and what preferences and behaviours shape their expectations towards the company. Second, companies should still have people in customer service. Agents are not out of the equation when it comes to implementing AI, they should still be there to provide the human factor in the customer service strategy, and to offer an empathetic communication when an issue gets too complex.

Once companies understand this, it is time to move to the next step, which is getting started with their conversational AI strategy. They should look for conversational solutions that are easy to use, that provide self-service platforms and omnichannel possibilities, that understand human-like and natural language, that evolve through interactions and that don't require a developer team to be used and managed. I think those are the main keys to get started and to succeed with a conversational AI strategy.
The reality is that today's hyper-connected user is not very forgiving. They expect immediacy, personalization, availability, efficiency, and an overall great experience.
How can enterprises prepare for the changes in the industry brought by Conversational AI technology?
I think companies should understand this new scenario we are experiencing: according to Gartner, by 2020, poor customer experience will destroy 30% of digital business projects and, according to Salesforce, today, 52% of consumers are more inclined to change brands if a company doesn't offer personalized communication.

The reality is that today's hyper-connected user is not very forgiving. They expect immediacy, personalization, availability, efficiency, and an overall great experience. Artificial Intelligence provides an effective solution to satisfy these new expectations, so the first step would be considering implementing AI into customer service, sales, marketing and HR strategies. But it is not just about implementing it, it is about understanding each niche and customer persona and analyzing how it will best fit their expectations, preferences and behaviours, and then setting it up to meet those needs.

AI strategies should provide all the information the customer will demand, it should be integrated with the apps and systems the customer already uses to provide transactional data, it should be as human-like as possible to establish a personal communication, and it just should adapt to each company and their customers. This means that not all AI solutions will be the same or should achieve the same results, it will depend on each need and objective.

According to Gartner, by 2021 conversational AI-first technology will be adopted by the majority of enterprise IT organizations as the most important new platform paradigm. So, in short, to prepare for these changes, companies should definitely implement AI in their strategies, but they should also implement it in the best way possible to ensure an amazing experience for their customers. And there's no universal recipe for this.


What are the biggest opportunities for enterprises to leverage Conversational AI?
The biggest opportunities are lowering costs, increasing sales, deflecting phone calls to digital channels, improving customer service strategies, offering omnichannel communication, providing 24/7 and immediate support, and predicting consumers' behaviours to get ahead of them and proactively solve their inquiries and issues.

How will voice-enabled conversational interfaces change the game?
For a while, social media and instant messaging seemed to be taking over communication and customer service strategies. This is fine for new generations like Millennials and Gen Z, but the phone is still one of the most used channels, and I think we will eventually get back to it in the form of voice-enabled conversational interfaces.

This is interesting and a great opportunity, because while messaging and writing is universal, voice is more local and personal, and the possibility to answer through voice to any customer, in any place, at any time, in their own language, is priceless.

It will change the game because personalization is the future, and there's nothing more personal, or even more human, than a voice on the other side of a gadget. The more we improve this technology, the more revolutionary it is going to be. We are seeing this with other AI products like Alexa, Google Assistant or Siri. People are quitting typing and going back to voice. Companies, and especially AI solution providers, should embrace these new behaviours and continue creating great technology to give people what they want.
Which Conversational AI-related technology trend do you think will have the biggest impact in your industry in the coming years?
The AI-related trends that will have the biggest impact in our industry are new AI capabilities in terms of predictive technologies, adoption of every relevant messaging and voice channel, machine learning applied to business intelligence and data science, integrating and partnering with best solutions in the market, and definitely always putting security first.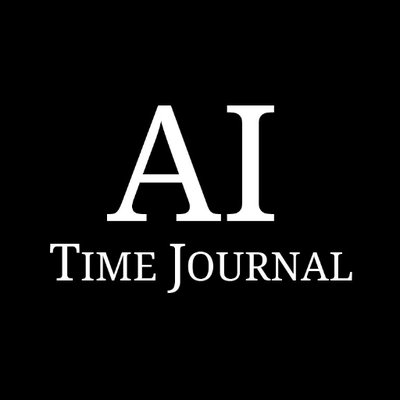 The mission of AI Time Journal is to divulge information
and knowledge about Artificial Intelligence, the changes that
are coming and new opportunities to use AI technology to
benefit humanity.