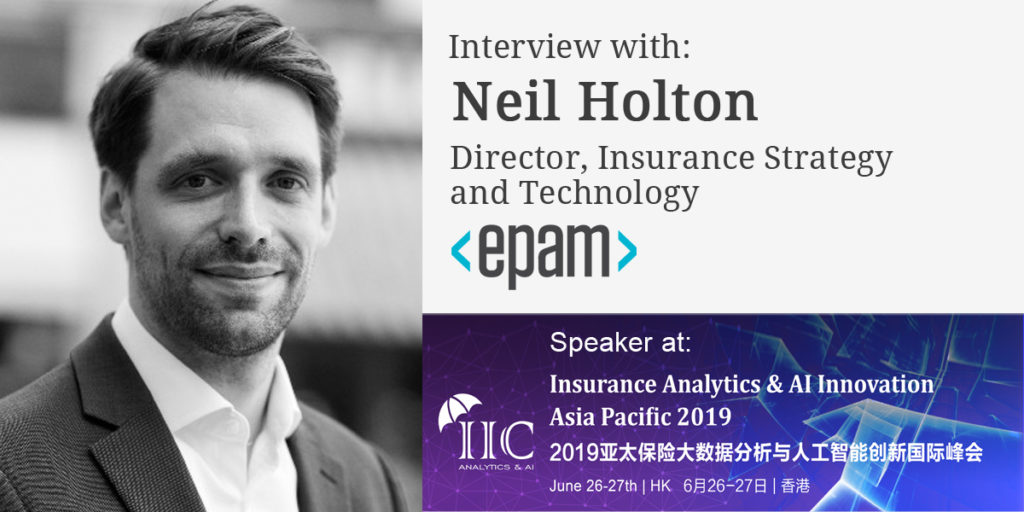 Neil Holton is a Director of Insurance Strategy and Technology at EPAM.
In this interview, Mr. Holton provides insights into the latest technology trends in the insurance market, touching on AI, chatbots, data analytics, RPA, fraud analytics, and more.
Mr. Holton is also a speaker at the Insurance Analytics & AI Innovation Asia Pacific conference on June 26-27th in Hong Kong.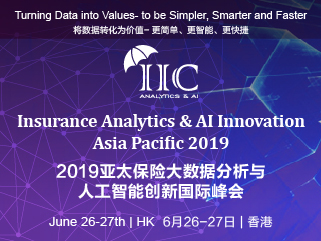 ---
Who are EPAM's insurance customers?
We are working with some of the largest global insurers, reinsurers, online pension firms and brokers, covering major retail and brokered business domains, across a variety of core and specialty lines.
How do you create value for them and how are you involved in this process?
EPAM is involved in a lot of different ways. Most importantly, we use our deep technical and domain knowledge to deliver end-to-end solutions for our clients. We understand insurance business drivers and embed user experience into the delivery of these solutions to increase quality, reduce costs and improve time to market.
Forrester listed EPAM as the only leader in The Forrester Wave™: Digital Platform Engineering Services, Q2 2016. This report shows our role as a digital orchestrator, helping our clients across a variety of industries understand, plan and deliver digital programs from strategic inception through to quality, reliable delivery. This cross-industry digitalization expertise helps us bring new and fresh ideas to the insurance market.
What challenges do your insurance customers face, or will they face in the future, that EPAM can help them overcome?
Beyond macro-economic forces driving consolidation and restructuring in the M&A space, many of our clients are trying to unlock the game-changing potential of their data. This is driven by the underestimated complexity in underlying technologies and data, along with the ongoing tension between relentless operational cost pressures and the need to invest in revenue-driving innovation for future growth.
As a result, our clients push either to differentiate their business through innovation in customer experience or on cost-reduction to return overall profitability despite the soft market. To help them remain competitive, we focus on delivering three types of innovative services:
Customer-focused innovation: apps, AI/chatbots and integrated service experience, such as CRM, to enhance customer experience
Process-focused innovation: end-to-end process optimisation and RPA, BPM and AI implementation to increase efficiencies
Data and analytics-focused innovation: data aggregation and analytics expertise to reduce underwriting losses and drive profits
What are the biggest technological challenges that you are currently facing at EPAM?
One of the significant challenges facing the industry is around personal data given GDPR and similar legislation, proposed or in-force, in California, Philippines, Australia and multiple other jurisdictions around the globe. Our clients are trying to determine how they can leverage valuable sources of data and analytics while maintaining compliance. On several occasions, we've seen an over-interpretation of the legislation – while it's reasonable to be cautious of the reputational risk around personal data, the impact on project benefits can be extreme. 
Another challenge that many companies are facing is the war for talent. EPAM is competing with other global IT companies for the same talent. With our size and scale, we have a global TA organization that focuses on finding the right talent in the right location. We work with several universities to ensure they are teaching the right skills and material that is needed to work at a company like EPAM. Once you bring talent onboard, you need to be able to keep them. For retention, EPAM has a substantial ecosystem of internal platforms that helps with employee engagement to grow skills and keep our team excited and engaged in the work.
Another fundamental challenge we see is the mismatch between naturally risk-averse insurance business administration, and the idea-led and opportunistic principles driving some of the most exciting innovations in fintech and other industries. Leading-edge technologies sometimes lack provable expected returns and can, therefore, be de-prioritised in the process of value-driven strategic planning. Each individual decision is highly rational and conscientious; however, the net effect is a throttle on the pace of very novel technology adoption.

What are the biggest challenges faced by the insurance industry today? Can AI be leveraged to solve or mitigate these challenges?
Our clients are trying to adapt to a fundamentally different insurance landscape that has developed over the past decade. The obvious challenges in insurance are regulatory changes (both recent and upcoming), ongoing soft underwriting markets, and changing customer expectations. While none of these changes are new, insurance companies are still trying to find solutions to these challenges. More fundamentally, we're seeing again and again that the decision-making processes and attitude to change undermine true digital transformation. The current market challenges can be overcome by altering your current ways of working. The revolution has not arrived. While sustainable, the market seems deeply vulnerable to wholesale disruption from the outside.
AI has obvious applications in workflow development, customer service augmentation, cost reduction and triage across all functions. More excitingly, AI offers "new" technology with genuine, realisable returns. Suitably structured and targeted AI opportunities within major insurers can demonstrate the meaningful application of this new technology to our 'old' industry in a way that complements and develops the market, instead of stubbornly creating a technological and operational integration problem. If AI projects show the insurance industry how to embrace change and technology, the returns will be far beyond any individual use case.

Which AI-related technology is the most impactful in insurance, and will be in the future? Why?
We're most excited about fraud analytics. Through a desire to identify and return "safe" realisable potential, too many of the AI use cases we see in the industry are only tangentially related to insurance business itself. The potential benefits in online conversions are a result of retail innovation, more than insurance. While the returns are good, it's much rarer to see ideas that actually involve insurance business, not the sales machine upfront. Fraud identification and reduction is different. The use cases and benefits profiles are highly specific. Moreover, attacking indemnity spend via fraud leakage has the potential to deliver significantly greater benefits than most operational or customer innovations. This creates a relative gold mine of solid fundamentals (data-led fraud detection is not new), high industry applicability and significant potential returns. It's no surprise that true expertise in fraud detection AI is a very rare skill in the open job market!
As insurers progress in RPA, they are becoming more and more interested in extending use cases into processing semi-structured (machine vision) and unstructured (chatbots) information, as well as automating some decision-making (machine learning). In the next one to two years, this tendency will become stronger. As a side effect of intelligent automation in insurance, most companies will amass an incredible amount of reliable data provided by bots and diligently extract information from submitted documents. This reliable data then opens the door to generations of quality insights for future process optimisation and essentially starts a virtuous circle for these companies, which will result in exponential growth and efficiency gains.
How can insurance companies leverage AI & Analytics to make their customers happier and more satisfied?
This is a very interesting issue, especially when you think about this in the context of retail GI, which is a completely different issue between insurance domains. To successfully address customer satisfaction, we must honestly recognise the critical differences between insurance and the industries we are learning from. Customers have a practical need to interact daily with their bank, but that simply doesn't apply to most retail insurance relationships. Attempting to drive customer engagement in similar patterns to retail or banking creates friction when the customer realises we don't have enough to discuss to justify the contract. So, most customers engage with their insurer at the point of the claim (the point of realisation of the insurance contract). At that point, something has already (obviously) gone wrong, and no doubt the customer is regretting whatever excess cost or inconvenience will apply to their claim. Typically at this point, a customer's hierarchy of demands looks something like this:
Don't make the process onerous for me
Sort it out quickly
Be fair
Keep me updated
Communicate in a style I like
We should address customer service priorities in the same order. Investing in tools that send daily updates to customers is a total misstep if an alternative could have accelerated the end-to-end process by a few days. After all, you don't need an update if the claim is already settled! Fortunately, there is a myriad of opportunities for AI to practically optimise the customer claims experience. A well-handled claim can be the single most effective retention factor an insurer can deliver.
How can insurance companies prepare for the changes in the industry brought by AI technology?
I don't think we should expect AI to fundamentally change the insurance industry. There are obvious reductions and redistributions in workforce associated with a lot of technology in this space, but many developed applications and hundreds of POCs have not materialised seismic results. More importantly, right now, insurance companies can develop their people through flexible, intelligent applications of new technology and the ability to adapt to change. Using AI opportunities as a lever to drive change and helping insurance professionals embrace change, insurance companies can become more agile and ready for change as a whole.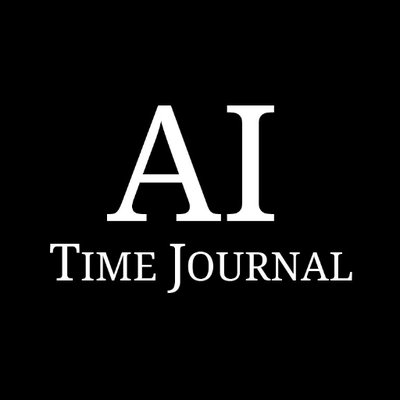 The mission of AI Time Journal is to divulge information
and knowledge about Artificial Intelligence, the changes that
are coming and new opportunities to use AI technology to
benefit humanity.