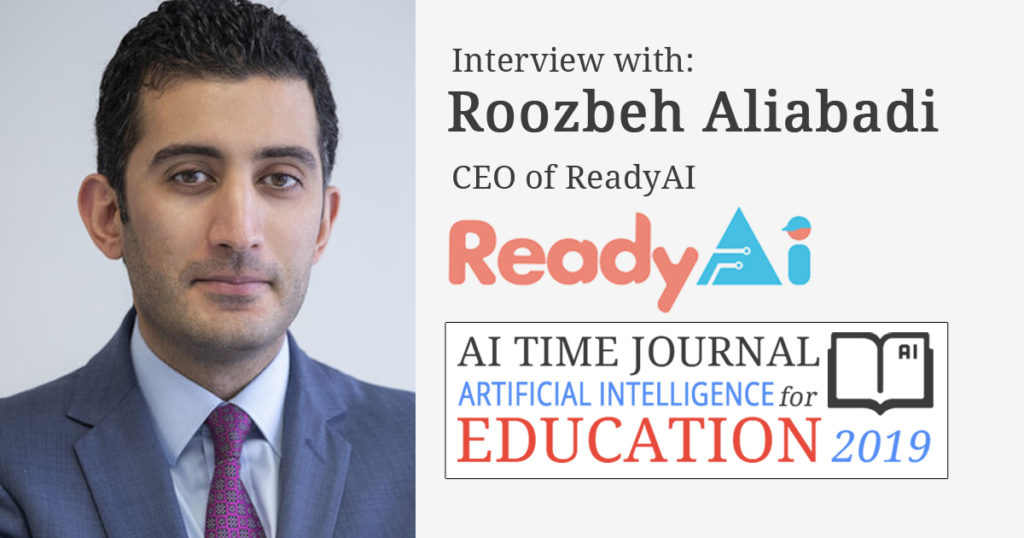 Roozbeh Aliabadi is the CEO of ReadyAI, a company that focuses on bringing the key concepts of AI to K12 students and make them ready to live in an AI-driven world.
In this interview, Mr. Roozbeh shares insights on how AI can be used in project-based learning to put the students in front of real-world problems and go beyond traditional concept-based learning.
This interview has been featured in the AI for Education Initiative 2019.

---
What is your background and how did you start ReadyAI?
I come from the non-technical background. After having served in the military and the financial sector, my career took me to places like Latin America, the Middle East, Africa and Asia where I was focusing on merger arbitrage and transaction advisory. In 2016, I moved back to Pittsburgh and focused on the international education market. And in 2017 we founded ReadyAI.
It really grew out of a conversation with CMU in the September of 2017 and in particular Andrew Moore – the former Dean of CMU CS program and currently heading Google Cloud AI. He had a passion for bringing AI education to the K12 level. We all felt there was this void in the market. There was no real AI education at the K12 level. Keep in mind that MIT and CMU just have begun to offer AI undergraduate degree. So this was or I should say still is completely new. So this is really how our mission at ReadyAI was formed.
What is ReadyAI's mission?
We made it our core mission to promote and provide artificial intelligence education for K12 students around the world. In order to do so, we knew early on that we must work with the best researchers, institutions, and companies in AI, to bring the most updated and relevant to the AI learning community. We also believe that AI learning should be: accessible, fun, creative, collaborative, empathetic, ethical and definitely for everyone.

Who are ReadyAI's customers and how do you create value for them? What challenges do they face, or will they face in the future, that ReadyAI can help them overcome?
In the past two years, our customers have grown very diverse: our customers in the US include public and private schools in many states from the east coast to the west coast. We also work very closely with many after school programs, like Boys and Girls Clubs, public libraries and philanthropic organizations. Many homeschooling parents have also been working with us across the US. In Europe, Asia, Latin America, Australia, and the Middle East we have also been working with schools and training centers to provide professional development, curriculum, software, and hardware. So we have been operating in practically every timezone. It's really awsome to interact with teachers, students, parents, school administrators, government officials for every corner of the world.

The market is incredibly fresh and untapped. If you just type "AI Education K12" in your Google Search or any other search engine you really don't see many companies in this domain. So we are one of the very very early comers. We are also the first really comprehensive K12 AI education company to create an "out of the box ready" and complete program to teach AI for K12 education that truly empowers students to use AI to change the world. The term "out of the box ready" is important. AI is new and quite intimidating to many of us. So we wanted to make it simple, easy and ready to be taught. That's why we designed "AI-in-a-Box". So unpacking AI education this way is one of our core values and have been tested and being utilized in classrooms around the world.

There are many challenges ahead but I believe the question in the mind of all of us, particularly educators and parents is: how will technology impact jobs move forward? And how can we prepare our student to succeed in an increasingly automated AI-driven world?

I think the fear that surrounds AI, automation and its impact on jobs outweigh understanding of its benefits and opportunities. This isn't new of course; the fear and lack of understanding surrounding AI are also deeply rooted.

AI tools are more visible than ever in U.S. schools and classrooms when it comes to management and administration; however, how can we ensure that we are teaching our students what AI actually is and how to engage with it in a way that will help them create solutions to improve the world we live in?

While there are many STEM programs that focus on coding and robotics, K12 education needs to embrace tools and curricula that teach the full complement of AI concepts in order to truly prepare students for 21st-century college and career success. These concepts include visual recognition, landmark-based navigation, object manipulation, facial recognition and expressions, speech generation, and speech recognition. Educators need solutions that remove barriers like time, cost, and intimidation, which often stand in the way of embracing new tools.

One such solution, AI-in-a-Box, is already helping schools and districts move quickly toward developing the first generation of AI-ready students, preparing them for success in college, careers, and citizenship. AI-in-a-Box leverages STEAM and project-based learning to help students acquire a deeper knowledge of AI's key concepts through the active exploration of real-world challenges and team-based problem-solving, cementing 21st-century skills needed for success in a changing world, such as collaboration, problem-solving, critical thinking and engagement. AI-in-a-Box also offers formal teacher training to support teachers in how to teach AI concepts and lessons.

Join our weekly newsletter to receive:
Latest articles & interviews

A

I events: updates, free passes and discount codes

Opportunities to join AI Time Journal initiatives
As the educational landscape continues to evolve, the focus on AI should, and likely will, command a more prominent role in K12 curricula. Thanks to these new tools, schools, and teachers will be ready.
How is AI leveraged in your product?
ReadyAI, the first teacher-friendly K12 Artificial Intelligence (AI) education company, announced the launch of AI-in-a-Box, a comprehensive AI education solution for K12 teachers and students. Designed for users of all experience levels and abilities, each box provides everything that teachers need to instruct students on how to apply the key concepts of AI to real-world problems — including the curriculum, hardware, and software. AI-in-a-Box empowers schools and teachers to provide 10 hours of STEAM and project-based AI education. The unique curriculum teaches six key concepts of AI, including visual recognition, facial recognition, object manipulation, landmark-based navigation, speech generation, speech recognition.

How do you measure the performance of your technology?
We see the results. Take a look at the projects that have been done by students they are truly amazing.

Tell us about the ReadyAI team.
It is really the superstar team – smart and graduates of top universities with a diverse background. From programing to content development and design we are super fortunate. ReadyAI team is very young. It is actually part of our strength. The team can really connect with students at K-12 and their needs. Every team member is not just working on a particular area of expertise. They do spend time in our workshops with our students and interact with them. This is how we can really attempt to get it right. I'm referring to the needs of educators and students. So this is an incredible opportunity for all of us. I think the most valuable asset the team possesses is the ability to re-learn. This is truly important in the fast-changing world of AI and AI education.

You have recently been involved in the WAICY, what is it and what was your experience there?
Project-based learning truly enables students to face real-world situation simulated in the forms of projects. We have seen this in a big way at WAICY2018. Students learn as they are doing what they know and develop new learning around hobbies, passions, and even future careers from invasive surgery to transporting and conserving energy. It could often help even develop new hobbies, passions and choosing for a new career path. We also had WAICY 2019 in Pittsburgh on July 27th. This was even more amazing as Pittsburgh City Council also passed a Proclamation for "AI Learning Day for Kids" on July 27th in recognition of WAICY and its global objective.

What are the major challenges in the educational system today? How can AI technology help solve or mitigate them?
Since our main focus is teaching kids about AI let me tackle this issue this way. I believe one of the most important reasons behind project-based learning is that it enables educators, teachers, and students to learn and more important adopt formations around projects rather than having a concept and dull lecture-based learning about AI concepts or just coding and programming, which happens quite often in a traditional learning environment. With ReadyAI students actually, learn to understand AI concepts such as Visual Recognition, Landmark-based Navigation, Object Manipulation, Facial Recognition and Expressions, Speech Generation, Speech Recognition, State Machine Programming, put the execution into a structure under the guidance of their teachers.
What are the major opportunities brought by AI in Education today?
At ReadyAI we have witnessed that coupling AI education and project-based learning provides the right formula that is able to meet the challenges of preparing students in classrooms to solve the real-world problems rather than traditional concept-based traditional classroom learning that often is displayed in the broader STEM education.

How can teachers prepare for an AI-powered education?
We think that authentic project-based learning focuses on developing critical thinking and problem-solving skills in the students. We have also witnessed at WAICY2018, this inquiry-based approach of learning to solve the problems given as projects to the students is a unique form of active learning. In a nutshell, project-based learning combines the essence of understanding and making. When students apply the concepts they learn in AI such as recognition, object manipulation, landmark-based navigation and many other aspects of AI, to solve authentic problems with the intention to produce results that really matter.

Inside and outside classrooms, we have seen repeatedly, a project that has been defined by students has scope of work, resources, and planning activity to execute and manage resources to get the preferred results. In today's world where students are presented with an environment full of increasing complexity and ever-growing automation, project-based learning is preparing students to solve the real-world problems.

At ReadyAI we believe there are many reasons why teachers and even parents should use project-based learning when it comes to AI education because it will be a front-row seat on solving real-world problems.
Do you see threats of inequality in access to AI-powered education?
We do. And that's why it is all about AI inclusion. Project-based learning is a powerful way of including AI concepts in the learning environment of the education system. Projects selected by students based on their interest are now likely to solve bigger problems.
Where do you see AI for education in the next 5-10 years?
It is very difficult for me to answer. But I do believe that AI Learning is not about coding, it is about Human CreativityReadyAI project-based learning develops a greater depth of understanding of AI concepts than in traditional classroom-based learning and outcomes in improved levels of student's creativity. Real-world situation given in the project is more able to bring students' attention and grab their interest to bring about the needed level of thinking to apply new knowledge in a problem-solving context.
Working on a project to students is better nowadays, rather than making students sit in a class and speaking it all out for them. This makes the children go out on their own and learn on their own, giving them a better understanding of the topic. This way, students will learn to take up an initiative on their own and know more on their chosen topics. Obtaining AI knowledge should be fun and interesting, where children should engage themselves in a complex world of data, and at ReadyAI we want you to be part of it.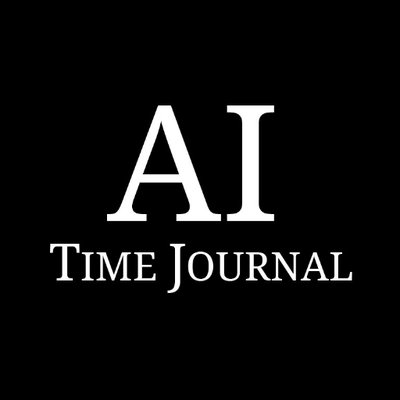 The mission of AI Time Journal is to divulge information
and knowledge about Artificial Intelligence, the changes that
are coming and new opportunities to use AI technology to
benefit humanity.