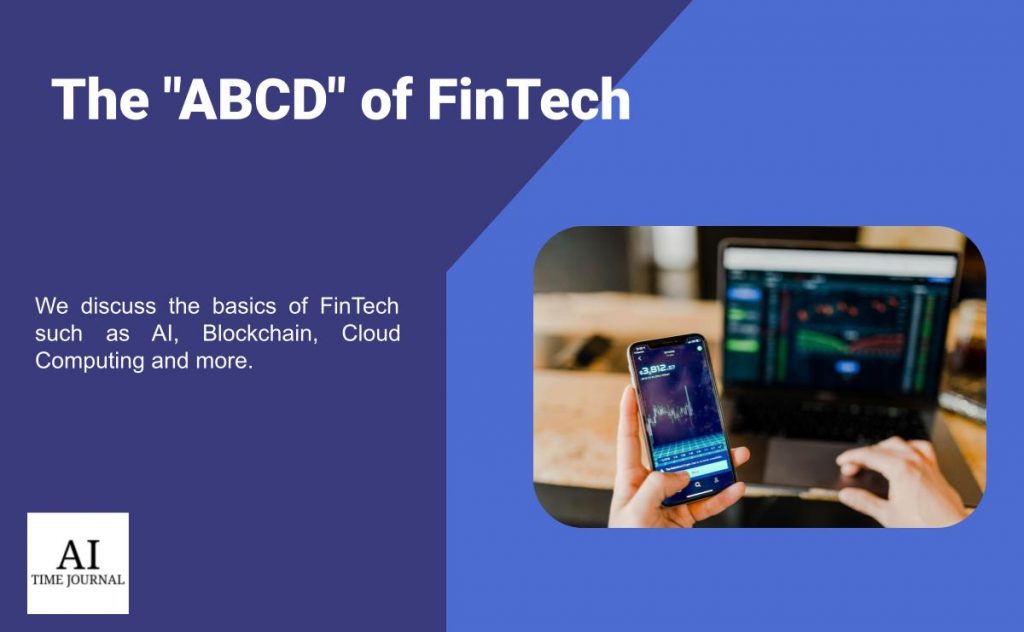 FinTech, also known as financial technology, has revolutionized modern financial transactions. From retail to banking, almost every traditional transactional process has improved due to advances in the FinTech industry. The term "FinTech" encompasses all technologies used to refine and automate financial transactions, from simple mobile payment apps to more complex cryptocurrency and blockchain technologies. 
FinTech is now a booming industry worth $115.34 billion as of 2021. With an estimated compound annual growth rate (CAGR) of 26.2% through 2030, the FinTech industry isn't going anywhere and will likely continue improving how we conduct everyday transactions.
In this article, we will discuss the four pillars driving advancements in FinTech. These four integral technologies have helped to create most of the tech in the FinTech industry. Coincidentally, we can describe them using an easy-to-remember acronym: "ABCD." 
For more like this, check out other AI Time Journal articles: The Three Pillars of AI: Symbols, Neurons, and Graphs and The Next Wave of Cloud Computing. 
A – Artificial Intelligence
Artificial intelligence (AI) is one of the most important pillars of FinTech. It is often incorporated into cloud computing technologies and helps financial institutions analyze their data more efficiently. AI and machine learning (ML) capabilities have enabled more advanced predictive analysis, personalized recommendations, and better customer service chatbots. 
AI has automated the fundamental services that most financial institutions provide. Due to developments in AI, many FinTech products and services are now able to easily manage traditionally manual processes such as credit analysis and wealth management. As AI continues to become more sophisticated, FinTech companies will be able to provide more financial analysis and management tools for businesses and financial institutions. 
B – Blockchain
Blockchain is one of the biggest crazes right now, especially in the FinTech industry. Blockchain creates a highly secure, decentralized, anonymous chain of record. It can be used to keep a history of financial transactions and is the backbone of cryptocurrencies such as BitCoin and Ethereum. 
Cryptocurrency (crypto) is one of the most recognized advancements in FinTech. It is a new digital asset and has become an alternative financing method for individuals and businesses. Crypto is now also a new online capital marketplace and is revolutionizing transactional processes across various sectors. 
C – Cloud Computing
Cloud computing uses the Internet, also known as "the Cloud",  to deliver computing services and IT resources to users on demand. Services include servers, databases, analytics, and more. It promotes faster innovation, economies of scale, and flexible resources. 
In the FinTech industry, cloud computing has made it cheaper to acquire previously capital-intensive IT software and servers. Cloud computing enables financial institutions to dynamically scale their server usage based on their growth rates, allowing them to only pay for what they need. It also allows financial institutions to shift their time and monetary resources to the client experience. 
The pay-per-use nature of cloud computing has also inspired a new business model, Software-as-a-Service (SaaS), that many FinTech companies have adopted. Companies such as Shift Technologies and Billtrust sell their fraud detection and billing software, respectively, to businesses. SaaS companies allow institutions to outsource some of their services cost-efficiently allowing them to focus on other aspects of the financial transaction. 
D – Data
Financial institutions handle a vast amount of data. From client information to transaction histories, data is at the core of almost every modern organization. Hence, the ability to store more data and process information more efficiently has revolutionized many financial processes. 
The digitization of data and increase in analytic capabilities has helped FinTech companies improve operations for a number of businesses. For example, FinTech services analyze financial spending data to provide organizations with insight into consumer behaviors based on past history. This helps businesses with their marketing campaigns and enables them to better address the needs of their target markets. 
From a consumer perspective, data is the behind-the-scenes technology responsible for online banking apps, online purchases, and even the ads we see on social media. Data also helps us search for the lowest prices and monitors our credit cards for fraudulent activities. 
Contributor
Noela is currently an undergraduate business administration and computer science student at Chapman University. She is fascinated by technology and wants to pursue a career in the business side of the tech industry once she graduates.