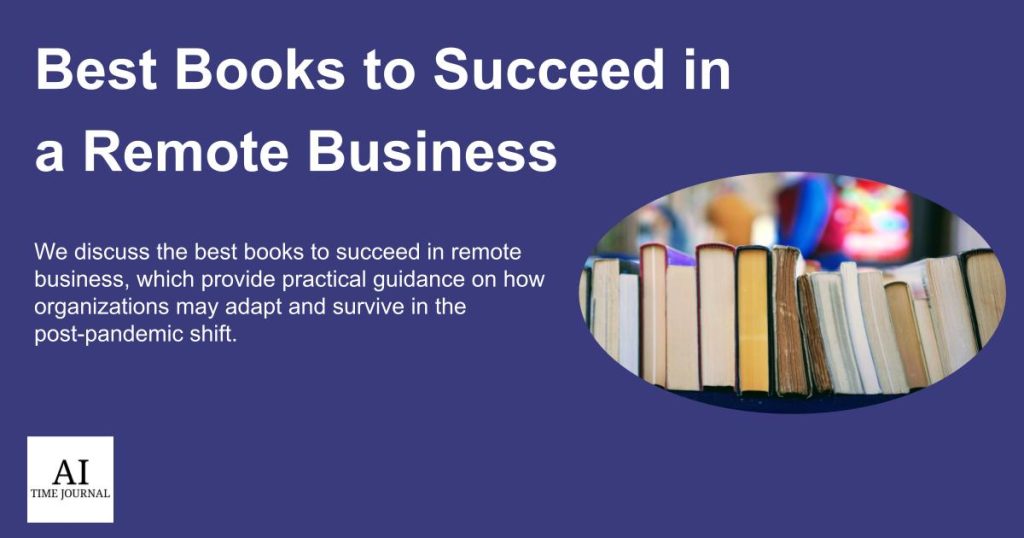 As businesses are increasingly transitioning to a remote setup, learning how to adjust and thrive in these settings is integral for success. 
The books mentioned in this article give real-life advice on how to thrive as an employer/employee in this never-before-seen virtual workspace revolution and maintain a healthy personal life. 
Readers can gain numerous insights from these recommended reads and truly make the best out of their virtual workspace journey. 
These recommended readings teach how to be more productive and solve dysfunctional traits (miscommunication, reduced engagement, mishandling of disputes) towards a more competent and self-sufficient team. 
Deep Work
Deep Work is a type of book that doesn't just give reasons as to why concentration is important but creates a detailed plan for its readers to actively participate in deep concentration to become the best version of themselves.
The thorough rituals of Deep Work teach readers how to deeply concentrate, manage distractions, and create productive output. As a result, the readers get to learn how to create irreplaceable value in this fast-paced world, while enhancing their cognitive capabilities to turn these learned lessons into sets of lifelong habits.
Such habits can elevate a team's productivity and make remote working more fruitful. This in turn is integral for a business to flourish amidst these uncertain times.
The readers, therefore, are particularly content with the clarity with which Deep Work lists out the high-functioning regimens for motivated individuals.
Cal Newport is a New York Times best-selling author of seven books, including Deep Work and Digital Minimalism. 
How to Thrive in the virtual workplace
How To Thrive In The Virtual Workplace captures and deciphers Author Robert Glazer's brilliance when it comes to building a team of productive and content professionals working from home. When the pandemic replaced actual office cubicles with virtual work programs, there was much confusion among businesses as to how to build a healthy team of professionals virtually. This is where How To Thrive In The Virtual Workplace maps out detailed rituals for kand individuals to practice to build a team that just doesn't survive, but thrives, in the face of the challenges of remote jobs. Readers will, therefore, be able to navigate through this massive work culture shift by following the plans laid out here. 
A business thrives well when its employees are thriving and empowered. Self-motivated employees create a loop of success for businesses. 
Robert Glazer is also the founder and CEO of Acceleration Partners, which has numerous awards for its work culture. His professional experience makes this book particularly resourceful as he has already applied the tactics he talks about in this book already. 
High Output Management
Building a successful business that is self-sufficient and always providing top-notch results every time is increasingly becoming a difficult task. Most books about management or entrepreneurship either talk about very vague concepts that aren't practical enough or exceedingly specific rules which are generally nonapplicable.
This is where High Output Management by Andrew Grove is nothing less than a precious Gospel for aspiring managers, businessmen, entrepreneurs, and consultants. High Output Management gets to the point without any redundant fiction and teaches motivated professionals how to build healthy teams that can produce long-term impacts, for the betterment of both companies and employees. 
Andrew Grove (1936-2018) was the CEO of Intel Corporation and had first-hand experience when it comes to running a multi-billion dollar industry successfully. As a result, High Output Management contains the insights of an actual manager who had years of expertise that can be particularly effective for professionals who are looking for tested tactics to run a business. 
The Five Dysfunctions Of A Team: A Leadership Fable
Patrick Lencioni, like an effortless storyteller, has crafted this book into identifying and solving some of the most pressing issues that plague even highly productive and well-established teams. He does this by narrating a fictional story of a female CEO who is asked to manage a company on her own, and how she tackles the Dysfunctions of a team masterfully. 
Unlike most Management books with superfluous technical details, The Five Dysfunctions Of A Team smoothly conveys its tactics to manage a team successfully through storytelling and also gives managers exercises to entertain to build equally sustainable teams in real life by identifying the five dysfunctions discussed. The absence of trust, fear of conflict, lack of commitment, avoidance of responsibility, and inattention to results. 
Patrick Lencioni is the author of two other best-selling books, The Four Obsessions Of An Extraordinary Executive and The Five Temptations Of A CEO
The 80/20 Principle
The 80/20 Principle by Richard Koch is the kind of book that has the potential to help everyone and anyone. Whether the reader is a CEO, student, janitor, or farmer, The 80/20 Principle teaches readers how to maximize their potential and reach their goals more efficiently, regardless of the task they're engaged in. 
As the title already suggests, the book gives the readers a detailed analysis of how 80% of our output or results depend on only 20% of our work and effort. It succinctly tries to convince the readers that, if they carefully plan out their most crucial 20% effort, they'll effectively control 80% of their desired consequences already. From economics to sports to personal choices, The 80/20 Principle is an important read for anyone looking to maximize their output in the least time-consuming way. 
Richard Koch is a renowned author, consultant, and venture capital investor who has written books like The Star Principle: How It Can Make You Rich and The 80/20 Manager 
HBR Guide To Remote Work
Harvard Business Review Guide To Remote Work gets to the point without any unnecessary content and is a great guide for individuals in a hurry. It helps the reader rationalize and implement Remote working tactics that can help them maximize their output, no matter where they are working from. Readers can furthermore learn how to utilize this workspace to shift healthily and sync their demands and life choices with their new working conditions, to reach greater heights. 
Harvard Business Review is world-renowned for its general management magazine which publishes six times a year. The magazine is a staple for organizations and individuals intent on being updated about various industries and the strides they're making in technology, management, strategies, leadership, and finance. 
HBR Guide To Remote Work is therefore the optimal result of HBR's accumulated vast expertise when it comes to career and business development. Readers can rest assured, and thus anticipate practically sound content that has been meticulously written by none other than the giant of finance magazines.  
The 7 Habits Of Highly Effective People
Stephen Covey's The 7 Habits Of Highly Effective People is as much a book of management and business as it's of Self-development and philosophy. It's not a book that has clear tips to transform readers' lives in one day but contains more elaborate ideas and values that people can integrate into their professional and personal lives to become more meaningful and effective. 
This book creates a subtle balance between one's personal, professional, and philosophical self through relevant anecdotes and habits worthy of emulation. In short, this book has something in store for everyone. 
Stephen Covey (1932-2012), was an American Educator, Author, Speaker, and businessman. He was also named one of the 25 most influential people according to Time in 1996. 
The Lean Startup
The Lean Startup by Eric Ries captures the essence of Entrepreneurship in a much more creative way than most people or books do. He describes Entrepreneurship as a scientific process, where Entrepreneurs will be tried and tested continuously until they understand the true meaning of being an Entrepreneur- which is to take the risk to create something in the face of uncertainty and how to persevere in it. 
This book teaches readers how to build a team that is committed to inventing, experimenting, and most importantly delivering to the customers what they want. Eric Ries does a brilliant job when it comes to giving readers the road map on how to adapt in entrepreneurship towards long-term progress. 
Eric Ries is an American entrepreneur, author, and blogger, who has also written The Startup Way. He has a large following on Twitter, and he benefits from his various ideas and tactics on entrepreneurship and management. See more about startups here.
Remote Work Revolution
Remote Work Revolution by Tsedal Neeley is an important read for those who are still struggling to get used to remote work. This book, unlike other books on remote work, recognizes and tries to solve the dilemmas that almost everyone is facing from this massive change. 
Readers will be able to follow evidence-backed and practical lessons on how to cope with the loss of connection with peers, lack of belonging, constrained work motivation, and the omnipresent feeling of uncertainty.  Professionals who are more invested in offline physical workplaces will benefit significantly from Remote Work Revolution. 
Tsedal Neeley is a Professor at Harvard Business School and has years of experience with studies related to business, management, technology, and research strategy.