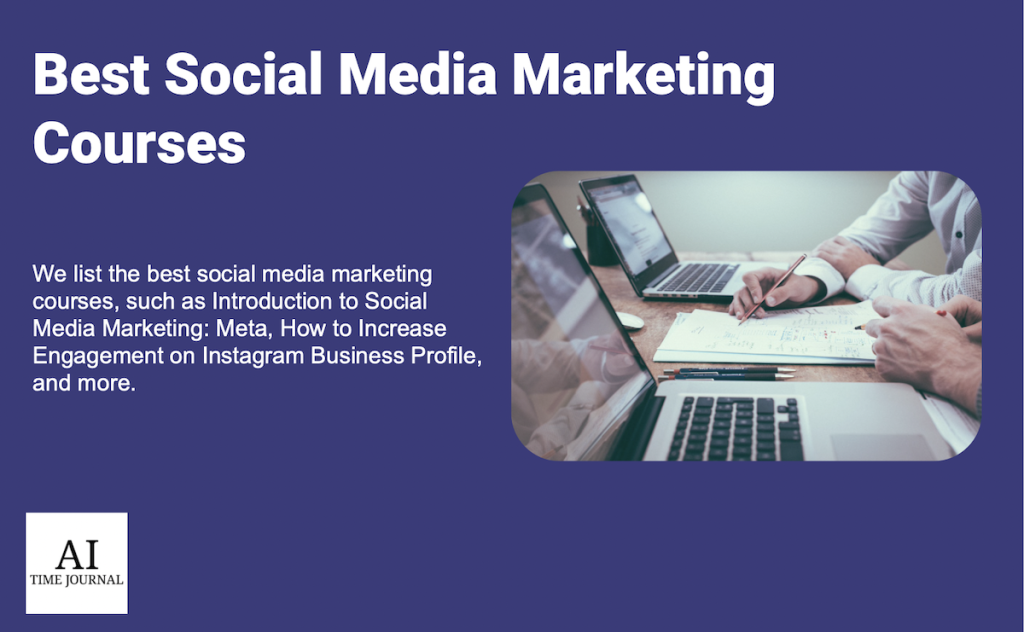 Social media marketing, or SMM, is a type of internet marketing that uses social media apps as a marketing tool. If it's used correctly, this has the potential to be a huge asset for businesses, corporations, and other organizations of all kinds. Instagram, Indeed, and TikTok are all great platforms to use.
We understand why it is critical, but how can we use these platforms to effectively and rapidly grow accounts?
In this article, we will provide the best social media courses to take, which will teach you everything you need to know in no time. Each course contains unique value information to address all of your concerns from hands-on learning projects that can be applied effectively in real-life situations.
Let's get started; for more information related to online learning, see the following: Best Content Creation Courses and Best Content Creation Courses.
Introduction to Social Media Marketing: Meta
Taking classes online can occasionally feel overwhelming, there is so much material available.
The word "social media" is used to refer to a wide range of different types of online communities. For those with no prior experience, this course provides a solid foundation. It's straightforward and uncomplicated, making it simple to navigate and understand. It is well-known for its short, efficient courses.
In this course, you will gain knowledge in these areas:
Learn how traditional, digital, and social media marketing fit together.
Learn how to get certified as a Digital Marketing Associate.
Learn about the key social media sites and how they affect marketing.
Set SMART goals and identify key performance indicators (KPIs).
Define your audience's customer journey.
Learn how to build social media policy and choose the right social media sites.
The course lasts for a total of four weeks and covers topics such as the Social Media Landscape, an Overview of Social Media Platforms, Goal Setting and Planning for Success, and Understanding Your Audience. Each of them plays a vital part, and gaining a deeper understanding of your audience can help you run more effective marketing campaigns and provide you the ability to create content that is specifically customized to each step of the customer journey.
You'll learn much quicker and you will knock out months' worth of work in just a few weeks. The instructor Anke Audenaert also assigns projects that will help you put what you have learned into practice.
Social Media Marketing in Practice: Digital Marketing Institute
It's important to understand that, just as social media has evolved quickly over the years, so have customer interests, purchasing habits, and business practices in general. Social Media Marketing in practice will assist you in gaining additional knowledge regarding:
Content creation
Social media Advertising
Content Marketing
Content is key to reaching business and social media goals like brand recognition, thought leadership, audience engagement, and lead generation.
Students will put their newly acquired knowledge and expertise to use by tackling a wide variety of real-world issues confronting businesses today as they go through this Specialization. Students will choose which social media channels they want to use, and then construct thorough campaign targeting plans to assist them to create paid advertising campaigns.
Overall, Cathal Melinn's hands-on project will benefit students in developing skills for specific marketing strategies in future projects.
How to Increase engagement on Instagram Business Profile: Coursera Project Network
Instagram can be a great way to reach a very specific audience and build a loyal following that grows as your business does, in this course taught by Michelle Flores you will discover how to develop a business profile on Instagram and enhance the engagement of your followers, as well as how to engage with story strategies, people, target market, and customers.
Advice on how to grow your social media engagement :
Develop a plan and establish a measurable goal
Get a solid understanding of your platform.
Develop material that can be easily shared.
Know when to post on social media.
Engagement with your network can result in business requests, email signups, and website visits, among other outcomes. Using social media for business is all about establishing relationships with individuals who may become clients in the future.
The purpose of this project is to enhance and perfect your Instagram Business profile in the hopes of luring more visitors to your page. More likely they are to do business with you, the more involved they are.
Social Media Management: Meta
Social media managers drive sales, brand visibility, and online traffic from Facebook, Instagram, Twitter, and TikTok. They execute a brand's marketing plan and ensure correct messaging across these media.
This course will help you in the following ways :
Assist to grow Analytics to handle customer concerns and suggestions.
Help Increase your flexibility and project management skills.
Learn more about product and brand trends.
Assist in the monitoring of customer sentiment.
Anke Audenaer's course is great for those who learn best through visuals because it provides constant testing and reinforcement of all the material covered.
The strategy of Content Marketing: University of California, Davis
The key to content marketing is understanding how to build trust with customers and overall develop a strong relationship. To increase engagement and conversions from specific demographics, content marketers produce material that addresses their needs and concerns.
In the last course,  Sonia Simone will educate you on how to:
Effectively Evaluate Content Marketing Success
Gain experience in developing and implementing a content marketing strategy.
Gain experience in producing persuasive writing and an overall strong framework when writing.
You can build a powerful personal brand by practicing this talent. Developing your ability to think creatively and articulate your thoughts in writing can help you stand out in the marketplace.