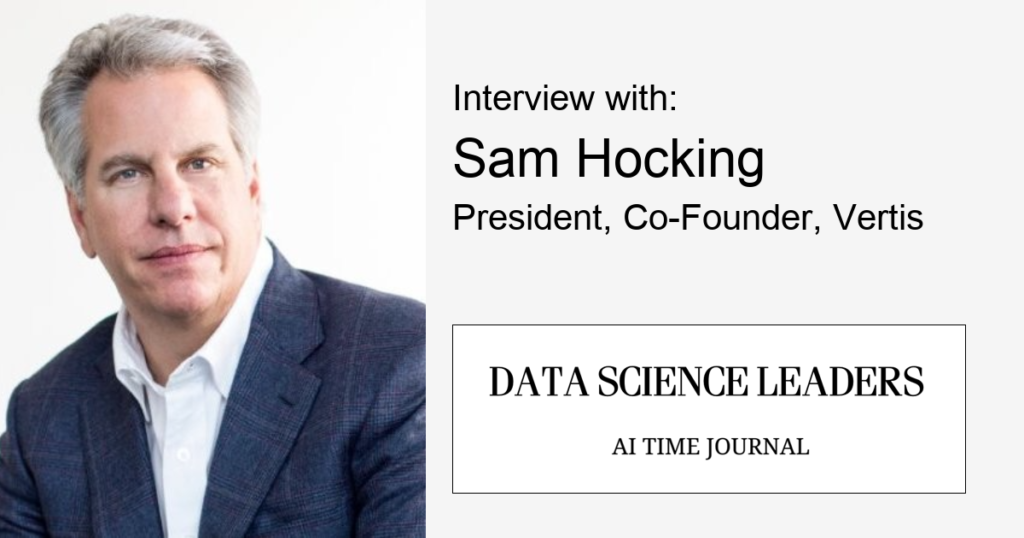 We thank Sam Hocking from Vertis for taking part in the Data Science Leaders interview series. It was an absolute pleasure and a great experience interviewing Sam and understanding multiple trends & happenings currently ongoing in the industry. Sam Hocking in this talk has shared several insights, including:
Introduction about Sam
Technology – then and now
Journey into data Science & analytics
Views on current AI trends and the future ahead
Future of data science
Industries that can be transformed using data science
Recommendations for students and professionals
Please introduce yourself to us, and tell us how you feel about being in the industry for such a long time.
I'm Sam Hocking, President of Vertis. I co-founded Vertis, a data science platform designed to help companies manage their talent and location strategies, in 2020 along with my partners Dave Withers (Vertis CEO) and Gordy Holterman. I'm not sure any of us imagined how the pandemic would accelerate the need for the platform and the use of data in terms of managing the huge change we're seeing in the world of work. It's truly a transformation of how and where we work.
I've been in the media – banking – tech industries for over 30 years. There's nothing more interesting to me than change and challenge. I am always drawn to change and evolution. Throughout my career, I have navigated to industries and regions that were about to undergo a massive transformation and I worked hard to be part of it, to contribute to the transformation in small way, As my career evolved in banking and I spent more time working with hedge fund managers, I noticed how the smartest money managers in the world, very early on, recognised the need for data and analytics to solve very difficult investing problems.
When 2008 and the financial crisis hit, incredible uncertainty came with it. It became evident to me that big data and analytics were going to change how firms analysed risks and many other factors related to their markets activities.
The demand for data and insights became paramount as clients and bankers alike were trying to better understand the risks in the market.
To better understand how to tackle this shift and transformation, I asked the bank for a leave of absence to embark on a course led by Stanford and Havard on transformation and innovation. Following my time at Harvard, I realized that the future was in machine learning, big data, and digital. It gave me the impetus to build something on my own.

With the encouragement and backing of two of the professors at Harvard Business School, Marco Iansiti and Karim Lakhani, I left banking and founded AltX — a marketplace research manager and analytics platform for the private securities marketplace. AltX employed machine learning and AI to solve challenging data and distribution problems for the private market ecosystem. The Financial Times named AltX as one of the top 20 disruptors in 2015. I eventually sold Altx and started to think about the next transformation.
After several machine learning and software projects with large real estate companies, CBRE, Hines and PGIM RE, I spent time speaking and ideating with Dave and Gordy. We realised how much businesses needed to harness the billions of data points made available to us daily when it came to employee location. Even before the pandemic, there were signs that the world of work was changing, mainly with the help of technology.
I feel great about being in business for such a long time. I'm experienced, work with great people and feel like I can see the bigger picture when it comes to business a lot better than in my junior days. Grey hair in the boardroom is a must – don't they say?
Tell us about your first job and what the work was about.
I started my career in broadcast media and spent 10 years working for various news channels, including ABC News and the BBC. I was lucky enough to work in the US, Russia, South Africa, the UK, Austria and Switzerland. I was in Europe in the early 90s during the transformation of the continent, I learned a great deal and had extraordinary experiences, including teaching at the college level. But I was incredibly curious about what was next and wanted to move back to the US for my next chapter. This experience working around the world for different broadcasters enlightened me about how the world is viewed differently, culturally, economically and politically and shaped me to look at problems differently, holistically.
How would you describe technology then and now?
Probably the most interesting thing about technology is the speed at which it just gets better and how much less it costs to build. For instance, in the mid-90s, I joined a start-up and we were the first company to upload hedge fund performance numbers based on an SEC No-Action letter which enabled us to allow qualified investors access to a global hedge fund digital reporting platform. As hard as it is to believe now, we sent the customers a CD from every month to access the database.
The most interesting thing about technology is the speed at which it just gets better and how much less it costs to build
At Vertis, the speed of our platform and minimal costs to develop the software is completely different than even five years ago. Data storage, commute times, and analysing data are completely different. Vertis is a platform subscription business that allows customers to analyse data on where companies need to open offices, calculate commute times, where they can find new talent and also track existing talent. We get incredible feedback from our clients that continually allows us to develop at speed and scale new functionality. The platform also continues to grow as there is more and more data made available to use all the time, which makes our data analytics better and therefore improves our platform all the time.
How did you venture into data science and analytics?
After journalism and academia, the start-up I joined was LAMP Technologies. What I learned there in hedge fund data led me to Bank of America where I led and managed teams in Prime Finance globally then we eventually sold to BNP Paribas. Banking is heavily steeped in broad technology but not as much into detailed AI data and analytics platforms for customers, which is where I saw a huge opportunity. And today, you can see the massive uptake of Fintech companies and disruptions. In 2010 people had not really heard the term Fintech or knew what it was, but running a large customer business as I did you, I started to see the signs.
What is your view on the current AI trends, and how do you foresee the future?
AI and machine learning are the future of every industry. What companies need to continue to focus on is how to use a data-driven approach to solving their problems. For real estate and HR professionals, AI is becoming more and more necessary, I'd say crucial in fact, given the societal shift we're seeing in the world of work. We're in the midst of a movement, the relationship between employee and employer has changed and the war for talent is immense.
Knowing where to open an office or Flexi-space, knowing what type of talent is available in a particular region or knowing what region people want to move to for whatever reason, is now invaluable. The great resignation is a result of people wanting and needing more flexibility, people realising that to work in tech or finance doesn't mean having to work in New York or San Francisco. It's a whole new world for employers and how they'll navigate it, even take advantage of it, is with data analytics.
AI Time Journal Resources

Are you learning data science?
Check out what books helped 20+ successful data scientists grow in their career.
Do you think data science has a future 10-15 years down the line, or do you see it deteriorating? Thoughts on this.
I certainly don't see it deteriorating. On the contrary, I believe more and more companies and industries will use AI/ML for lots of additional tasks. I think AI will be crucial in carrying out jobs that we can't fill any longer. People will also become more familiar with AI and its benefits – financial services from big banks to fintech are investing enormously in AI and machine learning to find more efficiencies in their operations for example. But I believe we'll use it more and more to complement human effort instead of replacing it, which is what worries many people.
I think we have seen in most industries, science changes how we look at things and computers allow us to scale problems in ways people cannot.
Understanding data, relationships at speed and scale allows for deeper and multilateral analysis that leads to better decisions and better outcomes.
What industry sectors do you think can be transformed using data science and analytics?
Real estate is definitely the one I think will benefit most but I think all sectors really. Companies are struggling with recruitment and also retention. Using data science can help solve those challenges.
What are your comments on the role and increasing importance of data science in the future of work?
I believe data science is the future of work. I can't see another way to solve the challenges the pandemic has created and the situation is continually evolving. As we hopefully near the end of the pandemic, the real picture of the world of work is becoming very clear. It's out with the old in with the new. People are demanding change, flexibility, control over their work and from a more human perspective, control over their lives and their work-life balance. Gone are the days of desk-bound professionals in tech or banking for example. COVID19 has caused people to reevaluate their lives and companies are or will have to adapt.
Is there any space where data science doesn't have an impact yet?
I think there are spaces where data science can have a greater impact for sure. Energy and the transition to clean energy is probably the sector where we'll see the most change going forward and the use of data science will be crucial.
What are your recommendations for students and professionals who want to venture into the data science sector?
I think the key here is to work on your problem-solving skills, not necessarily coding skills. The talent in the future will need to use a more data-driven approach to solve challenging problems. They will need to be able to translate data into solutions and recommendations. For me, the greatest skill can be the simple art of asking questions. I learned in journalism how to ask great questions and really listen to the answer. Listen to what people are saying. It will lead to your next great question and help you become a problem solver.
In terms of studies, I am involved in mentoring lots of young people and I always encourage them to do double majors that are potentially different to each other. The contrast makes you more thoughtful and resourceful. Find a problem and see if you can solve it and demonstrate to people you can go from start to finish even on a small challenge. It shows patience and thoughtfulness. Qualities that are needed in every organisation.
Associate Editor
A masters in Artificial Intelligence and Data Management, Akshay is keen to dive deep into the ocean of data science and AI. He successfully ran a full-time startup for 5 years and have 4+ years of experience working in the area of Data Science and AI. He is an International Partner at the World Business Angels Investment Forum. Akshay is a technology geek and always strives to look out for different trends in the information technology industry. He is continuously learning and trying to create as much value as he could.