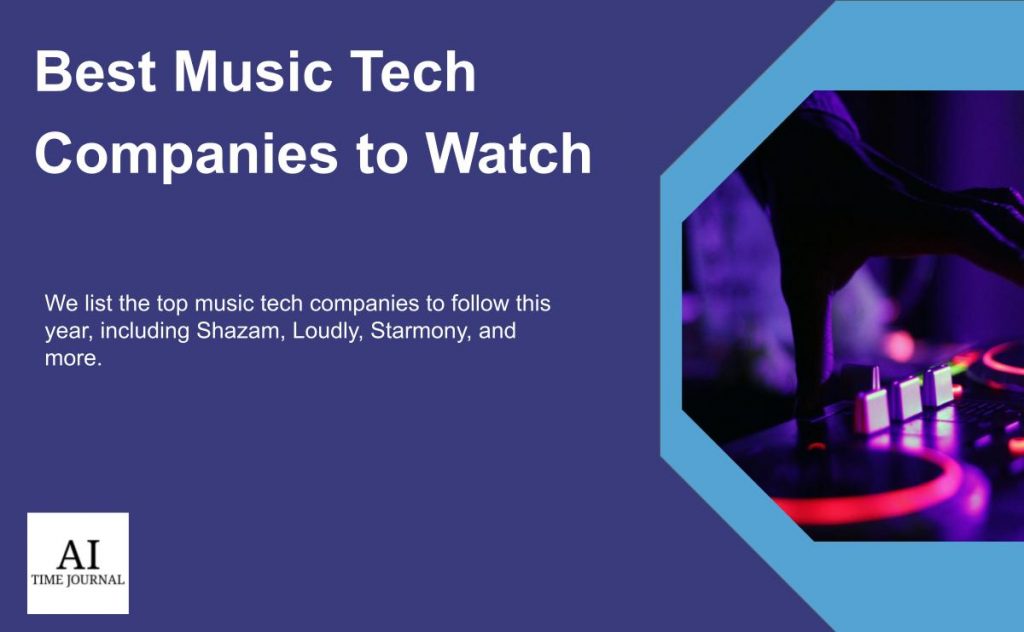 Picking the perfect soundtrack for anyone's creative project can be time-consuming. Many of the top songs worldwide are heavily protected by copyright, and those that are royalty-free may not cater to your specific needs. Using technology and Artificial Intelligence to aid in this process makes it considerably more straightforward and provides users with tools to edit the soundtrack in any way they want.
As technology becomes integrated into almost every aspect of life, it's also making its way into the arts and entertainment industry. In this article, we will go through some of the best music technology and AI companies on the market. 
For more on entertainment in tech and AI, check out these AITJ articles: ​​5 Ways AI Is Changing The Entertainment Industry and How AI Pets Have Improved. 
Here are some of the top tech and AI companies that revolve around music to watch for this year:
Have you ever heard a song on the radio or in public that you enjoy but do not know its title or artist? Shazam is the company for you, providing a great solution to analyze songs and present their information. 
Shazam uses a one-of-a-kind mobile application that helps identify songs with a push of a button. After the button is pressed, the audio is analyzed and compared alongside this company's extensive music library with millions of tracks. Once the audio is identified, the application gives the user the song title and artist and complementary information like lyrics and recommended tracks similar to the one searched. Established in 2000, Shazam's reputation triumphs over many others and should definitely be a company to consider in everyday life.
Whether you're utilizing music to relax, meditate, focus, or sleep Brain.fm has got you covered with its revolutionary mobile application. By combining neuroscience and psychological research with audio stimulation, this company provides music solutions that, in their words, "shift your brain state with entrainment."
Brain.fm conceptualizes their music using placebo techniques, electroencephalography, and EEG studies to measure their solutions' effectiveness on brain wave activity. Add scientifically proven music to your daily life today by downloading the Brain.fm mobile app from the App Store or by using your web browser. 
Are you an aspiring musician looking to take your music to the next level? Look no further than Boost Collective, a dedicated music distribution and promotion company committed to helping artists succeed in the industry. With Boost Collective's comprehensive services, you can effectively promote your music and reach a wider audience. Boost Collective offers free music distribution, online promotion, content protection, and expert guidance in the industry!
Boost Collective is dedicated to empowering musicians by simplifying music distribution, protecting their content, and offering strategic guidance. With their services and expertise, you can focus on what you do best—creating exceptional music—while they handle the technical aspects of distribution and promotion."
Imagine software that composes your project's music of any genre and length using artificial intelligence. Amper is a go-to solution that automatically writes music for you while eliminating the effort and time constraints.
Amper allows users to choose any creative aspect of their AI song, whether it be the BPM or a particular mood. The software consists of more than one million individual samples and thousands of unique instruments, all recorded by hand using great attention to detail. Each song their AI produces is entirely royalty-free, removing the stress of avoiding copyright infringement. With their unique use of AI tools to help streamline the creative process, Amper is a great company to watch for in the near future. 
Nvidia, TED, and Animo Television are only some of the companies that trust AIVA to compose their soundtracks. AIVA is a music company that assists in producing beautiful tracks that conform to anyone's unique project, all while utilizing AI to automate and streamline the process.
This company can replicate almost any sound influence from various genres, from rock, jazz, ambient, and modern classical music. In addition, their music is entirely copyright free, and all rights to the music are granted to the user. With many more high-quality features and a free beginner version for users to try, AIVA is undoubtedly a company to catch anyone's attention. 
This startup is excellent for social media influencers and creative workers, as Loudly presents an incredible curated audio library that is easily customizable to fit any project using the power of AI. 
With Loudly, users can experience high-quality results in a matter of seconds. This company uses some of the top music producers in the business to craft soundtracks from any genre. After this, the company turns those tracks into code, and with AI, users can change the track to conform to their individual needs. If you want quality soundtrack results that can connect with your audience, then Loudly is a great solution to consider. 
Have you ever heard a song featured in a Youtube video or podcast that fits perfectly with the mood? Then you have possibly listened to a song customized using Beatoven.ai's great software.
This creatively named company presents an extensive music soundtrack catalog for users to pick from, spanning eight different genres of the user's choice. If the soundtrack is still not up to par with the project in question, this company offers customizable options, such as making cuts and changing the soundtrack's mood. Elevate your story and let AI compose your music for you using Beatoven.ai. 
Considered "the future of sample packs," Tapes.AI is your all-in-one solution for AI-generated music alongside human curations. Producing music has never been easier, as this company provides 50x more content in their sample packs when compared to others.
Each sample pack this company offers includes assets such as drum loops and chords, varying from different genres. In addition, you do not have to worry about copyright, as all the packs are royalty-free. These AI-powered packs do not require a subscription; you only have to pay as you use them. With the many packs Tapes.AI has to offer, it's no wonder this company ended up on this list. 
It's safe to say that sound and music affect everyone differently. With Endel, users can experience personalized soundscapes to enhance their everyday life, either to aid in relaxation or help focus on tasks. 
What sets Endel apart from many other soundscape technology companies is that their application adapts in real time. Their audio technology changes based on aspects of the day, such as time of day, location, weather, and even heart rate. This company's technology is backed by neuroscience and is reported to have a 7x increase in focus and a 3x decrease in stress among users. With science and adaptive capabilities driving the app, trying Endel for free today would not be a wrong decision.
For wannabe musicians, producing tracks can be an overwhelming and confusing task at first. However, with Starmony, that all changes, as this company aims to take the gatekeeping out of music production and enable artists and producers to express creativity stress-free. 
With Starmony, users can create their songs simply using only their voice. Users can record their vocals while having the application do all the heavy work, adding music to your track with ease. After adding more vocal harmonies if they wish, users can title their songs and send them out to streaming platforms all within the app. If you want to indulge in a new music hobby, using Starmony can streamline your workflow with ease. 
BandLab
Making music from scratch has never been easier with BandLab, a great mobile application that allows users to produce and publish original music and connect with millions of other musicians.
BandLab is a fully-functional digital audio workstation (DAW) that is always available to musicians from their phones or the desktop browser application.
If you want to collaborate with other musicians, this company is revolutionary in that regard by allowing up to 50 collaborators per project. Offering free cloud storage, BandLab has all the creative tools to make any music project a breeze.