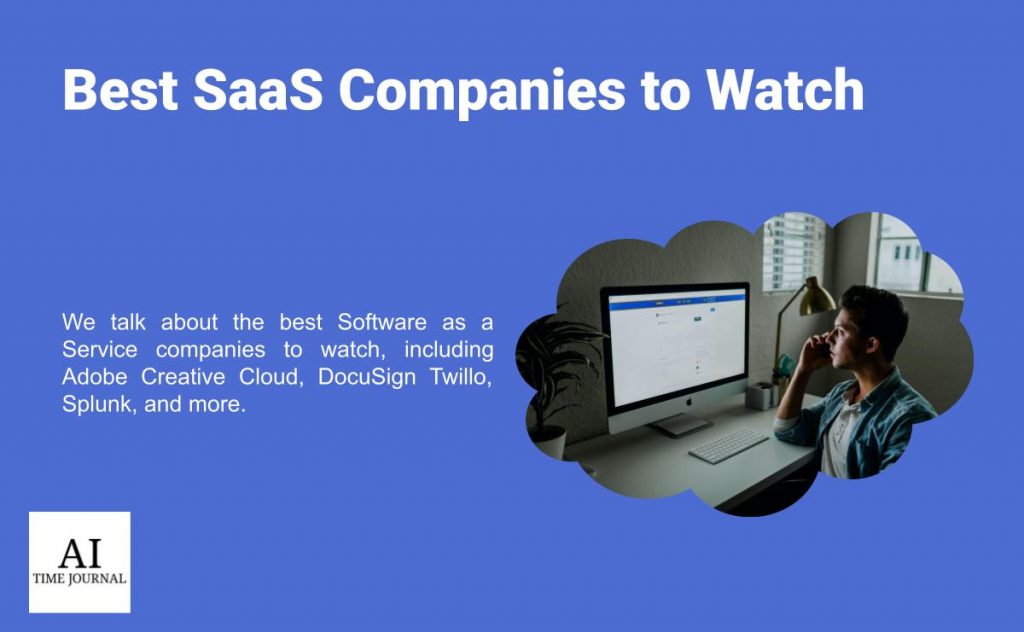 Subscription-based services have skyrocketed in popularity over the past decade. This business strategy is apparent in a large range of industries, such as SaaS or subscription as a service. A Saas is defined as "a software licensing and delivery model in which software is licensed on a subscription basis and is centrally hosted."
This list aims to group some of the top Saas companies that deliver the best on-demand services to their customers. Saas is seen everywhere, including some big-name companies on this list you might recognize. 
To learn more about tech that influences business, check out some of these AITJ articles: 3 Ways AI is Changing Business​ and 5 Benefits of AI for Business.
Here are some of the top Saas companies to watch in 2023:
Adobe Creative Cloud is an excellent service for professionals to express their creativity with little to no limits. Creative Cloud is a SaaS that provides users with creative tools and programs for graphic design, video editing, web development, and cloud services. 
With Adobe's incredible service, users can not only access versatile programs spanning many industries but can also browse through various stock media libraries to help with their creative projects, such as 184 million photographs and 25 million videos. With Adobe's cloud service, documents can be easily stored and managed with 90% cost savings and a 95% reduction in environmental impact. A majority of Fortune 100 companies rely on Adobe Creative Cloud, so it's no surprise that this subscription-based service ended up on our list. 
Signing essential documents can be very time-consuming, especially if the recipients are not conveniently in your area. With DocuSign, users can access documents from any location and easily provide electronic signatures for them.
Some products the company offers include the following:
Secured electronic signatures and notarization for online agreements
Document generation services to create documents from Salesforce
Contract Lifestyle Management for organized and automated workflows
Clickwraps to ensure consent with only a click of a button
Considered the number one electronic signature and agreement cloud service to over one million customers, DocuSign is a company to consider for streamlining agreement processes. 
If you or your business own a website and want to utilize it to its fullest potential, then Hotjar is an incredible service. A Saas like no other, Hotjar provides analytics and insights into your website, showing the amount of traffic visiting the site and what content is viewed the most by visitors. 
This company utilizes unique heatmaps to help developers visualize where users scroll, click, and move on the website. Also, with the help of playback recordings, this service shows exactly what users see and how they interact with the site, providing potential issues to help enhance the site for the future. With many more features to this SaaS and a basic free software package for anyone to use, Hotjar will surely satisfy your company and provide the analytics you need.
Simple tools for hard problems are what the Saas company Twilio aims to give their customers. Twilio is a U.S. Saas company that provides programmable communication tools that aid in creating phone calls and text messages and web-based APIs for other communication functions.
As a leading customer engagement platform, Twilio offers personalization functions based on consumer data that help deliver 1:1 messages specifically catered for unique customer engagement. Additionally, the platform delivers flexible workflows, contextual data, and cross-channel communications to create a versatile company environment. Big-name companies like Lyft and Doordash use Twilio, making this a Saas watch in the near future. 
Security is essential when it comes to running a business online. KnowBe4 is a Saas that aims to provide security awareness training to users all across the world. KnowBe4 offers users many security training courses and free tools such as email security, password, and phishing tools.
The company's library of training courses is vast, catering to over 50,000 customers. The company also offers automated training campaigns sent directly to the users' reminder emails. KnowBe4 in addition delivers high-quality phishing simulations with thousands of templates to choose from. This Saas will surely offer its users quality services to ensure their security. 
Designing models in three dimensions is extremely important to realistically replicate our world. That's where the subscription-based service SketchUp strives to make it easier for users. Whether for commercial use, higher education, or even primary and secondary education, SketchUp gives software to users for designing structures in three dimensions.
Starting from the creation process, users can design their structures from a simple drawing and translate them into 3D software. This SaaS also has a great workspace, delivering the most professional industry tools to determine factors such as measurements and costs of building your designs. SketchUp also offers its services on the go from mobile devices and laptops, making this company ideal for anyone's design process.
Manage your precious data with the help of the subscription service, Splunk. Based out of San Francisco, this company proposes software that analyzes, monitors, and searches businesses' machine-generated data points through their web-style interfaces. 
This "unified security and observability platform" offers a wide variety of products to choose from, including a Splunk Cloud platform that provides insights from a petabyte scale. Splunk also provides an excellent enterprise security tool to detect and respond to potential threats. With prominent companies like Aflac and Honda using Splunk, it's safe to say that this Saas is one to watch out for in the industry. 
If you wish to adequately train your employees for your business, then OpenSesame is the Saas for you. OpenSesame is an online marketplace platform that allows users to sell and buy E-learning courses focused mainly on training employees.
The courses offered on OpenSesame's platform range from a variety of industries, including health and finance, as well as manufacturing, technology, and government. Currently, on the website, there are over 30,000 courses readily available, in addition to many curated course lists for OpenSesame Plus subscribers. Try OpenSesame today, and see your workforce improve exponentially.
Business intelligence tools and data visualization have never been easier with the help of Domo's services. This comprehensive Saas platform uses cloud flexibility to connect your business's data to any other cloud program you choose.
Other Domo products include:
Self-service analytics
Embedded and data-sharing analytics
Reporting and dashboards
Domo business cloud
Domo is trusted by many big-name companies like eBay, Cisco, and the NBA, making this Saas one to keep an eye on as it revolutionizes the industry.
Nowadays, delivering a service through an easy-to-use application is almost necessary to provide to your consumers. With Bugsnag's services and products, anyone can simply manage their apps and make sure there are no bugs or issues for their users.
Bugsnag's services cover a wide range to detect errors and streamline an app's performance. These include much-needed integrations like security, enterprise support, as well as stability management. This Saas also covers any platform you host your apps, such as Python, Android, IoS, and JavaScript. Shopify, Lyft, and Tinder all use Bugsnag, so it wouldn't hurt to try this service today. 

Bugsnag was acquired by SmartBear.