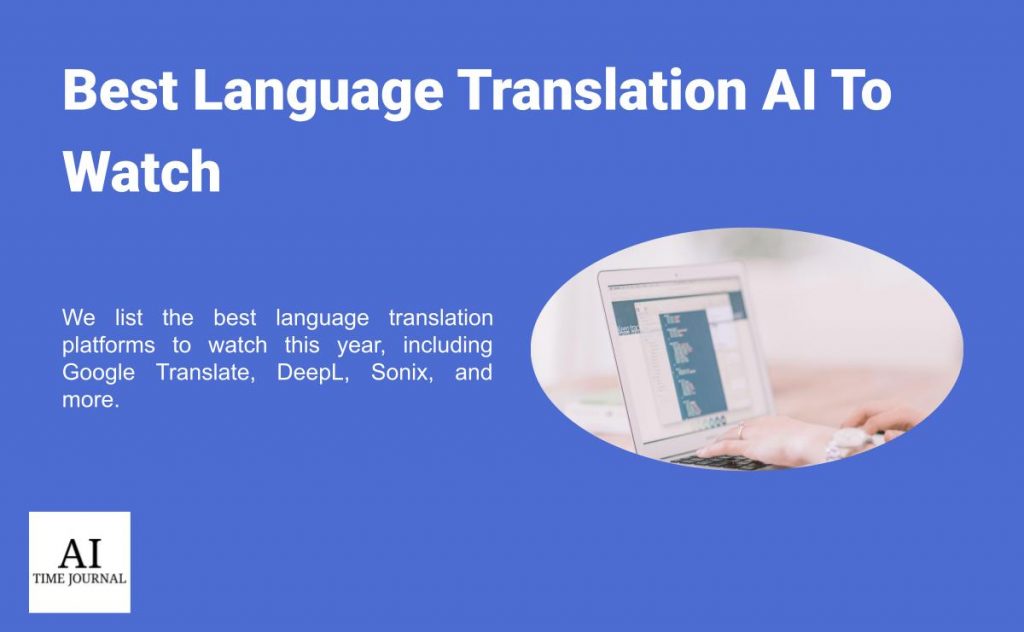 When it comes to languages, many problems arise in typical translation services. Either it is bad grammar or the translation does not completely make sense afterward. It is essential that these mistakes do not fall through during the final translation, whether it's during a business transaction or simply a conversation. 
Luckily, technology has advanced this process with the help of automation and artificial intelligence, assisting with speed and accuracy. In this article, we will discuss some of the most prominent and up-and-coming companies that provide these automated solutions that break down the language barrier. 
For more on language translation service and AI, check out here: Top Conversational AI Companies To Watch and Conversational AI on Social Media Marketing: Must Need to Know
Here are some of the top language translation AI-powered platforms to watch this year:
Among the most prominent translators on the market is Google Translate. This ​​multilingual neural machine translation service is able to convert one language into another quickly and conveniently. 
This service is unique in many regards, including being able to translate languages in any form. Whether it is text documents you can scan from your camera or voice conversation, Google Translate's automated machine can break down language boundaries from any mobile device. If you haven't heard of Google Translate or have never used it before, it's worth a try.
In businesses and other firms, being able to translate documents with fluency is incredibly ideal. Luckily, Alexa Translations aims to provide AI-powered translation solutions for legal, financial, and security industries.
Their unique and innovative machine translation tool is catered explicitly to Canadian legal and financial markets. This company delivers complex, industry translations with fantastic speed and accuracy. For the best in business translation, using Alexa Translations technology will be extremely helpful in your workflow. 
For some of the most accurate translations in the industry, DeepL stands alone as a Machine Learning (ML) translator. This service is a top translation service that is powered by neural networks and AI innovations.
With the DeepL Chrome extension, users can instantly translate an entire webpage with ease and accuracy. In addition, users can translate documents from any device, from web browsers to mobile applications. If you want human-like language processing, then this application is most certainly for you. 
Whether you are studying a language or processing a document for work, Reverso has got you covered. This company provides a Neural Machine Translation (NMT) service that offers some of the best language technology on the market. 
With Reverso, users can easily and instantly translate documents no matter what format they're in (Microsoft Word, Excel, PDF). Offering translations in over 25 languages, this service also gives pronunciation tips and verb conjugations, to truly understand a language. As it offers many more exciting solutions, Reverso should be on your radar.
Transcriptions of audio and video need to be precise so that the media can be accurately understood, which is what Sonix aims to do. Sonix is a transcription service able to translate into over 35 different languages. 
This company's core process depends on automation. Whether it is transcription, translation, or subtitles, all is machine automation so that users do not have to waste time and energy doing these processes by hand. Big names like Adobe, Uber, and Google all trust Sonix, so it's no surprise it ended up on this list.
Reaching a massive audience no matter what language they speak is essential for any brand to succeed. Smartling is an end-to-end translation management software designed to reach audiences worldwide.
Streamlining your workload has never been faster with the help of Smartling's ability to automate task submissions. In addition, this company can monitor and visualize your content progress with detailed analytics like cost estimates and translation workflow insights. If you want to branch out your content, then this company is perfect for you. 
Everyone can acknowledge Amazon as a force in the e-commerce world, however, what many fail to realize is that the company also has a fantastic neural machine translation service that is known as Amazon Translate.
For saving costs, this service is said to be about 1000x cheaper using their machine translation than hiring a manual translator. As well, this easy-integrate application can conform to any amount of text, whether a couple of words or an entire novel of characters. Next time you need translation services, Amazon Translate is a great option.
Speed is incredibly important when translating documents and content for your audiences. Stepes offers incredible professional translation solutions, ranging from translating videos, documents, or other software.
Stepes offers an all-encompassing Translation Management System (TMS) to decode documents in real-time online. In addition, users can receive an instant quote on file analysis and translation within seconds. Stepes might be your next translation software to streamline your workload.
Being able to write without error in another language is the ultimate indication that someone is fluent. Fluently is an online text editor powered by neural machine learning to help anyone improve their writing in another language.
With Fluently's side-by-side translator, users can write out what they want to be translated on one side and receive language processing in over 71 languages. Also, this company has a grammar-checking tool integrated into its application to precisely analyze and correct any mistakes. For those learning a new language, Fluently is essential software.
In terms of a large-scale translation service operation, Mirai Translate aims to deliver high-quality solutions to larger companies. This company is extremely versatile, as it can translate into various file formats or simple texts.
What makes Mirai Translate different from the other translation services on the market is that it maintains text format with the translated document, eliminating the complications of adjusting figures and diagrams after. In addition, this company also has great translation security, making the workload secure for any user. With these features and many more, Mirai Translate has earned its spot on this list.