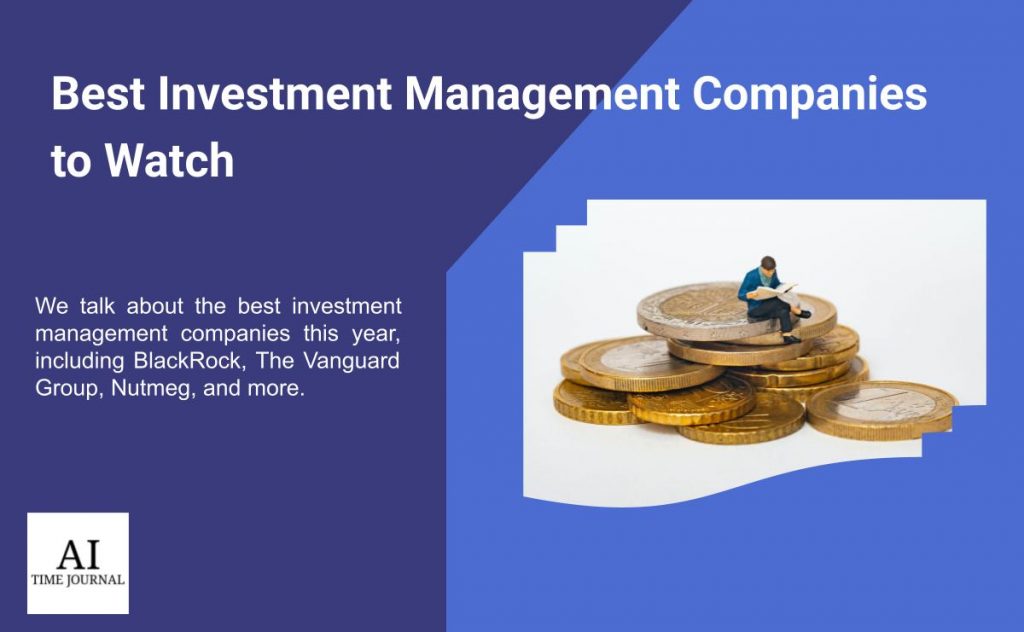 Nowadays, investing attracts many people, even those who consider themselves to be on bad terms with money, crypto, and all modern financial operations. The opportunity of investing looks so miraculous because of the benefits it brings to the investor, including passive income, relatively small start-up capital required, and unlimited earning capabilities.
Although investing may seem difficult at first sight, currently, many companies on the market aim to streamline and facilitate this process and bring maximal incomes to their clients. In this article, we list the most innovative investment companies to keep on your radar this year and explain their most prominent solutions.
Also, crypto and blockchain are tied to the investment industry; therefore, if you want to learn more about these topics, check out these articles: How Cryptocurrencies Can Be Improved and 10 Best Platforms to Trade Cryptocurrencies.   
BlackRock is an investment management company headquartered in New York. Founded and operated by Larry Fink, the company offers investors many funds, suggests various investment strategies, and provides them with insights and diverse educational options.
Also, for individual investors, BlackRock offers such solutions as Advisors, Institutions, and General Public that are oriented toward those who are named in the solutions. The company suggests advisors grow their businesses and get to know their clients better. On the other hand, BlackRock helps institutions "contribute to the financial futures" of millions of individuals. Finally, there are many interesting options, including stock information, dividend history, and more, available on the General Public page. 
Founded in 1975 in Pennsylvania, USA, the Vanguard Group is an investment management company that provides various options to many investors worldwide. The company has many offers for personal investors, financial advisors, institutional investors, and other solutions suitable for everyone. For instance, personal investors can safely start their journey in the investment industry by choosing one of the suggested options, such as working with an advisor, trying all-digital advice, doing it on your own, and finding your investment style.
Some specific and useful options include Small Businesses Online, My Plan Manager, and Institutional Trading. Each of them helps people and organizations involved in the investment process facilitate their journey, increase the efficiency of their operations, and resolve many issues and concerns arising when investing. 
If you start your journey in investing, then Charles Schwab is perfect for you. Since 2003, the company has provided beginners and experienced investors with the most suitable wealth management solutions. For instance, the company's $0 account minimum is great for investors with less experience, while other options, such as $0 commission for stock or exchange-traded funds, is suitable for active and experienced traders. Moreover, Charles Schwab does not charge annual or inactivity fees, which allows traders to save their money.
With the help of other sophisticated trading options, investors can take their trading to the next level and increase their incomes. Furthermore, Charles Schwab provides beginner investors with a great solution – a robo-adviser that helps users build and manage their portfolios so that they don't have to worry about it. All of these and more suggestions make this company worth watching this year. 
Fidelity Investments also referred to as Fidelity, is a Boston-located multinational financial services corporation that provides its customers with the best financial solutions. Moreover, the company does not make the investment process all about money but also values its customers' future. "Investing isn't just about money – it's about your future" – this motto you can find on Fidelity Investment's website.
The company offers various solutions oriented toward achieving your financial goals, including fractional shares, mutual funds, index funds, Fidelity Go, and more. For instance, the Fidelity go opportunity helps customers manage their money with a robo-advisor, which facilitates and fastens the investment process. Furthermore, Fidelity Investment offers various retirement options, including Roth IRA, Traditional IRA, Rollover IRA, and Fidelity Go Retirement. To find out more about them, you should definitely visit the company's website. 
Founded in 2000 in New York and being one of the most known investment banking companies, JPMorgan Chase is a perfect solution for many investors. The first advantage that attracts many customers is the company's transparency, as JPMorgan Chase publishes many reports regarding its financial operations and functioning.
One more great point the company is admired for is its impact and commitment to society. Some of JPMorgan Chase's goals are closing the racial wealth gap, driving inclusive economic growth, and building a culture of respect, equity, and inclusion. So, if you are looking for an investment company with high principles, striving for innovation, and transparency, then this may be a perfect solution for you. 
Many companies offer robo-advisors, but did you know that Betterment is often considered one of the most popular AI-based robo-advisors in the United States? Founded in 2008, Betterment is an investment company that can help you increase your income by making investing and saving money easier.
Highly rated by such media as The New York Times, CNBC, Business Insider, and Forbes, the company provides an app that gives investors the support, inspiration, tools, and everything they need to become better investors. Also, some of the features that make Betterment a great choice include:
Making investing easy
Providing diversified investing 
Transparent pricing 
Investing with your values and without sacrificing your performance goals
Saving on taxes
Tracking your finances
Moneyfarm is considered one of the largest digital wealth management companies in Europe and provides customers with online investment advice. With such products as ISA Transfer, Junior ISA, Socially Responsible Portfolios, and more, the company is a great choice for those who need a strong hand to direct them through their investment journey.
Furthermore, users can benefit from the company's interactive portfolio composition tool that will help them analyze past performance and compose investments. Moneyfarm will match your investor profile to one of the seven specific profiles designed by the company and find the best solution for you. 
Launched in 2011 in the United Kingdom, Nutmeg is a wealth management company that focuses on exchange-traded funds (ETFs) as a cheaper alternative to traditional services. Also, one of the company's specializations is import substitution industrialization (ISAs), which makes Nutmeg a perfect choice for those seeking a reliable partner to manage their portfolio.
With over 200,000 clients, the company aims to be maximally transparent and present all information regarding investment in a clear way. Nutmeg doesn't "hide behind complex pricing structures or financial jargon," which allows the company to build trustworthy and reliable relations with its customers. 
Backed by such giants as USB, New York Life, Eaton Vance, Comerica Bank, and Santander InnoVentures, SigFig is a robo-advisor that offers low-cost portfolio management. One of the greatest advantages of the service is that it is absolutely beginner-friendly. SigFig doesn't charge you a fee for the first $100,000 invested, and after the sum is reached, you will be asked to pay a relatively small rate in comparison to other services.
Furthermore, many clients say that the company provides many innovative portfolio tracking tools and free financial counseling, which makes SigFig a great company to add to your top list. 
Wealthsimple is an investment company founded in 2014 and headquartered in Toronto, Canada. The company helps users automate their investments, get expert advice from real humans, buy and sell more than 50 cryptocurrencies, trade numerous stocks and ETFs commission-free, and keep their data and money safe.
Also, Wealthsimple is great for investors of all ages and those who are at the start of their careers in investing. A great addition to all of the aforementioned advantages is that the company is socially responsible. All of these benefits provided by the company make Wealthsimple a great option for many investors.