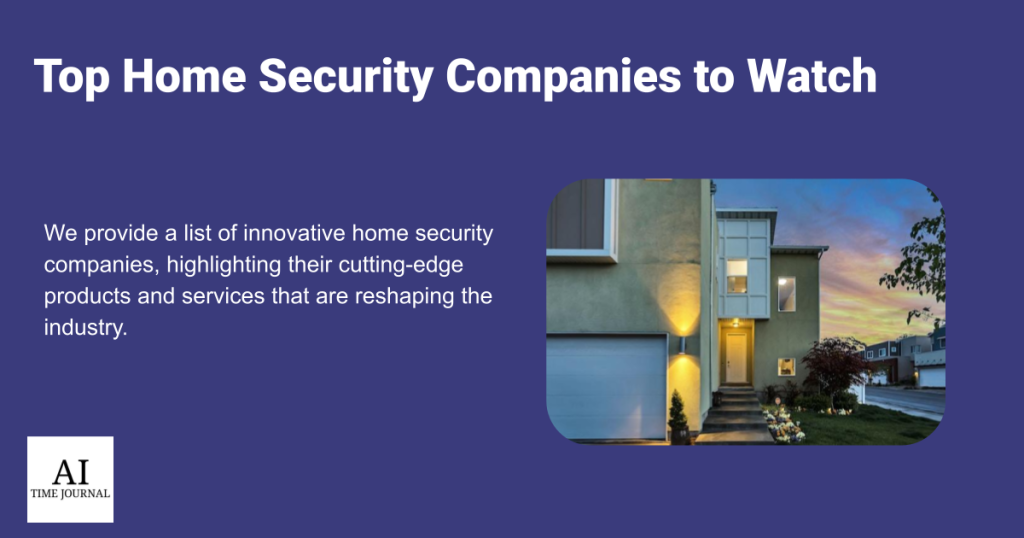 In an age where the threat of home break-ins is a constant concern, ensuring your family's and belongings' safety can become paramount. Selecting the appropriate home security system can be an effective deterrent to would-be intruders. The range of home security systems is vast. From simple DIY camera installations to intricate networks of sensors and alarms that provide round-the-clock surveillance.
Regardless of the complexity, each system serves its primary purpose. For safeguarding you and your loved ones from the possibility of a home intrusion. These companies each offer a unique approach to home security. Giving consumers a variety of choices when it comes to protecting their homes. Let's take a look at some of the top home security companies to watch in 2023.
Table of Contents
Importance of Home Security Companies
Protection from Intruders: The primary purpose of home security companies is to provide homeowners with a sense of safety. By deterring potential burglars and alerting homeowners to possible break-ins.
Prevention of Property Damage: Many home security systems include integrated fire and water sensors. To protect against property damage and potentially life-threatening situations.
Home Automation Integration: Many security companies now offer systems that integrate with smart home technologies. Allowing for remote control of lights, locks, cameras, and more.
Reduction of Home Insurance Rates: Having a robust security system in place. This can lead to reductions in home insurance premiums, offering financial savings.
24/7 Monitoring and Support: Most home security companies provide round-the-clock monitoring and support. Ensuring help is on hand when it's most needed.
Emergency Medical Assistance: Some systems include features for medical emergencies. Such as fall detection and emergency call buttons, providing added peace of mind.
Real-time Updates: With the advent of smart security systems, homeowners can receive real-time updates. On their property's security status, directly on their smartphones or other devices.
Top 8 Home Security Companies in 2023
ADT is a long-standing provider of home security systems and services, with a history going back to the mid-1800s. The company has built a strong reputation for its feature-rich, and technologically advanced products. Its platform is known for supporting smart home integration, offering professional installation, and providing a user-friendly app for remote monitoring and control.
Pricing
ADT offers three packages: Secure, Smart, and Video and Smart Home. The cost of the monitoring plans ranges from $40 to $60 per month, with a contract length of three years. The company also offers a six-month money-back guarantee.
Features and Benefits
Smart Home Integration: ADT works seamlessly with Alexa and Google Assistant, and supports various smart devices from brands like Google Nest, Kwikset, and Liftmaster.
Professional Installation: ADT provides professional installation services, ensuring that your security system works optimally from day one.
User-Friendly App: The ADT Control app allows you to monitor and control your home security remotely.
Customizable Security Systems: ADT's packages are flexible and can be customized to suit your unique security needs.
Products
Smart Light Bulbs: These allow you to control lighting remotely and create custom scenes or schedules. An away mode mimics typical light patterns to give the impression of being home when you're not.
Smart Thermostats: ADT's smart thermostats can be controlled remotely, and set on schedules to save energy. And can alert you about significant temperature changes.
Garage Door Gadgets: These send alerts if your garage door is left open. And allow you to close it remotely through the ADT app.
Ring, a subsidiary of Amazon, provides comprehensive and user-friendly DIY home security systems. Including the Ring Alarm Pro and the original Ring Alarm. The platform utilizes an easy-to-navigate app and allows for add-on devices such as cameras and video doorbells. And offers optional professional monitoring without requiring a long-term contract.
Pricing
Ring Alarm Pro: Around $300
Ring Alarm (2nd Generation): Around $200
Professional Monitoring: $20 per month or $200 per year with the Ring Protect Pro plan
Video Storage: $4 per month for Ring Alarm (2nd Generation)
Prices may vary over time and depend on the seller*.
Features and Benefits
Ease of Use: The Ring Alarm systems are DIY, making installation and usage simple.
Variety of Add-ons: The systems support numerous add-ons. Such as cameras, video doorbells, door/window sensors, and smoke/carbon monoxide detectors.
Built-In Wi-Fi 6 Router (Ring Alarm Pro): This can replace your standard router or create a mesh network. To improve Wi-Fi's speed for security cameras and other smart home devices.
Internet Backup (Ring Alarm Pro): Provides internet backup when your power or internet goes down (requires a Ring Protect Pro plan).
Battery Backup: Ring Alarm Pro offers the option to add up to 24 additional hours of backup power in case of an outage. The original Ring Alarm provides a 24-hour battery backup.
Compatibility: Works with Amazon Alexa and other smart devices.
Products
Ring Alarm Pro: This system includes a built-in Eero Wi-Fi 6 router and supports a wide variety of sensors and accessories. It offers internet backup for a fee and the option to add up to 24 additional hours of backup power.
Ring Alarm (2nd Generation): The original Ring Alarm system works with the same add-ons as the Ring Alarm Pro. It is a cost-effective choice with the option for professional monitoring or self-monitoring. It doesn't offer internet backup but provides 24 hours of battery backup.
SimpliSafe offers a flexible and easy-to-use DIY home security system. The system is designed to keep your home safe from intruders as well as environmental threats such as fires and floods. SimpliSafe does not require you to lock into a multi-year contract. It also allows you to monitor your home remotely with or without a reasonably priced monthly plan. The system operates on both cellular and Wi-Fi connectivity.
Pricing
Foundation Pack: Starting at $245
Haven Package: $504
SimpliCam Indoor Security Cameras: $99 each
Wireless Outdoor Security Camera: $179.99
Video Doorbell Pro: $169
Smart Lock: $99
SimpliSafe occasionally offers discounts or special price promotions.
Features and Benefits
Affordable and Flexible: SimpliSafe offers reasonable hardware and monthly monitoring fees without a mandatory contract.
Easy Installation: SimpliSafe's DIY home security system is quick and simple to set up.
Connectivity: The system provides both cellular and Wi-Fi connectivity options.
Monitoring: Allows remote monitoring with or without an affordable monthly plan.
Environmental Protection: Apart from intruder protection, the system also protects against environmental hazards like fires and floods.
Customizable Packages: The company offers preconfigured packages. But also allows customers to build their custom systems.
Cameras and Locks: SimpliSafe provides additional security with indoor/outdoor cameras. A smart doorbell with an integrated camera and a smart lock for keyless entry.
Products
SimpliSafe provides a range of products designed for complete home security:
Outdoor and Indoor Cameras: Indoor and outdoor security cameras for visual monitoring and recording.
Burglary Sensors: Includes entry sensors, glass break sensors, and motion sensors.
Hazard Sensors: Protection from environmental dangers like water damage, smoke/carbon monoxide, and extreme temperatures.
Video Doorbell & Smart Lock: Provides visual monitoring at your front door and allows for keyless entry.
Vivint stands as a prominent player in the realm of intelligent home technology. They offer a wide array of products and services. Ranging from security cameras, video doorbells, control hubs, smart locks, and motion sensors to full home alarm systems. They aim to make managing home security easier for homeowners. The platform offers full integration, allowing all devices to work together for improved safety and convenience. Vivint also offers professional installation and monitoring services for its products.
Pricing
Basic pricing of $44.99/month for home security services from Vivint. However, please keep in mind that this is a recurring monthly fee. And the initial cost of the equipment (security cameras, alarm systems, smart locks, etc.) may be separate. The overall cost can also vary depending on the specific devices you choose to install and the size of your home.
Features and Benefits
Smart Deter Technology: A unique feature that uses light and sound to deter potential threats.
Vivint App: Control your entire system from one single application.
24/7 Professional Monitoring: Help is always available, providing peace of mind for homeowners.
Versatile Product Range: A wide variety of products that cater to different security and smart home needs.
Integrated System: All devices work together, ensuring a safer and more convenient home.
Professional Installation: Vivint professionals install and activate your system and show you how to use it.
Products
Home Alarm Systems: Vivint provides comprehensive home alarm systems. They are designed to protect homes from a variety of threats.
Security Cameras: They offer indoor and outdoor cameras to provide full security coverage for your home.
Video Doorbell: The Vivint Doorbell Camera Pro is equipped with an industry-leading 180°x180° field of view and a 65 dB speaker.
Control Hub: Vivint Smart Hub allows you to control all your security devices from one place.
Smart Locks: Automated locks that can be remotely controlled for added convenience.
Motion Sensors: These devices alert you when movement is detected, adding layer of security.
Frontpoint is a home security system provider that offers a range of customizable and scalable solutions. It was one of the pioneers in providing completely wireless security systems and is known for its robust customer service. The system is DIY, meaning you can install it yourself and add or remove components as you wish. The security system is controlled via the Frontpoint hub. Which can connect all your components to the Frontpoint app for easy monitoring and control.
Pricing
Frontpoint's pricing can vary based on the package you choose, as well as any additional equipment you decide to add. Their professional monitoring service has a monthly fee of $49.99, which also includes cellular backup. They also offer payment plans for their equipment for up to three years. For more detailed pricing information, it's best to check Frontpoint's official website or contact their sales team directly.
Features and Benefits
Easy DIY installation that can be completed within an hour.
Great customer support, making it one of the best customer service experiences in the home security industry.
Integrations with smart home devices like Alexa and Google Assistant.
Comprehensive security coverage with motion sensors, door/window sensors, and glass break sensors.
A separate hub and keypad for added security, with protection against tampering (Smash and Crash protection).
Cellular backup for reliable alert transmission even in the event of an internet outage.
Additional components are available, such as indoor cameras, video doorbells, and smart locks.
Products
Frontpoint Hub: The central component of the system, connects all other devices to the app and monitoring team.
Frontpoint Keypad: Allows for the arming and disarming of the system using a passcode.
Entry Sensors: Attach to doors and windows to monitor their opening and closing.
Motion Sensor: Covers a 30-by-35-foot range and doesn't detect pets under 40 pounds.
Glass Break Sensor: Alerts you if a window within a 20-foot radius is broken.
Keychain Remote: Allows for easy arming and disarming of the system.
SkyBell Slim Line Video Doorbell: Wireless video doorbell with a wide field of view.
Wyze is a technology company known for its smart home devices, particularly home security products. Founded in 2017, Wyze has established itself as an affordable yet high-quality provider in the home security sector. It offers a variety of products, including indoor and outdoor surveillance cameras. Also, smart locks, motion, climate, and leak sensors. These devices can all be integrated through the Wyze app, making it easy for users to monitor and control their home security. The platform's offering also includes professional monitoring services for added security.
Pricing
Wyze is notable for its cost-effective pricing model. It offers monitoring kits starting from as low as $19.99. While the system is primarily designed for self-monitoring. Wyze offers the option for professional monitoring for $9.99 per month or $99.99 annually. Purchasing the annual professional monitoring package also includes a free Wyze Sense Hub. Individual device prices range from around $9.99 for a Wyze Sense Motion Sensor to $121.99 for a Wyze Lock.
Features and Benefits
Affordable: Wyze's low-cost model enables homeowners to secure their homes. Without making a significant financial investment.
No Contracts: Wyze does not require its users to be bound by a long-term contract.
Easy Installation: Wyze products are designed for easy DIY installation.
Customizable: Users can choose the devices that best suit their home security needs and preferences.
Professional Monitoring: Wyze offers professional monitoring services through Noonlight. Providing an additional layer of security.
Integrated Platform: All Wyze devices can be controlled through the Wyze app, providing a seamless user experience.
Free Starter Kit: Homeowners who buy the annual plan receive a free starter kit.
Products
Wyze offers a wide array of home security products, which include the following:
Wyze Video Doorbell Pro
Wyze Cam Pan v2
Wyze Cam v3
Wyze Cam Black
Wyze Cam Outdoor Add-on
CoveSmart is a new contender in the home security market, starting in 2018, and is quickly becoming popular. The company is focused on providing DIY home security systems with no long-term contracts and high-pressure salespeople. The security system can be chosen through an online quiz and comes pre-programmed for easy installation. It features various devices such as a Touch Screen Panel, door sensor, motion sensor, key remote, and indoor and outdoor cameras.
Pricing
Cove offers two types of monthly plans: Cove Basic and Cove Plus. Cove Basic costs $17.99 per month. Providing round-the-clock professional surveillance, instant text alerts, phone call notifications, panel warnings, and secure cellular monitoring. And an hourly automated system check. Cove Plus, costing $27.99 per month, adds additional features like a lifetime warranty, smartphone control, Amazon Alexa and Google Assistant integration, rate lock-in, and a $5/month equipment credit.
Features and Benefits
Contract-free monitoring
Affordable professional monitoring and cellular connection
Alexa and Google Assistant integrations
No long-term commitments
Customizable security system
Easy installation and pre-programmed devices
Two-way communication
Live stream and cloud storage capabilities
Indoor and outdoor cameras
24/7 professional monitoring
Smart home integration
Products
The products include a touchscreen panel, door sensor, motion sensor, key remote, and the Cove Indoor and Outdoor cameras. Each product offers unique features like cellular backup, long battery life, a clear 1080p HD display, and smart integration with voice assistants.
GoAbode platform is a modern home security system that offers a suite of smart home devices and security services. Abode's platform is known for its wide range of smart platform integrations. This means it can work seamlessly with various smart home systems like Alexa, Google Assistant, Siri, Nest, Philips Hue, ecobee, etc. The platform's iota system acts as a hub for these integrations. And comes with a built-in camera and motion sensor.
Pricing
Starting at $229, the Abode Smart Security Kit strikes the perfect balance. This is between a simple DIY security system that's self-monitored and a more complex solution that's professionally installed and monitored. It's always recommended to visit the official website or contact customer service for the most accurate and up-to-date pricing.
Features and Benefits
Affordable: The abode iota system is priced competitively, providing value for money.
Smart Home Integration: Works with a wide range of smart home devices, including Alexa, Google Assistant, Apple HomeKit, Nest, Philips Hue lightbulbs, and more.
DIY Installation: Users can install the system by themselves, potentially saving on installation costs.
Professional Installation Option: For those who prefer it, professional installation is available starting at $99.
Camera & Motion Detector: The Iota system comes with an integrated camera and motion sensor.
Two-Way Audio: The Iota allows for two-way communication through its built-in speaker and microphone.
Storage Options: Offers local storage via an SD card slot, and cloud storage plans ranging from three to 90 days.
Key Fob: A key fob is provided for easy arming and disarming of the security system.
Entry Sensors: Mini door/window sensors alert you when a door or window is opened or closed.
Products
Iota: The iota is the primary component of the abode system. It functions as a smart home hub, a camera, and a motion detector.
Key Fob: The key fob allows for easy arming or disarming of the system.
Mini Door/Window Sensor: This sensor can alert users when a door or window is opened or closed.
Additional Components: Abode offers a variety of add-on options. Including more sensors, cameras, motion sensors, and smart home devices.
Conclusion
As we progress through 2023, the home security industry is evolving rapidly, responding to advanced technologies. And changing consumer expectations with innovative solutions. Modern security is about more than just alarms. It's now a sophisticated interplay of artificial intelligence, machine learning, and Internet of Things devices, enhancing safety while providing smart home convenience.
From DIY systems to professionally installed solutions, companies are offering tailored options to cater to diverse user preferences. Also, the introduction of flexible pricing models, including no-contract options and price matching, is making home security more accessible to consumers. As we continue through the year, the home security industry is proving to be an exciting space. Ripe with potential for even more revolutionary developments.