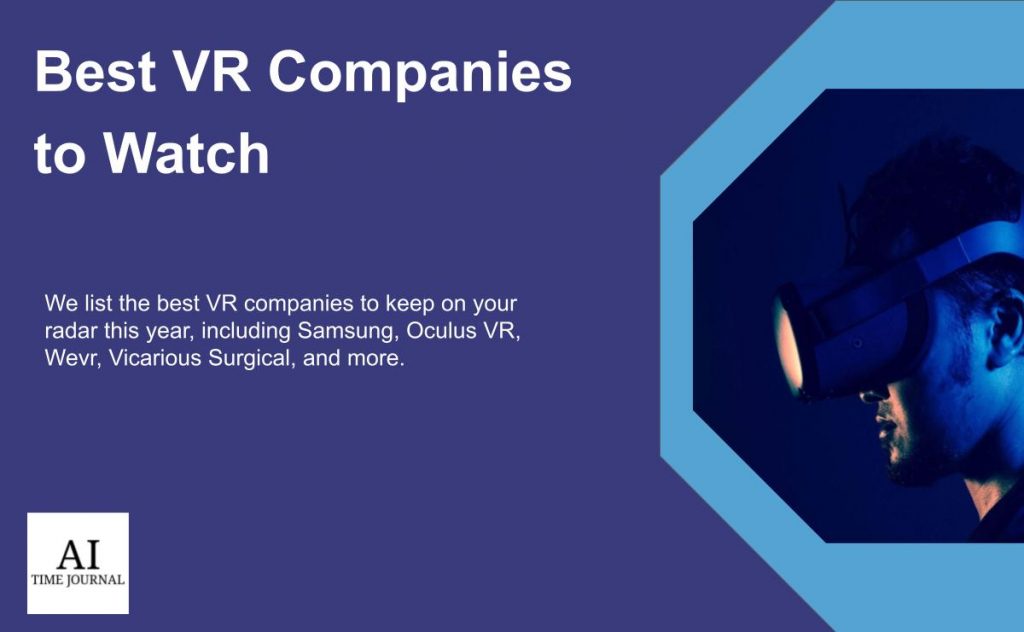 Virtual reality (VR) is one of the most popular technological developments of this century. However, many consider it to be useless when it comes to providing change or improving people's lives. We try to prove this common prejudice wrong by listing the most innovative VR technology companies. In the example of these companies, you will see that virtual reality can be applied not only in gaming but also in such industries as healthcare, relieving pain, exploring the world, meeting people, finding new free-time activities, and performing many more actions.
Virtual reality is connected to artificial intelligence and data science. Moreover, some virtual reality platforms are powered by blockchain technology. So, if you want to learn more about these topics, you should read this article: Supporting Facial Recognition and Virtual Reality with Data Storage. Also, if you want to know how modern technologies and VR are used in language learning, take a look at this one: Language Learning Assistance from Digital Tutors. 
Samsung is one of the most known companies in technical device production and innovation. Not only does the company suggest many innovative solutions, such as its Galaxy Z Flip4 phone, but also creates new products in the most popular industries, such as VR and AR.
Being an innovator, Samsung offers its customers various models of VR glasses that aim to provide clients with better mobile VR-based gaming and simulation experiences. Samsung sets two priorities for its Gear VR headset: to be simple and affordable. The company wants to produce and improve its virtual reality devices that won't be difficult for users to set up and will have a reasonable price. 
Unity is a well-known game engine that supports many desktops, consoles, mobile, and virtual reality platforms. Unity is great for many industries, from games and architecture to automotive and film. In terms of VR, the platform allows developers to target virtual reality devices without any external plugins in projects.
Thanks to the company's product, users can have stable versions of each VR device, interact with various virtual reality devices, increase their performance, and switch between numerous devices in their applications. Unity suggests the following tools that help create the best VR experiences:
High Definition Render Pipeline (HDRP)
XR Interaction Toolkit
Particle system
Spatial audio
Stereo Instancing
On the website, you can find various cases of companies utilizing Unity to create VR experiences in different industries, including training, media & entertainment, automotive, games, and more. 
Vention is a software development company that works with VC-backed startups and growing tech companies to provide them with the best scalable products for their users. Currently, the company suggests several AR & VR development services for its customers.
The clients only have to share their ideas on the applications, and Vention will provide them with engaging, user-friendly, intuitive, and memorable experiences. The company underlines its strengths, such as advanced VR software, mixed reality experiences, 360-degree video, 3D rendering, dedicated teams, and more. Additionally, the products developed by the company possess cross-platform compatibility and location-based AR, and the created applications are recognition-based. 
Founded in 2010 in Boston, Owlchemy Labs is a video game development company best known for its virtual reality games called Rick and Morty Stimulator: Virtual Rick-ality and Job Simulator. Currently, the company produces multiple VR games, including Cosmonious High and Vacation Simulator.
Owlchemy Labs is definitely worth watching not only because of the variety of games the company suggests but also because of the blog section where you can find many updates on the games, descriptions, the latest company news, innovations, and more useful information about VR games. 
Many people lack social activities, such as meeting their friends, going to the cinema, or playing games together, due to the constant time shortage. Moreover, the recent lockdown led to the loneliness felt by many people. If you recognize yourself in the description, the solution offered by Bigscreen is a must for you.
The company developed a virtual reality video game called Bigscreen Beta that allows users to hang out with their friends, play games, collaborate with coworkers, watch movies, and perform many more activities – all in VR. Also, the company ensures that its clients have their communication as real as possible. Hence, spatial voice chats, customizing identity options, various public & private rooms, and more options are suggested to users to make the platform social, interactable, and shareable. 
Founded in 2012, Oculus VR is a relatively young company that specializes in VR device production. You can do a whole bunch of things with the help of the company's products. For instance, with the gear called Oculus Quest 2 VR Headset, you can go rock climbing, explore the world, watch concerts or sporting events, play retro games, stream TV, movies, and videos, and perform many more activities.
In addition, Oculus VR suggests many games that customers can buy and play on their devices. Furthermore, the company offers diverse supporting goods and accessories for VR devices, including carrying cases, link cables, elite straps, replacement kits, and more products. 
Magic Leap is an American startup located in Florida. The company's most popular product, Magic Leap 2, is one of the best products on the market. It is perfect not only for individual users but also for enterprises and developers. Magic Leap 2 provides businesses with data privacy, complete cloud autonomy, device management through the best MDM providers, security, and flexibility they demand. Moreover, the company's developer portal provides users with the resources and tools needed to build, learn, and publish creative and innovative solutions.
In addition, on the website, you can find all the tech characteristics of the described device, compare it with other products on the market, and see what is in the box with the product. The company states that its vision is "a world where the physical and digital are one."
Wevr is a software company that creates various virtual worlds. The company has many creative projects and cases that are definitely worth knowing about. For instance, Wevr, in collaboration with Warner Brothers, created multiple innovative Harry Potter experiences. Moreover, the company has many awards, such as being an Emmy finalist for Outstanding Innovation in Interactive Media – an achievement of a creative collaboration between Wevr and Jon Favreau (actor, comedian, and filmmaker).
Wevr has many innovative solutions, including Wevr Virtual Studio (WVS), which allows creators and their teams to build applications and virtual worlds on game engines. The platform allows users to manage their teams, organize projects, collaborate with artists & engineers, focus on creativity, and automate work processes. Furthermore, the company suggests developers utilize Unreal and Unity as the fastest and most cost-effective platforms for cloud-automated building. 
Headquartered in Waltham, Massachusetts, Vicarious Surgical is a great choice for healthcare professionals. The company presents its Robotic System designed for conducting surgeries "with better abdominal access and visualization through a single port." Vicarious Surgical brings surgeries to a new level by making them minimally invasive and implementing surgical robotics.
The suggested robotic system aims to provide surgeons with better visualization and control of instruments through robotic-assisted and minimally invasive surgeries. In this case, thanks to the system, the healthcare professional is nearly transported into the patient's body, which provides the surgeon with a much better understanding of the situation.
The company's product – Vicarious Surgical Robotic System – possesses many advantages, such as: 
Unprecedented freedom – 360 degrees of access and visualization
Freedom of movement – moves in all directions
Human-inspired motion – replicates a surgeon's natural body movements
Access – allows a professional to work from any direction through any entry point.
The company's motto is "solving pain through immersive therapeutics," which makes AppliedVR a perfect solution for those who seek to relieve pain for their patients or experience chronic pain themselves. AppliedVR is the first company that shifts from traditional medical device development to the production of virtual reality therapeutic solutions.
The device suggested by the company allows patients to process pain differently, change their habits in a positive way, and develop new coping skills. And the biggest benefit is that patients suffering from chronic pain can explore and test this VR solution from the comfort of their own homes.