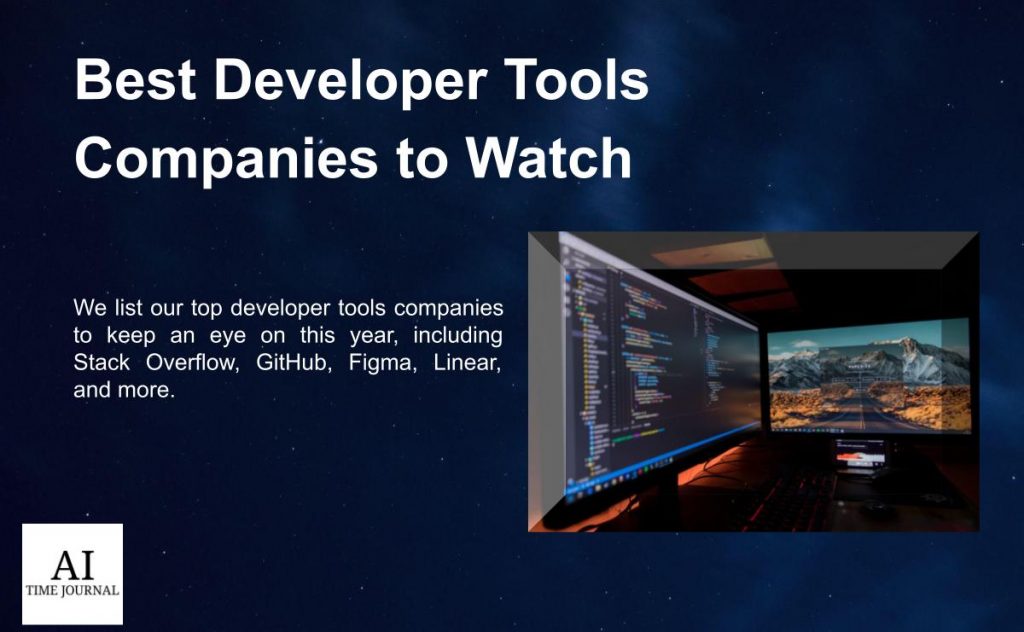 Developers can be referred to as individuals who are involved in the process of the creation of some products or services. In terms of technology, developers are professionals who create computer software or mobile applications. This industry is growing rapidly and attracting many young and experienced people.
According to statistical reports, approximately 27 million software developers are currently working in this industry. Moreover, by 2027 the software development market is expected to reach $1,039 billion. Hence, the need for top-notch and easy-to-use tools for developers is ever-growing.
In this article, we list the best developer tools companies to keep on your radar this year. If you want to learn more about different software, read this AITJ article: Best Marketing Automation Software. Also, you can watch this AITJ interview to find out more about Machine Learning Software.
Launched in 2008, Stack Overflow managed to become one of the most popular platforms among professional and amateur programmers. The company claims that people in various spheres, including developers, game developers, data scientists, system admins, and mobile developers, "have a tab open to Stack Overflow."
Stack Overflow allows users to discuss and solve various coding problems. Moreover, beginner programmers in this sphere can ask questions and get answers from their more experienced colleagues. In addition, the website is a great knowledge-sharing Software as a Service (SaaS) platform for both large organizations and small teams.
The company has various solutions for DevOps engineers, data scientists, software engineers, support teams, and engineering leaders. Also, Stack Overflow allows professionals to integrate the platform with other tools, such as Slack, Microsoft Teams, GitHub, Okta, and more. \
To learn more about productivity companies, such as Slack and Microsoft Teams, read this AITJ article: Top Productivity Companies to Watch in 2023
Headquartered in Mumbai, India, BrowserStack is a great cloud web and mobile testing platform for developers. On the website, professionals can test their websites and mobile applications across various browsers and mobile devices. The company offers developers various solutions for testing their websites (e.g., cross-browser testing, selenium testing at scale, and visual testing and review) and mobile apps (e.g., interactive or automated mobile testing), as well as integrating their BrowserStack with other tools used for development, including Gitlab, Selenium, Slack, Cypress, and more.
One of the most recently added functions called SpeedLab allows developers to test website speed on real browsers & devices and evaluate your product based on the most important metrics. It helps developers optimize their website speed and provide their customers with the best user experience. 
GitHub is a startup founded in 2008 that provides an internet hosting service for software development. With the help of this platform, programmers can share their code with their teams and supervisors or keep it private. Moreover, professionals can manage their teams' work by putting everything on a table or board with the help of GitHub's Projects function.
Also, GitHub is a great platform where you can find various code pieces that might help you with your coding. In addition, supervisors can leave comments on your code to help you solve bugs or improve readability. If you seek a convenient and user-friendly mobile platform, GitHub Mobile is for you. Furthermore, users can implement the solution called GitHub Codespaces, which provides them with a "complete and configurable dev environment on top of a powerful VM in minutes."
LambdaTest is one more great platform that helps developers test their websites and mobile applications. The company suggests users access over 3000 diverse combinations of real devices, browsers, and operating systems and guarantees security. Not only does LambdaTest support all languages & frameworks and checks the product on real desktop and mobile browsers, but also provides out-of-the-box geolocation testing that allows developers to test their websites on more than 60 country locations.
In addition, the company offers responsive testing with a single click, integrated native developer tools for debugging, as well as end-to-end test execution logs for easy debugging. The variety of suggested solutions makes LambdaTest a perfect platform for developers. Furthermore, the company is accredited as the preferred test execution platform and has many G2 Badges in such categories as Easiest Setup, Users Most Likely to Recommend, and Easiest to Use. 
Headquartered in San Francisco and founded in 2012, Airtable is a great cloud collaboration service for developers. Such companies as Netflix, Shopify, Medium, and more support and use this platform. Airtable suggests developers:
Unite every stream of work
Interface with work in a new way
Bring all their data together
Transform how teams work at scale and more
The platform provides customers with various useful templates for organizing and planning their projects, such as content operations, org charts, product roadmap, marketing campaign tracker, and more. Furthermore, Airtable provides its services to developers, teams, and large organizations, supports them, and offers many data protection solutions, admin tooling, and other professional services. 
Being an interface design tool, Figma is broadly utilized by UX/UI designers and many developers from other industries. The platform can be used on the website or as a desktop application to enhance team collaboration and help designers create trendy and attractive websites and mobile applications. Also, it provides great tools for creating interfaces and generating the best user experience and animated prototypes.
Bloggers and creators can also benefit from using this platform. Figma provides influencers with interesting solutions for their posts, images, and even videos. It has many templates that can improve the content creation process. An additional advantage is the several animation options that allow designers, programmers, and other developers to better understand each other and test various options. 
OutSystems is another great low-code platform helping companies develop and manage their enterprise applications. Although the company was founded in 2001 in Lisbon, Portugal, currently, its headquarters are based in Boston.
OutSystems allows developers to create powerful applications, try a new tech low-code platform designed for them, use low-code in their personalized way, supercharge development, power high-performance teams, unify and accelerate app delivery, fuel business innovation, gain a competitive edge, and build products that make them unique. 
There are many examples and case studies of what can be created with the help of the platform. One of the best examples is the company called Vinturas which developed its logistics application that utilizes blockchain technology to suggest a secure and protected infrastructure for encrypted data transmission and document processing. 
Although Lacework is a relatively young company, it proves indispensable in the matter of breach detection and investigation. On the platform, users can find numerous cloud security solutions, including cloud security for startups, container security, and infrastructure as code security.
In addition, the company offers such solutions as threat detection, vulnerability management, cloud security posture and compliance, and more. Lacework works with such environments as Amazon Web Services (AWS), Google Cloud, Microsoft Azure, Kubernetes, and Multicloud, which makes the platform convenient and broadly applicable.
One more solution the company offers is the Polygraph Data Platform, which is designed to provide the best and most comprehensive insights into threats across multi-cloud environments. 
Linear represents itself as "the issue tracking tool you'll enjoy using." Some advantages the platform suggests include real-time synchronization across all users, online or offline access to the platform, dark or light UI, multiple keyboard shortcuts that improve efficiency, and more. In addition, users can add many teams to one shared workplace.
You can use Linear in integration with other tools for developers, including Figma, GitHub, GitLab, Slack, Zendesk, and more. Linear is a perfect tool that helps developers and companies automate their workflows, integrate all of their tools, manage projects more effectively, and break barriers. 
Located in Ramat Gan, Israel, Frontegg is a software company designed for B2B SaaS companies. The company suggests a user management solution that meets businesses' needs and helps them throughout various growth stages.
Frontegg's all-in-one User Management Platform provides modern B2B SaaS apps with all the needed advanced and basic features from authorization to admin portal and analytics.