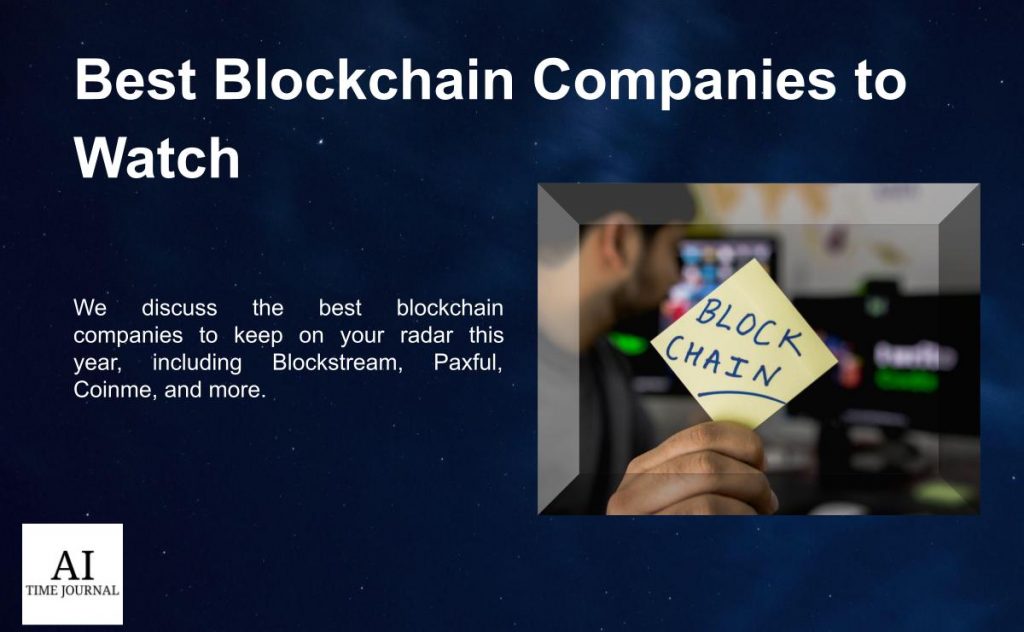 Cryptocurrency and digital goods have recently gained popularity and have become commonly used payment methods in the digital world. Nowadays, individuals can participate in online transactions of virtually anything through what is known as a blockchain.
A blockchain is a peer-to-peer network connecting several computer systems that keep track of online transitions using cryptocurrency or other digital offerings. Something unique about blockchains is that it is almost impossible to hack or infiltrate information in the system, leading to complete anonymity within your transactions. For more on blockchains, refer to these articles: How AI and Blockchain are Transforming the Supply Chain Management  and Best Blockchain and Cryptocurrency Courses (2023)
With blockchains becoming a part of the mainstream, it is essential to find a reliable and easy-to-use platform when making transactions.
Here are some of the top blockchain companies to watch:
Among the more well-known blockchain companies is Coinbase. Over 103 million individuals and businesses use Coinbase to buy, manage, and sell cryptocurrency. This company covers every aspect of cryptocurrency. This includes tutorials, crypto basics for those just starting, and resources for developers to read and write data for crypto. 
Coinbase's crypto wallet allows users to dive into the decentralized web, browsing through hundreds and thousands of tokens while using a mobile device. Also, its easy-to-use NFT functions triumph over many others. Coinbase allows users to buy and manage their NFT collections with just a few clicks. Coinbase is an excellent place to start your journey if you're planning on experimenting with cryptocurrency. 
Chainalysis seeks "building trust in blockchains" by creating a transparent economy for businesses and individuals. Chainalysis spans over 70 countries and provides customer resources such as training and certifications and crypto incident response. 
Additionally, Chainalysis is incredibly helpful when determining and responding to crypto crime. Their Trust Network provides collaboration and the ability to share information alongside law enforcement agencies, cyber companies, financial institutions, and many more. Barclays, Bitpay, and Bitstamp recommend Chainalysis for engaging in safe crypto activities and preventing illicit situations.
Blockstream is a blockchain company that aims to provide peer-to-peer and open network finance resources for everyone. Since the company's establishment in 2014, many investors such as Infinex, Digital Currency Group, and AME Cloud Ventures have flocked to Blockstream. 
Blockstream's products and services include:
A cryptocurrency data feed
Colocation services for Bitcoin mining 
An API to manage digital assets
A fully open-source hardware wallet
Recently, Tesla has teamed up with Blockstream to create a solar-powered Bitcoin mining plant. As Blockstream advances in crypto and blockchain, it's undoubtedly a company to watch.
If you're searching for an open marketplace with many collectibles and NFTs, Mintable is precisely what you're looking for. This company allows sellers to mint their NFTs for no additional cost and provides a vast marketplace to sell or auction them off. With Mintable's service, buyers can browse through any products they can spend their crypto on, such as art, videos, domain names, and music.
Those who want to access more features on the site have the option of upgrading to Mintable Pro. With their pro plan, sellers can access advertisements to push their products and custom stores catering to specific needs. This, alongside 24/7 customer service, makes Mintable a great marketplace to start selling digital goods.
Buying, selling, and earning cryptocurrency has never been easier with the help of BlockFi. BlockFi's mission since 2017 is to redefine banking, providing a service similar to a bank but with digital assets and cryptocurrency.
BlockFi provides an avenue to trade crypto while also doing so at a low and competitive cost compared to similar services. If you need help with trading, BlockFi has expert support to assist users whether they are familiar with trading or not. Earning rewards in coins like Ethereum or Bitcoin is possible with the BlockFi credit card. BlockFi has granted over $15 million USD in crypto rewards, making this company an efficient way to make more out of your cryptocurrency.
If you're looking for a convenient way to buy and sell cryptocurrency, Coinme provides a wonderful service to do so. Coinme allows safe and accessible crypto trading no matter your location. 24/7 access to a "nation's number one cryptocurrency cash network" is provided to users through over 10 thousand Coinstar Bitcoin ATMs.
Coinme also allows users to purchase cryptocurrency through ordinary credit cards, such as Visa or Mastercard. Not to mention, Coinstar as well gives instant access to crypto purchases. As mentioned in big-name outlets, such as Forbes and Fortune, downloading the Coinme app today would not be a waste of your time. 
Finding an innovative and reliable crypto wallet can be difficult considering the massive amount of them in the digital space. However, Zerion is a service that helps manage your Defi and NFT portfolio with ease. 
Zerion makes it simple to maintain and manage users' digital assets as they can access their private keys and portfolios and sign transactions in a single place. If users want to buy, sell, and lend digital assets, they can access all of Web3 in only a few clicks. Additionally, any wallet address is accessible to those who want to keep up with the latest crypto tokens and trends. Zerion currently has over 220 thousand users per month, meaning this company should be on everyone's radar due to its popularity. 
Mojito is not a typical blockchain company. This startup company aims to provide an API platform and dashboard to potential companies that wish to start their own NFT marketplaces. Some of Mojito's capabilities include:
Commerce tools such as the ability to create a custom NFT-minted marketplace
Community tools such as Token-gated URL and IRL access
Engagement tools such as claimable and earnables to incentivize users
Recently, Mojito's platform was used to launch Sotheby's Metaverse, which generated over 100 million in sales and landed on TIME's 100 Most Influential Companies list and Forbes Top 50 Blockchain Companies list. With the potential of creating huge companies like Sotheby's Metaverse, it's no stretch to say that Mojito will soon become a big name itself. 
Paxful is a peer-to-peer platform where users can buy and trade cryptocurrency instantly. Paxful can cater to almost any payment method, offering over 350 ways to buy, trade, and sell, including gift cards, bank transfers, and even goods and services.
Once users sign up to Paxful, they receive a free Paxful wallet to easily manage their transactions. Additionally, if users invite others to the Paxful platform, they receive rewards when they buy and sell Bitcoin. Having over 6 million buyers and sellers on Paxful, it's no wonder this up-and-coming platform ended up on this list. 
Described as "the next generation NFT-focused blockchain," Pastel Network enables individuals to scale, build, and secure their Web3 ecosystem. Pastel Networks has well-documented APIs and gRPC functional modules to help builders establish their marketplace.
Pastel Networks is also security first, implementing the most consensus mechanisms to ensure complete security. Pastel additionally can sift out counterfeit NFTs, protect individual IP addresses, and grant certification to a rare NFT. Pastel has a variety of capabilities for those who wish to create their own marketplaces and will soon become a big name in the blockchain world.