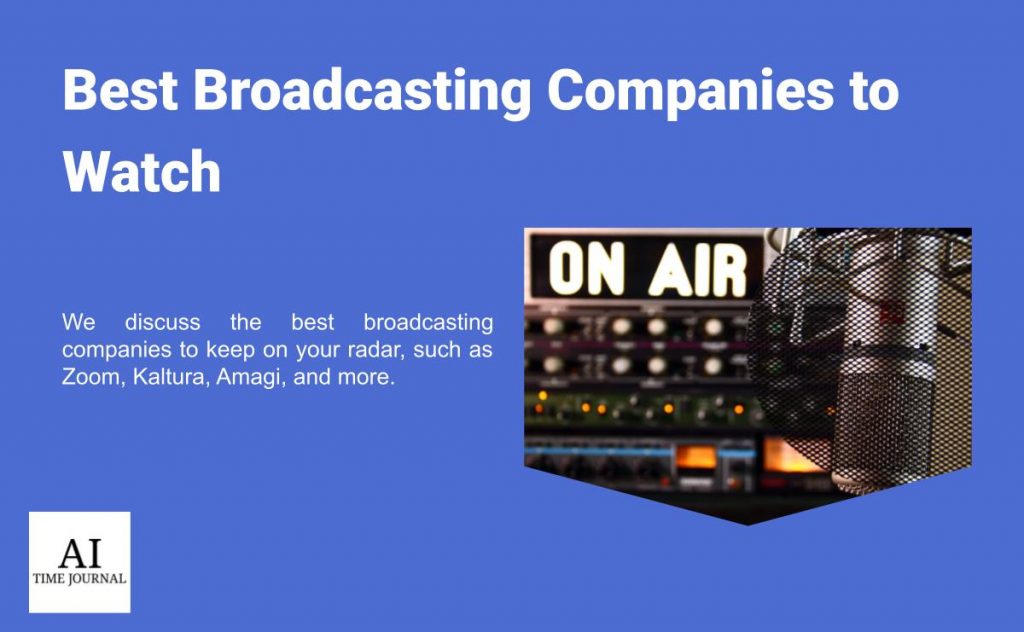 Reaching new heights within a business depends on the number of people it connects with. The importance of broadcasting your message to a mass audience has never been more apparent, especially in the current digital climate. 
Many companies aim to assist in software or platforms that streamline video broadcasting for businesses. In this article, we will explore some of these companies and how they have a helpful impact on the industry.
For more about how technology is used in other industries, check out these AITJ articles: 5 Best AI-powered Chatbots and Top Fintech Companies To Watch.
Here are some of the top broadcasting technology companies to watch this year:
Skyrocketing in popularity during the 2020 pandemic, Zoom is one of the most influential live-streaming applications in recent memory. This company provides conference calling software that connects people with ease worldwide.
This software can support up to 1000 video attendees in a single meeting, all while utilizing high-definition video and audio. In addition, users can record a meeting for playback either locally or through the cloud, allowing for searchable transcripts after recording. As this company connects to many useful applications, like Slack and Microsoft Teams, Zoom will become one of the most prominent in the industry. 
If you're searching for an all-in-one video-sharing platform to show off your hard work, then Vimeo is the perfect solution for you. Vimeo is an easy-to-use platform allowing creatives and businesses to upload online videos to over 250 million users worldwide. 
Established in 2004, this platform's reputation exceeds many others, as it was the first to implement high-definition video. This company also has many unique and helpful features, such as automated captions and high-quality live stream capabilities, with users able to stream to broad audiences from any device. With over 100 billion views on the site and many other exciting features, it's safe to say that Vimeo triumphs over any typical broadcasting service. 
With the goal of streaming and content distribution to a massive audience, Wurl is a company that is sure to make an impact. Wurl is considered the world leader in powering streaming television and connects to an audience of over 300 million people. 
Recently, the company introduced its new feature, Wurl Global Free Ad-Supported Television (FAST) Pass. With this, users can access the industry's most advanced online dashboard and daily reports to optimize revenue as they grow in popularity. Wurl has approximately 150,000 new viewers daily, so it's no surprise this company ended up on this list. 
Getting your content out is essential to keeping an audience; that is precisely what Telestream aims to do. Founded in 1998, this company provides products that distribute video content on a wide scale, regardless of content or viewership. 
The range of products this company offers is incredibly grand and beneficial. This includes Cloud services, Media Processing and Workflow Automation, Video Test and Synchronization, and Enterprise Capture and Streaming services. With many huge names trusting Telestream, such as Euronews and Viacom, trying their products would not be a disappointment. 
Empowering any video experience for every type of organization is the core foundation of Kaltura's solutions. Kaltura is a Saas company that provides on-demand and live video software to connect users globally.
One unique feature of this company's services is that all the products offered to users revolve around a single cloud. In addition, this company can platform meetings of sizes ranging from 1:1 to 100,000 attendees and beyond. Oracle, Halliburton, and MetLife use Kaltura's services, so this company is worth a try. 
Eluvio is a broadcasting tech company that provides some of the most advanced internet video technology. It is a decentralized, global video distribution and streaming platform built on blockchain technology.
The company's technology is built on its Eluvio Content Fabric, which helps provide and ensures low latency, monetization, high-quality (4K) content distribution, and just-in-time streaming for users. In addition, they also allow users to sell NFTs and other collectibles through their content. You would love Eluvio's unique features for your content, making this company a strong contender on this list. 
For reliable solutions in connecting and engaging with audiences, Brightcove is the answer to all of your communication needs. Established in 2004, Brightcove's many solutions employ the power of video so that users can monetize their content and engage audiences. 
With their online video communications platform, users can harness the power of incredible and reliable scaling to help adapt to audience growth. Also, data analytics are provided so that anyone can track their audience's activity in a great visual way. As Brightcove has won many awards, including Engineering Emmy Awards, adding their platform to your workflow is a must. 
In terms of "pioneering cloud solutions for Media and Entertainment," Amagi is your go-to solution to help branch out your content on a wide scale. Considered a global leader in Saas technology, this company provides many products to manage live and on-demand video infrastructure. 
Utilizing Amagi Cloudport, customers can take advantage of delivering content over automated playout channels. Users can also experience the luxury of advanced graphics, a Saas automation/ playback platform, and an efficient VOD. Companies like Bein Sport and the Discovery Channel use Amagi for their workflow, and with big names like that, this company is sure to take off in the industry. 
For the excellent and reliable delivery of cloud-based Digital Rights Management (DRM) services, EZDRM is the perfect company for the job. Founded in 2003, EZDRM is considered the original specialist in Digital Rights Management as a Service for content owners and internet-based media distributors. 
Here are some of the features this company has to offer:
Flexible, dynamic business rules for license delivery
Reliable technology management and hosting
A completely managed and maintained global hosting resource
Expert service and support
As EZDRM is mentioned and awarded in the top 50 companies in the online video industry, it surely makes an impact in broadcasting technology. 
Streaming content has never been easier with the help of Bitmovin's offered services. It aims to shape the future of video by transcoding digital video and audio to streaming formats with ease.
With Bitmovin's incredible video encoder, users can render a 15-minute file in around 38 seconds, which is much faster than many alternatives. Additionally, this company reports detailed analytics to help users with their workflow. The New York Times and BBC use Bitmovin in their work, so it is no stranger to quality results.