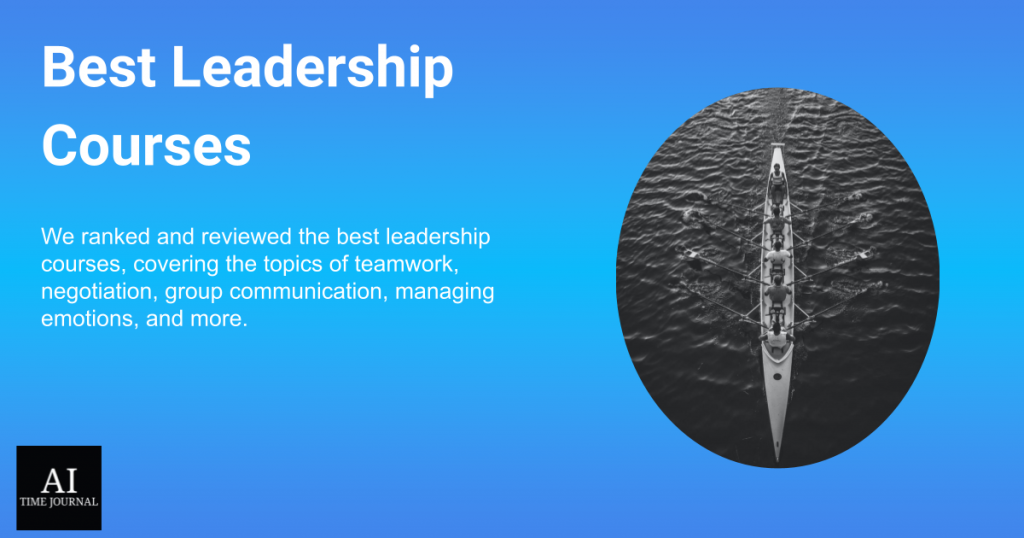 When working towards starting a new career or working in a job you already have, we often find that there are extra skills that are required in work, especially now that the world is getting dominated more and more in the workforce by machines.
One of the most important of these skills is leadership, or the ability to lead and direct others toward the betterment of themselves and the company, which is a paramount skill to have in a workplace that might become more machine than man.
Through some research into some of the best courses we could find on being an impactful leader, we have chosen to feature a few standout choices that will help you hone your skills in the workplace and not only gain a better understanding of leadership but different forms of leadership that can be prevalent in the workplace.
Table of Contents
Reviews of the best leadership courses
Inclusive Leadership: The Power of Workplace Diversity
The first course is about Inclusive Leadership and how promoting diversity and inclusion in the workplace is an important aspect when showing your ability to be a leader. The course empowers those who take the course to think about those they work with and to make sure they are comfortable and included when participating in work. Taking this course will help to build the ability to make sure your coworkers are valued and will make sure that you are seen as a social leader in the workspace.
This course led by Brenda Allen (Ph.D. in Organizational Communication/ retired Chief Diversity Officer for the University of Colorado Denver) has been heralded as easy to understand and insightful for those already familiar with the topics, as well as being objective in the delivery of the material and even gives insight for the betterment of those who are looking to start out with topics such as these. She uses situations that would normally be encountered in the workplace as examples for talking points which helps to contextualize what could be done for a more inclusive workplace.
High-Performance Collaboration: Leadership, Teamwork, and Negotiation
This course is all about the skills that are needed to forge your ability to be a standout leader amongst your coworkers and make you a worker your bosses will want to focus on. This course will help beginners learn the basics of leadership and help to make a situation where both you and the people you are leading are in a winning scenario. This class focuses on the main pillars of leadership, those being negotiation, teamwork, and collaboration which will help flesh out the student's understanding of leadership.
This course is taught by Leigh Thompson (J. Jay Gerber Professor of Dispute Resolution at the Kellogg School of Management at Northwestern University and is director of the Leading High Impact Teams executive program, the Negotiation Strategies executive program, and the Constructive Collaboration executive program.) and has been called engaging for the material being covered and that it should not be missed. The course has a wealth of information for those looking to understand what leadership is and how it can flourish into something more.
Building Your Leadership Skills
This course is important for a multitude of reasons, primarily the ability to find different styles of being a leader. The style that is being taught is known as the "Savoir-Relier" style which is a newer style that looks to encourage relationships between those that do not see eye to eye. This course is effective in building your specific leadership style, finding what your strengths and weaknesses are, and then tailoring a leadership style that fits you. 
The program has many members of the HEC Paris Leadership Certificate come together to help forge this new identity for you and uses this new form of leadership in order to truly build an identity for you in the workspace which helps to make sure those with a good understanding in the material can make themselves masters in the concepts of leadership as a whole.
The course is helmed by Valérie Gauthier (BS in Psychology, Master in Modern Literature and English, a Ph.D. in Comparative Literature, and Stanford's Graduate Business School's Executive Program (EPSO)) is a prolific worker in this field and is the mind behind this new leadership style shown. The course is great at delving deeper into leadership as a concept and uses intriguing activities in order to fully visualize your ideal self.
Teamwork Skills: Communicating Effectively in Groups
This class is effective when learning to work as a team in the professional world. This class is taught by Matthew Koschmann (Ph.D. at the University of Texas at Austin and Fulbright Scholars Award recipient) and looks to help make effective teamwork skills and build communication in a creative way. 
This course will also help to truly understand interactions and deduce why some things work and others do not when working as a team, making you a proverbial manager for your team so that everything gets moving the way it is supposed to. This sentiment is shared by those who took it, with them saying it is good for those looking into communication skills and theory, but it seems it might be too theoretical for those looking for an entry-level look into these skills.
Managing Emotions in Times of Uncertainty & Stress
Lastly, we look at a course focused on helping to manage your emotions and to help keep a good mindset while working in a leadership position and even in your personal life. Told through the perspective of teaching a classroom, this class was developed by the Yale Center for Emotional Intelligence and is taught by Marc Brackett (Ph.D. in Psychology & Founding Director of the Yale Center for Emotional Intelligence (YCEI) and professor in the Child Study Center) and helps to direct your emotions in a positive manner that avoids stress and to identify problematic emotions before they appear.
The class has been lauded as being helpful in navigating emotions and overcoming obstacles in the people that take the course's own lives using this course. The class also provides a Multimodal learning format for the course material which keeps those in the lesson on their toes and helps to mix ideas together about how to properly keep composure when in and outside work.