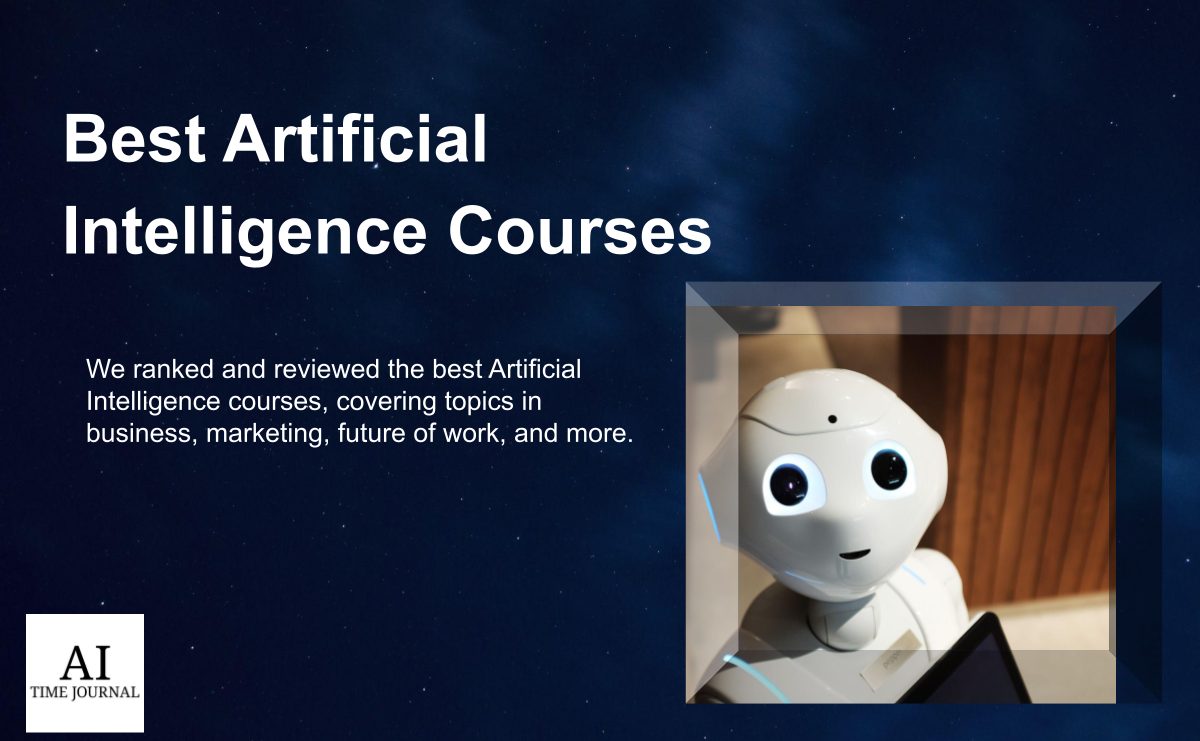 The application of Artificial Intelligence has become a prevalent trend in all kinds of companies and significantly affects people's jobs from all walks of life. For many IT beginners and non-technical employees, AI seems like a very profound subject that is hard to learn. Well, it is not the whole picture.
AI learning is open to everyone, and basic knowledge of AI can help you improve working efficiency, optimize your strategies, and help go through the changes brought by technology development. 
Obtaining basic knowledge about AI and developing related skills is necessary for most employees. To learn more about some important skills in today's workplace, check out this AITJ article "4 Skills to Succeed in a World Dominated by AI."
Table of Contents
Reviews of the best artificial intelligence courses
Here are the best artificial courses in this year, which will give you a brief understanding of what AI is, how it works in business areas, and how you can take advantage of the opportunities created by AI.
This introductory course is open to everyone, no matter if you are an IT engineer or a non-technical beginner. From this course, you can learn the basic principles of AI and knowledge about data science, machine learning, deep learning, and neural networks. The course will also enlighten you about how AI can change lifestyles and jobs in the future. Finishing this course will help you work with high efficiency with an AI team and find the best solution for your company's problems.
The course instructor is Andrew Ng, Founder of DeepLearning.AI, General Partner at AI Fund, Chairman and Co-Founder of Coursera, and Adjunct Professor at Stanford University. Dr. Ng is also a Twitter influencer. As an expert in AI and with rich experience in teaching, Dr. Ng and this course will give you a start on a solid foundation. 
This course mainly focuses on Machine Learning, Big Data, and Artificial Intelligence and gives some fundamental knowledge of their business use. The course also covers ethical discussion of AI applications and human management of technology. By finishing this course, you will gain insight into how to use Big Data and data analytics to generate effective marketing strategies and personalize customer needs.
If you are interested in AI applications, HR management, and digital marketing, this course is a perfect choice for you.
Through case studies, this course will show you a basic framework of machine learning, deep learning, and neural networks. The course will show you the big picture of AI in the future by discussing the ethical bias and job changes brought by AI applications and giving you some advice to become a successful employee in the digital era.
This is an introductory-level course that is open to everyone, regardless of any programming or computer science requirement.
The instructor of this course is Rav Ahuja, a Global Program Director at IBM. As an expert in AI, Data Science, Cloud, and Blockchain, he plays a leadership role in growth strategy, curriculum creation, and partner programs for the IBM Skills Network.
This course shows digital transformation in marketing and emphasizes three essential contents: Algorithms, Networks, and Data. With case studies of successful organizations using AI marketing, such as Ford, Netflix, and the Washington Post, the course provides its learners with a clear framework of how companies use AI and data analytics to study competitors, generate marketing strategies and solve problems in time.
If you are a participant in the marketing field, this course is a perfect choice to prepare yourself for the digital era.
The instructor of this course is Rajkumar Venkatesan, a Professor of Business Administration at the Darden Business School at the University of Virginia. As an AI, digital strategy, marketing, and analytics expert, he published two books, 65 business analytics case studies, and 35 peer-reviewed journal articles.
This is an introductory course that provides fundamental knowledge about AI and its application in business areas. With short lectures, interviews, and interactive exercises, the course will make sure the knowledge about AI is understandable and prepares its learners to participate in the digital business workplace actively.
If you want to learn more about AI and how it helps companies generate strategies and solutions, this course is an excellent choice.
The instructor of this course is Anamaria Dutceac Segesten, a Docent at Lund University.