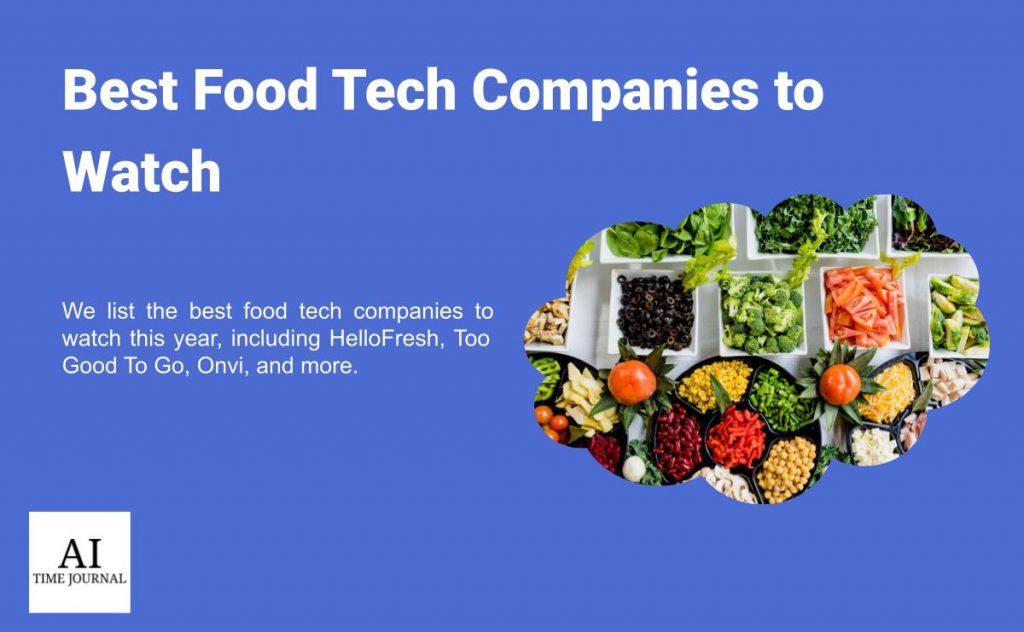 Food is one of the most essential necessities of human life. Many businesses, such as restaurants, revolve around food, which is almost a guaranteed profit. However, there is always room for improvement, whether it's enhancing the qualities of one's business or branching out to reach a mass audience. 
That's where technology comes into play. Nowadays, many companies are providing technology to perfect the food industry, from enhancing the quality of delivery services to improving food planning. This article aims to cover some of the up-and-coming food technology companies on the market. 
For more on technology in various industries, check out these AITJ articles: How AI Benefits Fashion Retail and Top E-Commerce Companies to Watch
Here are some of the top food tech companies to watch this year:
Considered "America's Number One Meal-kit," it's safe to say that HelloFresh is a company that is on many radars. Cooking has never been easier, as this company offers a grocery delivery service straight from your phone with perfectly portioned ingredients.
This company provides various step-by-step recipes to choose from, ranging for different dietary needs. If you're also worried about food being delivered in a box to your door, this company packages your order with special ice packs and insulation to ensure quality freshness. Consider downloading the HelloFresh mobile app today to reap the phenomenal benefits of this food tech company. 
To get the most out of your grocery store trip, you should use Hungryroot's quality subscription service. Starting at $65 per delivery, this company covers all the positive benefits of at-home meal kits and the grocery store, all in one packaged application. 
One unique feature of Hungryroot is its all-encompassing quiz to gauge each user's individual needs. Whether health goals, the number of people fed or dietary needs, the quiz defines precisely what the customer needs. After that, groceries are delivered straight to the individual's front door. With many additional recipes to choose from, Hungryroot is a wonderful company to try out if you want to make life a bit easier. 
Imagine being on a University campus and having your food delivered straight to you — from an automated robot. Kiwibot is a unique service that provides food delivery robots with human-like capabilities and AI-powered functions to college campuses.
One great feature of Kiwibot is its transparency with its data, as any business owner or University has open access to Kiwibot's data to view insights if they wish to. Additionally, this company is helpful to the environment by having outstanding sustainability with their technology reducing a carbon footprint. Kiwibot is undoubtedly a company to keep an eye on, as their robots could be introduced to a campus near you soon.
Picking a dish from the text on a menu can be difficult because you don't usually know what to expect. That's where PeAR Technologies aims to assist customers by providing augmented reality menus to view the dish right in front of their eyes. 
This company's technology is extremely easy to use; all the customer has to do is download their PeAR mobile application. Then through the app, users can scan a physical QR code on the restaurant's menu to view a rendered 3D model of the selected dish. Once the user has made their choice, they can simply order delivery through the app. Any restaurant would be amiss not to include PeAR Technologies in their business, as it is a one-of-a-kind company.
Providing access to food is extremely important, as many establishments typically throw away perfectly edible food once they close. Too Good To Go is a mobile app that easily connects users to restaurants with a surplus of inventory, hopefully eliminating the food-wasting problem.
The mobile application is very simple to use. All the user needs to do is type in their city or the local area, and the technology does the rest, showing all the restaurants in the area partnering with Too Good To Go. Then the user can pick up the surplus of food, eliminating food waste. As Too Good To Go impacts the environment positively, it's definitely worth a try. 
A restaurant would be incomplete without the Point of Sale (POS), which is the point where a transaction takes place. Luckily, Onvi is an all-encompassing POS system that allows businesses to complete transactions, whether through a tablet or phone or in person. 
This company's platform covers all the aspects of purchasing food, as it offers customers various options such as table ordering or pickup and delivery. In addition, this system is extremely versatile, accepting many forms of payment. Onvi also provides extensive data insights to visualize a company's performance over time. Improving your restaurant today starts with implementing Onvi into your workflow. 
In this troubling time where climate change is becoming a significant concern, reducing as many CO2 emissions as possible is beneficial. Imperfect Foods is an application that aims to reduce environmental harm by delivering your groceries straight to you, taking away more vehicles from the road.
Users can take their quiz to gauge precisely what they would prefer to eat through the week, then the company assigns a shopping window and delivery day based on your location. Don't know what to eat? Don't worry, Imperfect Foods automatically assigns your grocery list each week to help your decision which is entirely customizable. Start saving time and the environment today by supporting this fantastic company. 
If you're looking for a nice restaurant to spend an evening at, use Quandoo's table reservation service to help with that process. With this excellent service, users have the option to book a reservation from over 17,000 restaurants in 12 countries worldwide.
With Quandoo's mobile application, users can search for restaurants nearby and book a reservation at no additional cost. Users can also save their favorite restaurants and write reviews. The more you book reservations with the app and collect Quandoo Loyalty Points, the more you can redeem them for a cashback reward. Booking your next dining experience with this company would not be a letdown.
For food service businesses and hospitality, using Tastewise presents a fantastic solution for decision-making. This platform analyzes many data points and uses artificial intelligence to automate a business's workflow and provide insights for improvement.
This company's platform covers all the essential aspects of business for those running a food service. Whether content marketing, product innovation, food service prospecting, or retention and growth, Tastewise has you covered. With over 95 million menu items monitored and 226 billion recipe interactions analyzed, it's safe to say that Tastewise will impact the food industry in the near future. 
For the freshest food imaginable, coming straight out of the ground, try out the subscription-based service, Harvie, today. Harvie is a convenient way to buy groceries by connecting with local farmers.
This company partners with over 250 farms across the North American continent, making it plausible that there is a perfect farm for you if you are located there. Additionally, once users sign up, they receive a curated grocery box catered specifically to them, which is also completely customizable. Trying Harvie today for the freshest quality food items would not be a disappointment.