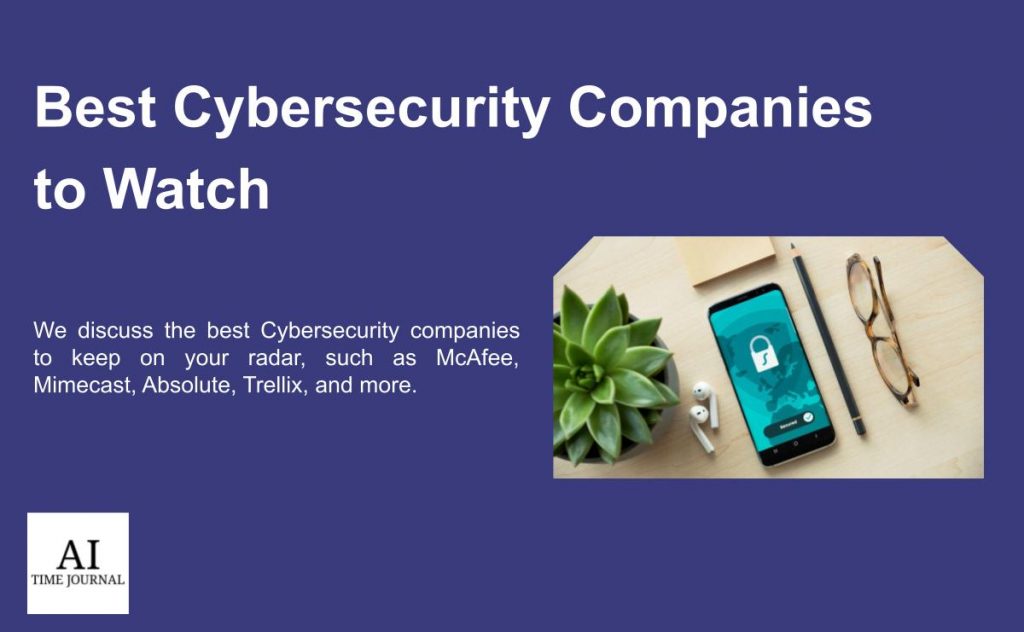 Every workspace nowadays is transforming into a digital environment, making it more efficient for companies to connect and utilize technology to streamline their work performance.
However, with that comes the imminent threat of either hackers or malicious actors penetrating your digital space, acquiring access to financials or precious data.
With these digital threats, the need for protection and security is essential. Luckily, numerous companies, such as the ones listed below, provide features like threat prevention and advanced firewalls to ensure a company is not affected by mal intentions.
For more on cybersecurity, check out these articles: Best Cybersecurity courses (2023) and How to Go Into Cybersecurity.
Here are some of the top cybersecurity companies to watch in 2023:
McAfee offers some of the best features to ensure cyber safety. Voted AV-Comparatives Product of the Year in 2022, McAfee leads the industry with their antivirus software. 
Feeling comfortable while browsing online has never been easier with the help of this company's virtual private network (VPN) that automatically activates once the user connects to public WIFI. McAfee also provides 24/7 customer service in addition to over $1 million in coverage to assist in fraud or theft. If you're worried about someone stealing your information or coming across a harmful virus, then McAfee would be a guaranteed quality solution.
Trusted by over 40,000 organizations, Mimecast presents a cloud security platform like no other to help ensure privacy and security for users in the digital space. As a leader in email security and collaboration, this company offers solutions for over 17 million users worldwide.
This company uses AI and Machine Learning (ML) models from over 1.3 billion daily emails to create intelligent solutions to secure email safety and defend against mal-intent in the users' inboxes. In addition, they are considered the number one platform collaborator with Microsoft 365 and Google Workspace. With its platform flexibility and permanent cybersecurity solutions, Mimecast has earned its spot on this list. 
Having one's identity stolen online can be a frightening scenario to consider. Claimed as the world's number one identity platform, Okta aims to combat identity theft and many other online security issues.
With over 7,000 integrations in their Okta Integration Network, users experience a wonderful versatile platform to secure and manage applications spanning various industries,  such as energy, healthcare, and financial services. Not only do Okta's services help businesses secure their customer's login and information, but they also ensure protection for their employees. With more than 15,800 customers trusting Okta, starting a free trial with their company would not be disappointing. 
Established in 1999, CyberArk's reputation as an identity security company is unlike any other with its unique features for employees and businesses. CyberArk offers software to combat security issues and cutting-edge research from cybersecurity experts to be on top of potential threats. 
This company offers a privileged access management platform to ensure that the most malicious cyber threats are isolated before they harm. In addition, they utilize a multi-factor authorization tool to validate identities and secure businesses from potential outside threats. With a wide variety of integrations in its CyberArk Marketplace to customize businesses' experiences, it's safe to say that this cybersecurity company will become a top-tier name soon. 
Not much is worse for an online business than being maliciously attacked by a digital threat. Fortunately, Darktrace has invented a platform that not only anticipates potential threats before they happen but additionally, neutralizes the threat and helps companies recover after being attacked.  
Darktrace PREVENT utilizes AI to analyze your company's assets and discern between familiar and nonfamiliar assets to detect potential malicious actors. In addition, with Darktrace HEAL, users can identify the condition of their attacked assets and rebuild the business from where it was before. It is worth a shot if you haven't tried Darktrace's products for your business. 
Whether you have a small business or an entire enterprise, Fortinet is a company that will protect and helps secure your company and workforce. With Fortinet's unique approach to cybersecurity, they offer protection to over 580,000 customers in a wide range of industries.
Some of the features offered include the following: 
Zero Trust access
Secure networking
Fortiguard Threat Intelligence
Cloud Security 
An open ecosystem. 
Recently, Fortinet granted free security and awareness training to K-12 schools in the United States. With fantastic values and excellent services, Fortinet is undoubtedly a company to watch in 2023.
Tackling "net-gen solutions for today's challenges," Palo Alto Networks delivers great cybersecurity technology to take on cloud and network security. Founded in 2005, this company offers various products, including advanced firewalls and cloud-based solutions. 
This company provides assessments, such as ransomware readiness and cyber risk assessments, for companies to analyze how safe they would be against a potential cyber attack. And if an attack occurs, they offer incident response software and digital forensics. With many more features to offer, Palo Alto Networks is a wonderful name to consider regarding cyber safety. 
Zscaler is considered a "Zero Trust Leader" in cloud security platforms. With this company, users can ensure their cloud is protected with the help of total life cycle cloud security and agentless deployment. 
With Zscaler's Zero Trust Exchange implementation, users can secure their businesses with reduced complexity and cost without the need to deploy a VPN or complex firewalls. In addition, this platform can connect the users to the apps directly and isolate threats to prevent potential attacks. Zscaler is a company to keep an eye on as they provide a tremendous amount of security solutions. 
In terms of trusted names in cybersecurity, Absolute is one company that stands out from the rest. Absolute is the world's only firmware-embedded endpoint control and visibility platform for over 17,000 customers.
Absolute offers mobile customers a reliable VPN customized just for their needs and protection. In addition, they offer world-class insights to help increase data security for companies, analyzing and recognizing threats in the process. Factory-embedded by leading names such as Microsoft, Samsung, and many more, make Absolute a great force within the cybersecurity industry. 
Although many names on this list have established reputations, some cybersecurity companies are in the process of making a name for themselves. For example, Trellix is a company started only in 2022 that provides software to prevent cyber attacks and malicious security risks.
Trellix offers a wide range of security software, such as data, email, and cloud protection, for a user's business to ensure safety all around. In addition, they offer Endpoint Protection platforms that implement proactive threat intelligence to create resilient security. Trellix is an up-and-coming service that is sure to make an impact soon.