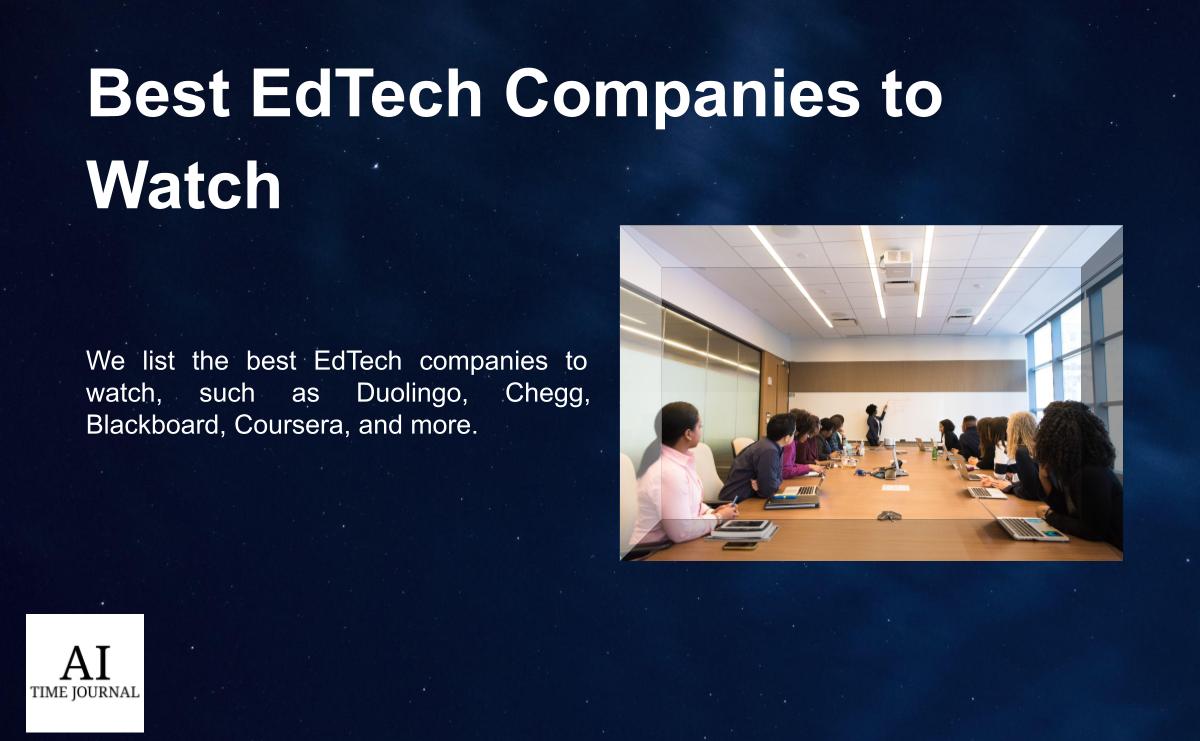 How can we become efficient learners? Education is an essential part of society and leads to our progression in general. However, it can be difficult for some to learn as much as others, and studying can fail to hold many people's attention.
Combining technology and education is another element of technological evolution, with the common goal of making learning easier for students while at the same time producing more outstanding results. Technology can not only ease the learning process but also dissect the students' progress and provide responses accordingly.
Here are some of the top Edtech companies to watch out for in 2023:
When it comes to learning a foreign language, Duolingo provides excellent tools for teaching and creating a fun environment for users. Duolingo's approach has a unique language learning methods, using deep learning AI capabilities to analyze data to create assessments such as the Duolingo placement test.
The app creates the sense of a game for the students, using fun bite-sized lessons that can be accessed on the go right from a phone. Disguised as an entertainment tool, behind the scenes, Duolingo presents a methodology that helps users retain a language for the long term. With over 50 languages to choose from, Duolingo is a company to keep your eye on for language learning. 
Learning a new language can be difficult for those who cannot access real human beings to practice speaking with. Preply aims to make that easier for students, as it is a platform that provides over 49,000 online tutors specializing in a wide range of languages. 
Preply offers affordable prices to those who want to learn a language and presents much flexibility as students can schedule virtual classroom appointments from the desktop or phone with a few clicks. This is not just any video conference program. However, Preply strives to be an excellent program for efficient language learning and has structured learning with its learning plans to keep track of your progress.
Have you ever been stuck on an enraging homework problem that takes forever? Chegg is a service that provides homework solutions to problems for struggling students. It also offers a database of textbooks for students and provides internships and scholarship opportunities to those searching.
However, this company does have an honor code. To prevent cheating in high-education institutions, professors and lecturers can be provided with students' IP addresses upon request if there's suspicion of cheating. With a great variety of services to choose from, Chegg is undoubtedly a company that can help a student's life become much more manageable. 
ByteLearn
Digital math teaching assistant for teachers. Looking for an efficient and adaptable AI tool to help streamline your math lessons? With Bytelearn, teachers can easily track students' progress, identify areas where they need extra support, and adjust the curriculum to suit each student's individual needs. Whether you need Grade 7 Math Worksheets like Two-step inequality Worksheet, 7th Grade Math Quizzes like Simplify Expressions Quiz, Seventh Grade Math Unit tests, and Practice Questions for Grade 7th Math like Find Unit Rates (Change In Units) Practice Problems.
Bytelearn has everything you need to make your math lessons more efficient and effective.
Make sure to check out our article on 5 Ways Automation Affects Education in 2023.
Blackboard is a customizable online learning platform for students and faculty. Whether you are experiencing Blackboard on a desktop or a mobile device on the go, Blackboard provides tools that help educators' lives become more accessible and more efficient.
Some of Blackboard's tools include:
Built-in Web-Based Tools
Electronic submission of assignments
Electronic quizzes and assessments
Easy communication with students
In this world of ever-growing technology, transitioning from analog to digital, Blackboard is a beautiful tool to use in higher-education institutions.
If you get bored while studying, perhaps retaining information in a fun quiz-style game would help hold your attention more. Kahoot! Is a game-like learning platform in which students and teachers can create quizzes for studying or in-class instruction.
Users can take advantage of the virtual-learning capabilities that Kahoot provides, such as sharing Kahoot games with other players from any location. You can also collaborate with other instructor groups and create quizzes. After playing the game, users can download reports summarizing a classroom's progress using the answers provided in the quiz. Kahoot! acts as a teaching program and a unique entertainment tool to aid studies.
To "set learning free," Outschool provides over 140,000 classes to students from the comfort of their homes. This company helps provide education to a great range of students, aged as young as 3 to 18. 
What makes Outschool unique from most Edtech companies is the wide variety of subjects to choose from, such as: 
Arts
Health and Wellness
Math 
Science
Music 
Coding and Technology
With over 10,000 experienced teachers on the platform, Outschool is a prime resource to learn a new subject and expand your knowledge in something you're familiar with. 
Partnering with over 250 Universities and businesses, Coursera is an open-online course provider platform with certifications and degrees in various subjects. Coursera allows students to take their courses at their own pace, allowing them flexibility.
Coursera offers classes to over 100 million learners and ensures that students can learn at an affordable price, including many free courses from notorious high-education institutions, such as Yale and Stanford. With many degrees and subjects to choose from, Coursera is one company to keep an eye on. 
Teachers Pay Teachers (TpT) is an online marketplace platform that allows instructors to exchange teaching materials with each other, making it more straightforward for them to access resources on demand. TpT was designed by teachers for teachers, with over 7 million users on the platform and over 1 billion resources downloaded so far.
Some resources that users can access include:
Digital Learning
Special Education
Video
Entire Unit Lessons
Assessments
It's safe to say that TpT is making an impact as it was recognized as one of the top 50 Most Innovating Companies. If you are in the education field, this online market will exponentially ease the process of acquiring tools for the classroom.
DreamBox Learning describes itself as "more than a learning tool." This unique piece of Edtech is not only a math program that helps students of a wide range of ages but also adapts to the learners' progress and adjusts its teaching strategy.
DreamBox Learning is an entirely immersive and interactive program. Analyzing the data as students answer problems paves new learning paths depending on whether the student was excelling. Dreambox Learning mimics an actual tutor, suggesting new ways for students to rethink their previous problem-solving strategies. All this packed into a more fun game-like program, DreamBox Learning is impactful in the world of Education and Technology.
Founded in 2008, Edtech company Knewton provides students with engineering, technology, science, and mathematics courses. Knewton's recent product, Knewton Alta, combines adaptive learning technology and a library of open learning courses.
Knewton's powerful engine can detect how a student is progressing and adjust accordingly to make the student's experience worth it. With partnerships including Fitchlearning and Alinea, Knewton presents products at an affordable price, making the learning process easily accessible.