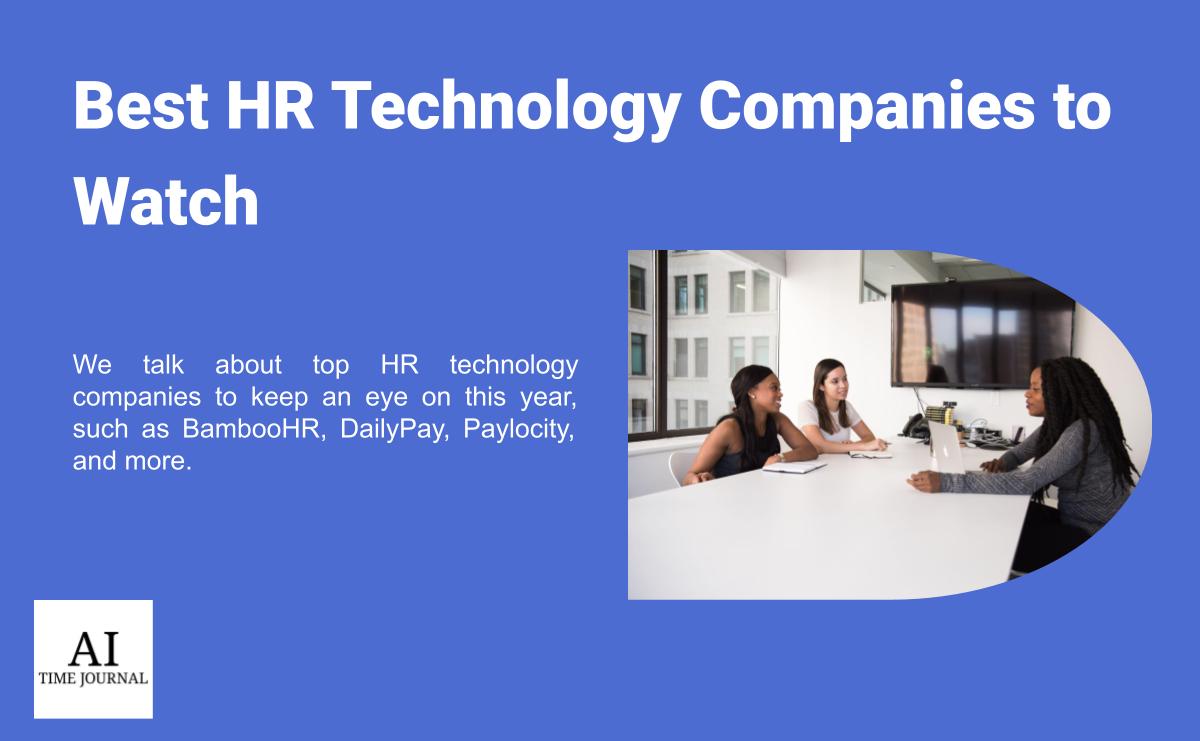 Managing employees' concerns and their life-cycle at a company is vital to ensure worker happiness and stability. However, this can become a tedious and challenging process if the company employs many people. 
Human resources' life can become easier with the introduction of technology in their daily tasks. Of course, many companies out there aim to help this process with their platforms. Whether it's onboarding tasks, payment, or even employee benefits, technology can assist in various areas of HR. 
Here are the top HR technology companies to keep an eye on in 2023:
BambooHR strives to "elevate the employee experience"  with its all-in-one HR software. Founded in 2008, this company provides a platform that gathers employees' information and analytics efficiently in just a single database. Not only does this database include employee records, workflows, and approvals, but as well encompasses all of that information into an easy mobile app.
BambooHR's product also has an applicant tracking system to scout potential employees and hire new talent for the company. Once employees are hired, the software can take care of onboarding tasks and offboarding for those leaving and even keep track of compensation and paid time off. It's no surprise that BambooHR is on this list of the many exciting features it offers for Human Resources. 
On-demand pay is one way to keep employees happy and willing to stay at a company; Dailypay is a service that hopes to do just that. With Dailypay's service, employees will be granted great, easy-to-use benefits for financial processes.
Dailypay's platform includes the following integrations:
Support services
Analytics
Communication
Payment processing
Ledgering
Risk assessment tools
Dailypay has contributed success stories from big-name companies they've worked with, such as Adecco and Vera Bradley. Featured in Time Magazine's Best Inventions 2021, it's safe to say that Dailypay will soon revolutionize the employee payment process.
Elevatus
Elevatus is an award-winning tech company that automates the entire hiring cycle in a couple of clicks, from creating job requisitions to onboarding to hires. This company helps hundreds of companies from all over the world take their recruitment to the next level through futuristic AI technology and unrivaled recruiting solutions. Allowing them to streamline core functions such as posting jobs, shortlisting top talent, interviewing candidates, evaluating top performers, managing visas, accessing advanced analytics, running background checks, inviting recruitment agencies, and onboarding new hires.
Elevatus developed powerful partnerships and world-class integrations to help you create a fully paperless hiring process and unified recruiting powerhouse. For three consecutive years, Elevatus carved its spot as a top software company in the recruitment industry on a global scale. Today, 150 leading companies from 8 different industries are relying on it to find, hire, and build winning workforces that they can rely on.
Sense HR
Sense.hr is an innovative platform that aims to tackle workplace challenges and improve the overall employee experience. Sense.hr offers advanced HR case management technology to address and resolve issues within companies effectively.
Sense HR offers the following features:
Timesheets
On-boarding
Workflow automation
Customizable templates
Reporting
Performance management
Payroll calculations
At the core of Sense.hr's solution is its state-of-the-art case management system, which streamlines the process of handling employee concerns and complaints. This HR process management software enables employees to easily report their problems and seek resolution in just a few simple steps, ensuring a smoother and more efficient workflow. By combining cutting-edge technology with a user-friendly approach, Sense.hr has established itself as a valuable resource for companies seeking to enhance their HR practices.
The platform's commitment to simplifying the process of addressing employee concerns and fostering a positive work environment has earned it a well-deserved place among the top solutions in the industry.
Keeping up with too many employees at once can hinder workflow and become stressful for human resources. Namely provides a simple-to-use platform that processes all the needs of HR, from onboarding to payroll.
Namely's platform can perform talent recruitment processes to find and hire a company's potential talent. Namely can also keep track of paid hours and timesheets, simplifying HR's work whether on the go or in the comfort of their home. Not to mention, this company's technology can administer and allow people to enroll for employee benefits. If you work in HR and have a heavy workload, perhaps Namely's platform can provide many solutions.
Gap Inc., GE, Dell, and Comcast all have one thing in common — they utilize Workday's Global HR management platform to aid their companies. Workday's platform can tend to every HR need, such as managing employee benefits, compensation packages, and hiring talent.
One unique feature of Workday's HR Management software is that it spans worldwide to conform to more prominent companies. Workday can easily manage your global business whether the company is based in two or 20 countries. As it provides a complete look at a worker's profile to gain insights into employees, Workday's HR platform is equipped to handle many aspects of human resources and is undoubtedly a company to watch. 
Sage HR's product can completely automate the entire HR process. With their product, never will the business have to pay close attention to disruptions or last-minute changes, like someone taking off unexpectedly. From onboarding to leave management, Sage HR can do it all.
Additionally, Sage HR can portably take care of all HR needs through its native mobile applications. This platform also can integrate many other applications into the system to transition smoothly and create a customized experience. Companies like Airbaltic and Kiosked love Sage HR, and maybe you will too.
Rippling provides an excellent solution through their HR-based software to simplify HR tasks for companies. Their unique approach to HR technology is entirely customizable. Whether your business uses Microsoft Office, Slack, or any other software, Rippling offers the integration of over 500 different apps to handle any company's preferences.
Rippling's onboarding process is unlike any other. According to Rippling, it can be as quick as 90 seconds to onboard new talent to the company. Additionally, Rippling's platform can automate almost any HR workflow, making it easier for businesses to complete tasks, and making Rippling a company worth watching.
Paycom offers complete transparency to a business's employees. With their HR technology, employees can access everything regarding payroll, such as expenses, paid time off, and employee benefits. Thanks to Paycom's recent product, Beti, the employee is empowered by managing their paycheck through these simple steps:
Employees are notified of pending tasks through their easy-to-use self-service app.
Employees view their pay before they submit it for approval.
HR insights are provided to employees, making it a complete and transparent process.
Many other implementations to help the employee process, such as talent acquisition and management, plus time and labor management, make Paycom a company that will soon take off in the HR world.
Paylocity offers products that can essentially address every aspect of HR. Founded in 1997, Paylocity has amassed over 28,000 clients and caters to more than 4,150 workers nationwide. This platform has also been categorized in G2's Top 50 Best Software awards for HR.
Paylocity's products include:
Payroll
Employee benefits 
Employee experience
Data insights
Workforce management
With the many products provided to businesses, it's no wonder Paylocity has ended up on the list; its reputation and history triumph many others.
If issues arise within a company regarding employees, it's a serious matter that should be addressed and resolved to provide a better work environment. Ethicontrol strives to do just that, eliminating issues in the workplace through their HR case management tech. 
ECTRL, their whistleblowing management platform, makes it easier for employees to submit their problems efficiently through these three easy steps:
 Whistleblowers can send messages anonymously and receive responses through a capture channel.
Messages are then put into incident management software to be processed.
A team responds and investigates the issue.
Not only does Ethicontrol provide many other modules for case management processing, but it also does so in a user-friendly way, earning it a spot on this list. 
Hireology makes the hiring and recruitment process effortless. With their all-in-one platform, HR tasks have never been more manageable as it takes on more complex tasks. Hireology's technology can handle the following:
Diverse candidate sourcing 
Automated verifications
Applicant tracking
Digital onboarding
Payroll
Some of the more well-known companies currently use Hireology, such as Fox Motors, Anytime Fitness, and Brightstar Care. Additionally, Hireology has acquired numerous accolades throughout the years. If you strive to do your business's hiring process more smoothly, perhaps Hireology's platform is your answer.